We live in a part of the U.S.A. where knowing how to speak Spanish can be a very helpful thing. I am not fluent in the language myself, but have long desired to teach my children. We have tried many different means to this goal, but few have we enjoyed as much as Song School Spanish by
Classical Academic Press
.
We were sent this as a TOS Review item a few weeks ago and have been using it as a group in our school time. This product consists of a
Teacher's Edition
and a
Student Manual and a CD
.
The Student Manual is actually a consumable workbook. You will need one for each child, because permission is not given to make copies and this book is where the bulk of the work will be done. Since we had only one book and four kids, we took turns with the workbook or answered the questions orally. The physical activities were easily expanded into a group setting. This was easier for us to pull off because, as I said, we have studied Spanish before, so the early lessons were mainly review for us and we moved through them quickly.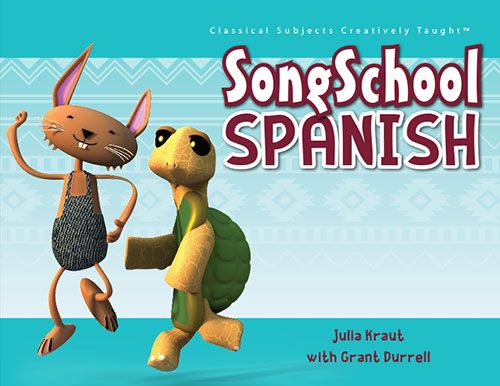 The workbook starts with a schedule suggestion, (one chapter per week to complete the book in 31 weeks) a quick explanation about grammar, a list of additional resources, (I will talk about those in a minute) and a pronunciation guide. Then come the lessons, divided into 31 Chapters, and each one consisting of the same basic outline. First, is a list of the vocabulary words introduced in the lesson. Then the lyrics to the songs (found on the CD) and then the activities to work on those vocabulary words. These activities vary from lesson to lesson. It could be: drawing a picture; tracing Spanish words; filling in the blank; circling the correct answer; putting on a puppet show; listening to and responding to a story in English with the Spanish words mixed in; playing a game; and more. The variety is awesome, because my kids love not knowing what fun thing to expect next! Their favorite, I think, was putting on a "puppet show" with the tortuga (turtle) and the conejo (hare). The animal's pictures are provided in the back of the book. The child just has to cut them out. They liked playing the Classroom Commands song, too! At the end of the workbook are appendixes, containing: a chapter by chapter list of the vocabulary words (all 120 of them); an alphabetical list of the vocabulary words; and cutouts that will be needed for various activities.
Oh, and I also want to mention that every few lessons, there is a review lesson. And, you can see sample chapters of the book
here
.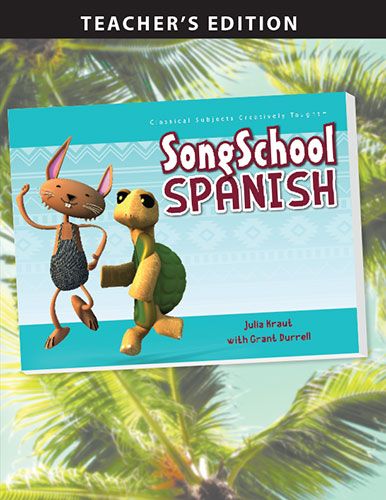 Next is the Teacher's Edition. This book is divided into three parts. First, an exact replica of the Student book, with the answers marked. Second, reproducible activity sheets (one for each lesson) which add an extra bit of fun because they are mostly puzzles. And third, the answer key for these activity sheets. You can find sample chapters of this book
here
.
And finally, there is the CD. For us, the heart and soul of the curriculum is the CD. It consists of 44 songs for the kids to enjoy. These songs are mostly common children's songs with the words changed to teach the Spanish vocabulary. You can download a sample of the songs
here
We used this book in a slightly unusual way: using it as a group and doing as much as we could orally. But there was a lot of reviewing going on for us and two of my kids were older than the target age of K-3rd grade. We also spent a lot more time with the CD than we did with the book. We have a CD player on the counter in the kitchen/dining room, so we listened to it as we cooked, cleaned, or when we just wanted to sing and dance with the music. I think this is the best way to get the vocabulary into your brain: hearing it and speaking it. And the songs are just plain fun!
Oh, yes, and the additional resources I mentioned! There are free, printable, coloring pages on the website that go along with the lessons. There is
Headventure Land
, a site where kids can find online games to play to reinforce what they have learned. (My kids LOVE playing here!) There are extra songs and pronunciation files. And there is "Ask the Magister/Maestro" where parents can "ask questions and seek guidance from Spanish teachers". All of these are free and found on the website.
So overall, we love Song School Spanish just as much as we loved
Song School Latin
when we reviewed it way back in the day (Daniel and Abbie are now working their way through it, in fact) and we highly recommend this product.
I only have one con. The CD that we received had issues with three of the songs. So I sent an email to let them know about it. I got a reply that consisted of an apology and an assurance that it would be looked into. I never heard another word about it. Now, admittedly, if I had purchased this product, I would have sent several follow up emails and would probably have gotten a better result. I felt odd about asking for a replacement, though, so I just waited to see what would happen. I was disappointed that nothing did.
But otherwise, we really love Song School Spanish and will be using it until Abbie outgrows it.
The workbook and CD is $24.95. The Teacher's Edition is also $24.95. Or you can buy the bundle, which is both books, the CD AND a flashcard game for $66.95.
You can read about other Crew members' thoughts, experiences, and opinions at the
Schoolhouse Review Crew Blog.

I received a free copy of this product for the purpose of this review. All opinions are honest and are my own.