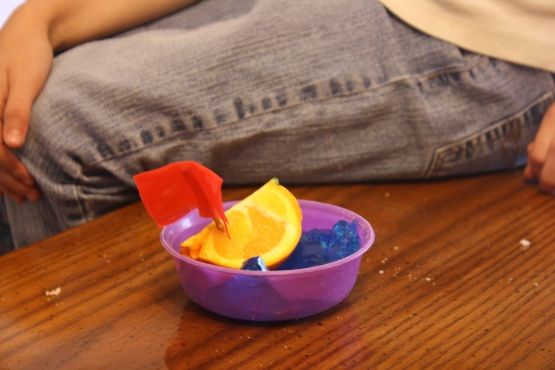 I had several requests for the list of books that we have used this year in our
History Adventure
, so here you are. But first, a short caveat. I created this list off of the Sonlight book lists, suggestions from friends, grubbing around the Internet, and from this
very lengthy list
. I took all of those ideas and went to my library website to see what they had. I also bought some of the list when I accidentally found them at thrift stores, used book stores, and the flea market. So my final list is comprised of what I could find for super cheap or free. I didn't even buy anything off of Amazon! Basically what I am saying here is, this list may or may not be the perfect list, or even a great list. It is just what we used because it was what we could afford. That said, I am not disappointed with any of the books that we read. The kids have learned something from them and enjoyed them all.
We started with Christopher Columbus, so our first book was
Pedro's Journal
by Pam Conrad
We then read
The Columbus Story
by Alice Dalgliesh
We then made spyglasses, mapped the voyage,
made boats for snack
, built a compass, and the kids put together a play telling the story. Oh, and read the famous
poem
.
Then we learned about Captain John Smith, Jamestown, Pocahontas and Squanto by reading
Pocahontas and the Strangers
by Clyde Robert Bulla
A Lion to Guard Us
by Clyde Robert Bulla
Squanto: Friend of the White Men
by Clyde Robert Bulla
We played with Lincoln Logs. We discussed the doorknocker in A Lion to Guard Us and what it represented and what our family doorknocker would be. We talked about what we would/could take if we were journeying to Jamestown. We colored pictures and wrote a short narration about Squanto. The kids were fascinated to encounter the same people in the different books and were impressed that they were real people!
We then moved on to the Pilgrims with
Soldier Rigdale
by Beulah Marie Dix (I actually have a copy of this book that I bought at a library book sale many, many, many years ago when I was young. It was a book I enjoyed reading as a child and was pleased to share it with the kids.)
and
The Thanksgiving Story
by Alice Dalgliesh
We did some mapping and a lot of discussion about the differences between our lifestyle and that of the Pilgrims. We also discussed why the Pilgrims journeyed to the New World and how thankful we should be that they did. The big kids worked with
this fun program
that we "just happened" to be reviewing at the time. And Kaytie chose to be Constance Hopkins for Halloween.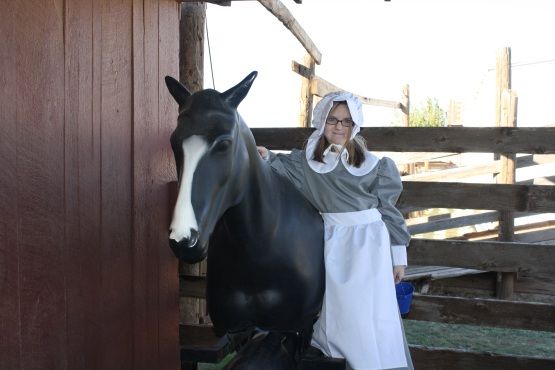 Then we moved into the Colonial Era with
The Witch of Blackbird Pond
by Elizabeth George Speare
The Sign of the Beaver
by Elizabeth George Speare (THIS was a favorite)
The Courage of Sarah Noble
by Alice Dalgliesh (they liked this one a lot, too)
The Matchlock Gun
by Walter D. Edmonds (we have a running family joke from this book)
We were finishing up our fall term with these last books and I thought they did a good job of presenting the feel of the time period, so we didn't do any go along activities.
The Revolutionary War period was a little overwhelming for me. So I shifted my focus a bit from fiction books to non-fiction books. I have some kids who strongly prefer non-fiction, so this worked for us. We did read some fiction, as well, though, we read
Silver for General Washington
by Enid Meadowcroft
Six Silver Spoons
by Janette Lowery
Sam, the Minute Man
by Nathaniel Benchley
The non-fiction that we read:
Can't You Make Them Behave, King George?
by Jean Fritz
George Did It!
by Suzanne Tripp Jurmain
If You Lived At the Time of the American Revolution
by Kay Moore
The Declaration of Independence from A to Z
by Catherine Osornio
Boston Tea Party
by Pamela Duncan Edwards (another one that they loved, there was much sadness when we had to take it back to the library)
President George Washington
by David A. Adler
Take the Lead, George Washington
by Judith St. George
George Washington, A Picture Book Biography
by James Giblin
Row, Row, Row, the Boats, A fun Song about George Washington Crossing the Delaware
by Michael Dahl (they rolled their eyes at this one)
George Washington, the Father of Our Country, A First Biography
by David A. Adler
A Picture Book of Benjamin Franklin
by David A. Adler
Benjamin Franklin Writer Inventor Statesman
by Hill Nettleton
And what we are going to read to finish up the term:
Meet Benjamin Franklin
by Maggi Scarf
What's the Big Idea Ben Franklin?
by Jean Fritz
Benjamin Franklin Printer, Inventor, Statesman A First Biography by David A. Adler (Amazon does not have a link to this)
The Many Lives of Benjamin Franklin
by Aliki
The Remarkable Benjamin Franklin
by Cheryl Harness
Ben and Me
by Robert Lawson
Mr. Revere and I
by Robert Lawson
And Then What Happened, Paul Revere?
by Jean Fritz
and whatever else catches my eye when I am browsing through the library, including all of the David Adler and Jean Fritz books I can grab. I am toying with having the big kids read
Johnny Tremain
on their own and just discussing it with them.
As you can see, non-fiction goes more quickly than fiction... we can often read a book (or more) a day, so we got a lot in. This is as far as we have gotten in our study, I will write another post when we move on to the 1800s, but I will give you a little sneak peek and let you know that we will start with
Carry On, Mr. Bowditch
by Jean Lee Latham
And I will leave you with a picture of the kids performing their Columbus play... they are sailing to America in this picture, well, Kaytie and Daniel were, I'm not sure exactly what the other two are doing...