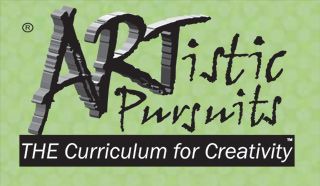 I have a ten year old daughter who loves to draw. She spends hours with a pencil, paper, and/or crayons, sketching everything that catches her fancy, from sunsets to flowers to whoever she can get to sit still and pose for her. I wish we could afford drawing lessons for her, but since we can't, I was thrilled to get the chance to review
Artistic Pursuits'
art book,
Elementary 4-5 Book One, The Elements of Art and Composition
.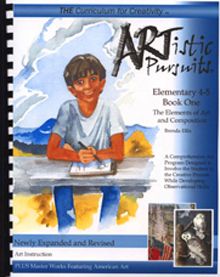 The book is a non-consumable manual with 16 Units and four lessons in each unit. The lessons cover such topics as space, line, shape, form, value, and depth. You can see the Table of Contents
here
. The first lesson in each Unit explains the topic of that Unit, and gives the student an assignment to explore the topic. The second lesson uses full-color representations of famous works of art to further illustrate the topic. In addition, there is a brief biography of the artist and a little bit of information about the time period in which the artwork was made. Then an "observation drawing" is assigned. Lesson Three is additional information and another assignment to practice the knowledge learned. And the fourth lesson is an assignment for the student to apply all they have learned in this Unit.
This was an easy review to do. There is no teacher prep, the book does all the work. Each day, we would gather our sketch pads and other necessary supplies (listed
here
), and simply follow the instructions given in the lesson. Now, this is a 4th and 5th grade book, but I discovered that, if I adjusted my expectations, even my 6 and 7 year olds could follow along. Yet, it still challenged my 9 and 10 year olds, so it was perfect for us. Everyone did what they were capable of and everyone learned a little bit more about art with each lesson.
We liked this book because it was simple: open and go. It took me a little bit of effort at the outset to gather or buy the supplies we needed, but after that, all the time involved was just what we spent doing the actual lesson. The kids were able to follow the instructions to the very open-ended assignments and produce art work that they were proud of. I liked that it was completely non-consumable. This means I can re-use it later with Daniel and Abbie and they can use it on a whole new level than they did this time around. But what I really liked was that it made a difference. I really believe that this has helped Kaytie's drawing ability and am excited to continue to use this book with her. Here is a picture that she drew on her own (after school, for the fun of it) after we learned about drawing the basic shape of your object.
Kaytie said,
I liked it because I learned what to do if I have a picture of a certain length, whether to turn it up or sideways. I learned more about drawing the outside of shapes. I think I have been improving in art because of what I have learned from this book.
Artistic Pursuits offers a whole line of art books for kids from age 3 all the way up to 12th grade. The 4th and 5th grade books (there are two) sell for $47.95.

Other Crew members reviewed other products by Artistic Pursuits, you can read them by clicking on the button below.