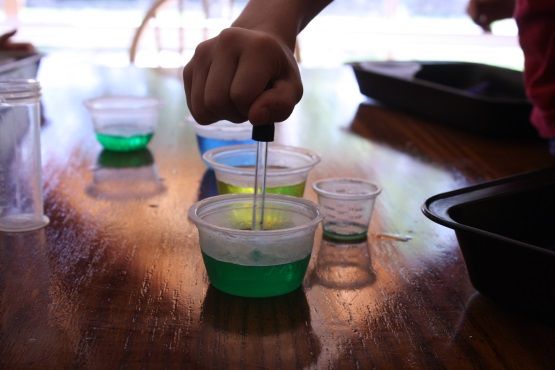 I often say that we like science, but the honest truth is this: we love science experiments. There is a negative side to this... when my husband leaves the house each morning, he tells the kids, "Bye, guys! I love you! Listen to your mom and don't tear anything up." Which tells you what he often comes home to every evening. But there is a positive side as well... the kids have an interest in and a curiosity about the world around them and they know more about how the world works than I did as a child. Probably more than I know now!
Now, I have talked to moms who say they dread science, don't know how to do science, or even that they don't let their kids do science because they don't like it themselves. I find that very sad. I think it shows just how skewed our perspective on school as a whole and science in particular has become. Science is not reading a dry, boring textbook or just dissecting a frog. Science doesn't have to be drawing what you see on microscope slides or memorizing the parts of a cell. Science doesn't even have to be messy and gross, although that can actually be the best part! Even as a mom, I say this. Don't be afraid of the mess! Science is the study of the world and how it works. Science is just fun experiments.
Science is lying on your back outside, staring at the clouds.
It's planting flowers or just looking at the plants that appeared in your yard.
It's playing around a waterfall, throwing in sticks and seeing which one makes it to the bottom first.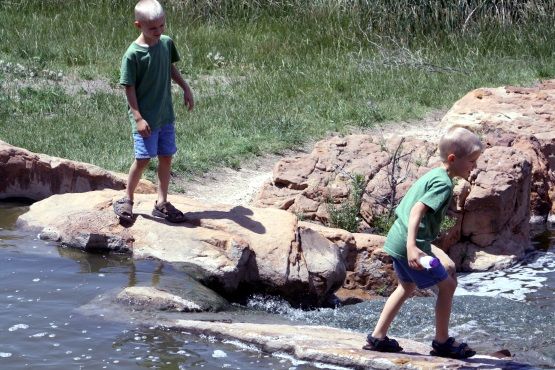 It's climbing trees (and jumping out of them, too!)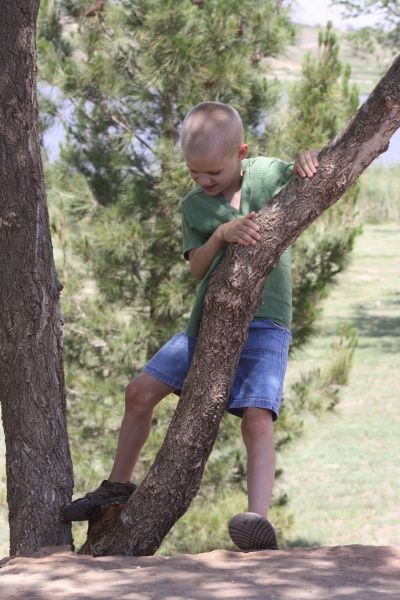 It's lying on your belly to observe ants or roly poly bugs. It's catching snails because your brother is obsessed with them (even though he gives them weird names like
Jupiter Pickle
). It's making popsicles out of pickle juice and seeing who likes them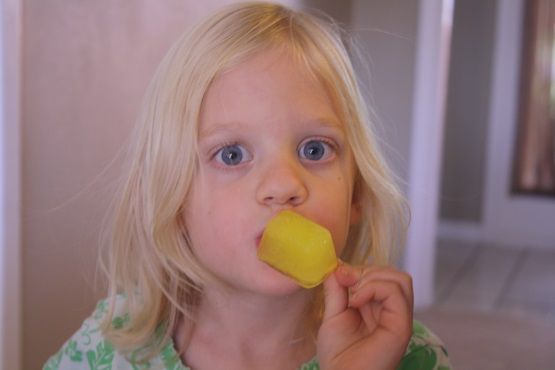 and who doesn't!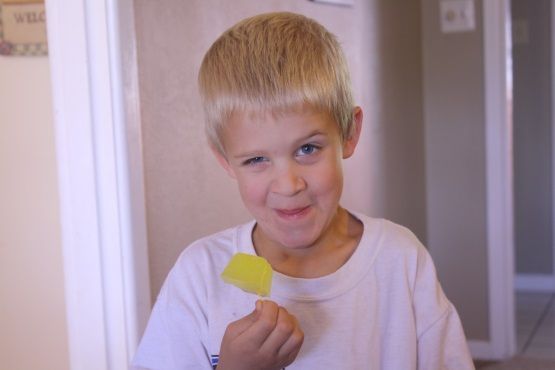 It's smashing marshmallows while learning how glaciers are made.
It's stargazing in the backyard after dark. It's watching a spider catch a fly or chasing a butterfly.
It's playing in the snow in the winter.
It's hanging up a bird feeder in the spring and watching who comes to feed and when.
It's melting jello on the sidewalk in the summer.
And playing in the leaves in the fall.
Or pulling out our Discovery Scope and looking at fascinating stuff: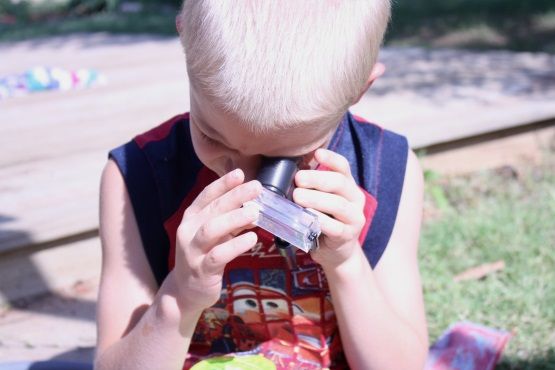 All of that is science that we have done while we just lived life. I don't plan these things. I don't even assist in some of them. But we do plan science, sometimes. Sometimes I put out baking soda, colored vinegar and lots of tools, then just let the kids experiment
Sometimes we build a mountain in the garden and create a volcano, just to see what happens;
Sometimes our science is school-related and we do experiments to learn about air pressure;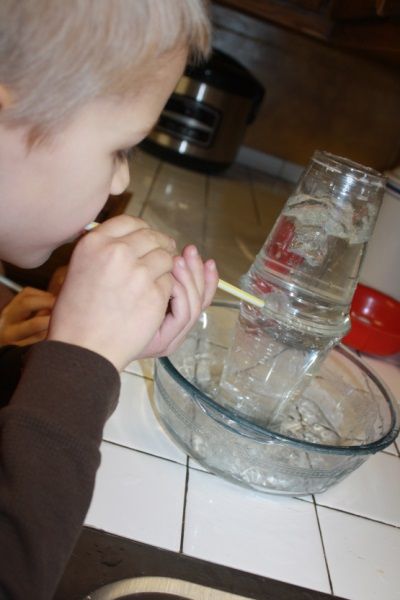 We learn about the layers of the earth by building a model with playdough and also with ice cream;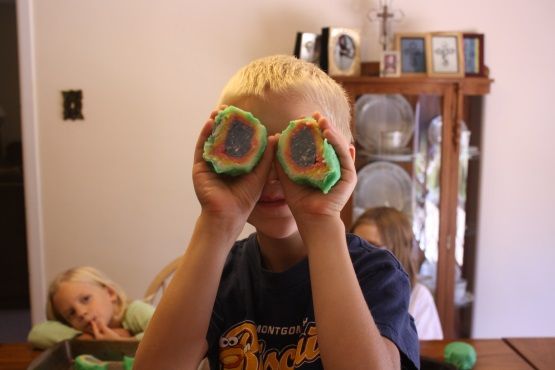 We learn about weather by making a cloud in a jar and making it rain in a glass;
Then re-using the rain clouds to paint clouds on blue paper.
Using mud to make formations like what happens naturally in caves.
and create our own glaciers
Sometimes I hand the kids a science kit, or a science experiment book, and let them choose an experiment, gather their materials, and enjoy themselves.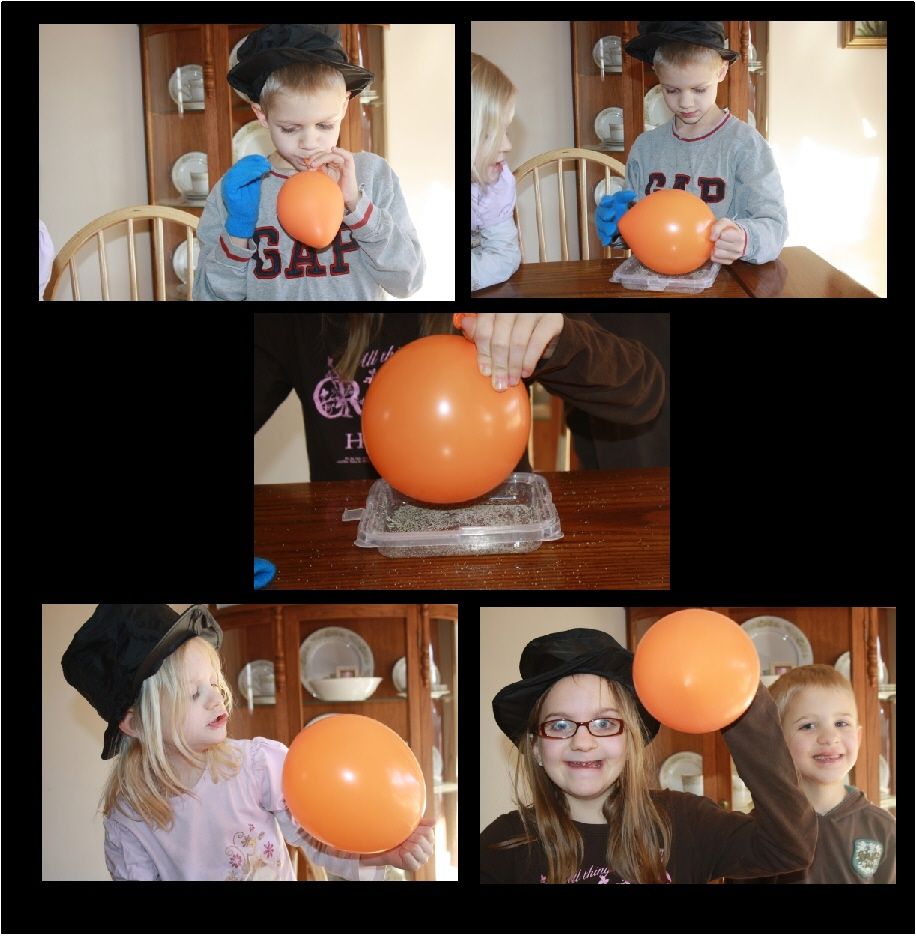 So, if you are a mom who is afraid of science, fear no more. Start by just asking questions. Why does the wind blow? Where do birds sleep? How does a glacier form? When is the best time to plant tomatoes? Who can eat a pickle popsicle? Start small and work up to the really messy stuff. Take the messy stuff outside, like we do. Although honestly, it doesn't take that long to clean up the mess when they are finished. And trust me, after you see the smiles on their faces, it is all worthwhile.