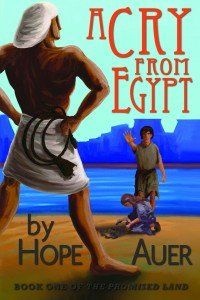 A while back, we
reviewed
a book called A Cry for Egypt. I told you then that we enjoyed it. This is what the kids had to say:
Kaytie:
I liked it because it gave me an Israelite's point of view of Exodus. I liked that the main character, Jarah, was friendly and hard-working and she was someone I could have been friends with. I am excited to read the next book. I really liked this book and I'm pretty sure I would like the next one.
Nate:
I liked it because it had a lot of adventure and excitement in it. I want to read the next book already! I thought it was cool that the author was homeschooled.
Now, many weeks later, I am here to tell you that Kaytie has re-read this book more times than even she can count. She has it practically memorized and often asks me when the next book in the series is coming out. She doesn't recall that we read advanced copy and it hadn't even come out itself. In fact, it is just coming out
this Friday
! You can get more information about that and buy a copy
here on her blog
.
But before you do... The exciting part about this news is that I am privileged to give away a
signed
copy right here to one of my readers!
All you have to do to enter is leave a comment on this post.
For extra entries, you can do the following:
(leaving and extra comment for each)
like Hope Auer's Facebook page:
Hopeful Stories
follow her on Twitter:
@hopefulstories
like Raising Real Men Facebook page:
Raising Real Men
follow Raising Real Men on twitter:
@raisingrealmen
Make sure that I have your email in case you win, and for the extra entries, please include the account name that you used to follow and/or like.
This giveaway will end on May 3, 2013 at midnight CDT.