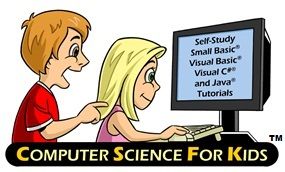 Nate is our computer geek. He loves all things technology and this sometimes causes stress in our house. Like most people, we have computers, smart phones and several other devices that can be used for either education or fun. Three of our children are willing to take them in small doses and have other passions to fill the rest of their time. Nate, however, lives to play on these devices. And he doesn't even really care what he is doing on them. We limit his screen time, but it is difficult, since we believe in feeding our kids' passions and often feel that we spend most of our effort squelching his.
This is why I was
thrilled
to get the chance to review
Computer Science for Kids
.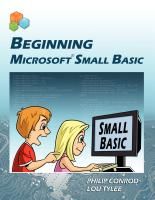 Beginning Microsoft Small Basic
is a computer programming course that starts right at the very beginning. It is intended for kids aged 10 and up, but my nine-year old had no problem sitting down and working it on his own without any instruction or help or previous experience in programming.
This course consists of 11 chapters that teach about program design, text window applications, graphics window applications and much more in an easy to understand language. You can see the
Table of Contents
here. And a
Sample Chapter
here. And some
Screen Shots
here. The final chapter provides the code for four different games the student can program.
The program was an easy and instant download, that provided him with everything he needed (except of course, the computer, lol) to complete the course. The lessons are printable, but we did not print them off. He just opened both the lesson file and the Small Basic program and worked through the lesson. It was so simple and easy to use this program that he did it completely and totally on his own. He would spend 30 minutes to an hour (as long as I would let him, really) and would do from half a lesson to a lesson in a sitting. I am not a techie person, but Nate had many a conversation with his dad about what he was learning and my husband was quite impressed.
Nate had so much fun with this program! He loved learning what to type to make things happen: background colors changing; a turtle drawing shapes; writing words; making fractals; and then watching them happen.
When I asked him what he had to say about it, he said:
It tells you to type in things, and then when you hit "run" it shows you cool things. I like it! Because it is FUN! I learned that only small basic variables can be used on small basic because variables are very sensitive. A variable is a program that can be used to do many jobs instead of just one. Unlike variables, arrays can be non small basic and be used because they are not as sensitive.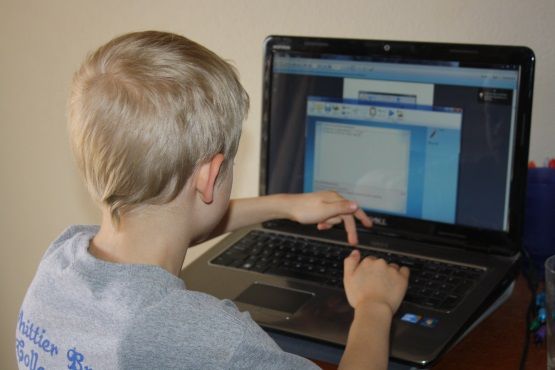 Nate loved this program well enough that he asked to use it several times a day. And I always had to wrestle him back off of it. He was quick to remind me that he needed to do it, because it was, after all, school, and not just playing on the computer. He has not completely finished the program, but rest assured, he will make sure that he does complete it.
I loved that his dad and I were able to relax and let him work on Small Basic because he is not just playing around, but is learning a useful and even vital skill that he can use the rest of his life. We are pleased with the start that Small Basic gave him into the programming world.
Beginning Microsoft Small Basic can be purchased with
three different options
: ranging from $34 to $199.
But be aware that these are sale prices and the sale ends July 4, 2013.
You can read what other Crew members have to say here on the
blog
.