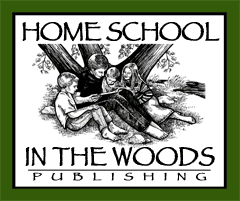 Like a lot of homeschoolers, fine arts is something we aspire too, and yet, rarely manage to pull off. I have known for a while that I needed help in this area, and, thankfully, through the Schoolhouse Review Crew, I have discovered some products that gave me the help I was looking for. One such product is
Home School in the Woods
and their
Hands-On History Activity Pak: Composers
, which is really just a lapbook... on steroids. This lapbook contains six activities designed to teach kids about 42 different composers in all of the different musical periods. These activities are: Periods of Music, which is just a little booklet that discusses the eras of music, starting with Gregorian Chant; Keyboard Vocabulary, a cute little keyboard lift-a-flap book that teaches musical vocabulary; Collection of Composers, cards with pictures and info of each of the 42 (this was a favorite part because you research and fill in the information yourself); Composers Timeline: another favorite; Pieces with a purpose: six projects that explore just why different musicians did what they did; and Music Appreciation: notebooking pages to fill out as you listen to the music. For that is the best part, included in the download are 29 pieces of classic music on MP3s for your listening
pleasure
instruction. Along with the lapbook is a card game and display of the orchestra illustrating the history of the seating and the addition of the instruments through time.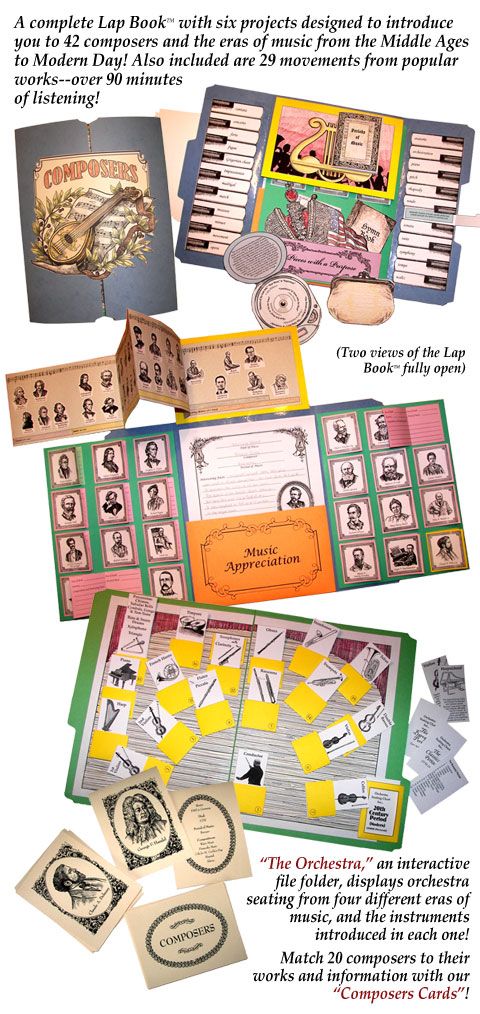 There is a lot of printing involved in this activity pak, because there is simply a lot of material here. As you can see, this is a massive lapbook you are putting together here. Because of this, I only printed it out once and we all worked together on it. There isn't a lot of information provided, we used our library and our search engine extensively to fill in the blanks in our booklets, but there is a short resource list of books, audios, and videos that I found helpful.
There is so much here, that we have not yet completed this activity pak. We have been going slowly and absorbing the information, but we have found this to be the perfect resource for ensuring that we actually get some of those fine arts into our school day. Using the resource list and my library, I have hunted down books on the composers and we have been filling in the composer's information and then using those cards for review. The orchestra seating chart has also been a favorite because the kids are intrigued by orchestras and the instruments within. We have been to a few child-centered concerts and the kids loved them so they have really liked manipulating these cards in their pockets and learning where all the instruments go. They also loved the challenge of putting the timeline pieces on correctly.
I just like that the whole thing is so hands-on for the kids. I love that once the info is collected and written down and everything is in place in the lapbook, the learning is NOT over, but that the kids can continue to work with the pieces and not just review but learn more.
One thing that I did not like so much was that it was all divided into so many different PDFs and files. It was difficult for a liner thinker like myself to maneuver through the material and remember what I had done and what needed to come next. But of course, if you have a different kind of brain, this probably won't bother you at all. And, honestly, it was an irritant more than a real problem.
We reviewed the Download version, which is $18.95, but you can also order a CD of the same product for $19.95. They have quick shipping, which I know, because we have used
Home School in the Woods
products in the past. And we have always enjoyed the high quality of the materials. But as always, don't just take my word for it, the Crew reviewed several different products from this company and you can read their thoughts and opinions
here
.