As you know if you have been reading this blog for awhile, teaching my younger two to read has been quite the journey. We have finally crossed the hurdle of just not being able to recall phonemes and putting all the mechanics in the right places. However, we are still working on fluency and on the sheer pleasure of reading. At this point, reading is still work to them and they do not enjoy it. So I was hoping, when we were asked to review
Phonics and Reading With McGuffey
from
LiteracySoft
, that it would help
me
us with this problem.
This program is an app crafted from the famous old McGuffey readers and offers
• All 52 McGuffey Primer lessons
• All 44 letter sounds of English and their graphemes
• 60+ letter sound animations
• 400+ practice word vocabulary
• 9000+ nonsense word audio dictionary
This app is intended for beginning readers of all ages, not just little kids. In fact, it is great for illiterate adults or struggling older learners because all instructions are given verbally, making it easy for them to do it on their own without direct supervision.
You can have up to ten accounts on the app, so that each student's settings can be individualized and their work recorded so they can start again right where they left off. My kids were happy that the user account buttons were different colors and they could each have their favorite color.
Each lesson starts by introducing some new phonemes (the number varies per lesson) then uses those sounds in words and in various "games" including a section that has the student reading the words on their own, although if they are unsure, they can touch the word and hear it read to them. For each quiz, test or game, correct answers receive musical rewards, fun visuals and/or encouragement, while incorrect answers receive gentle "try again"s or "maybe next time"s. I appreciated that it was more fun and exciting to get a right answer than a wrong answer because my kids care more about the result than they do about being right.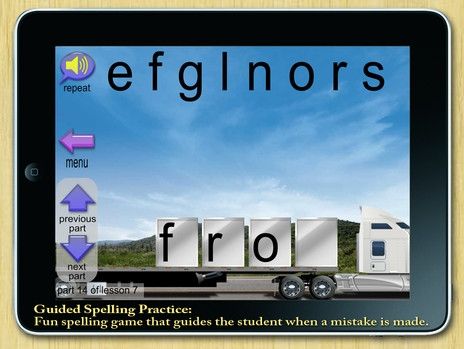 Each of the 52 lessons has multiple sections (12, 13, 14) so the learning is approached and reviewed in many different ways. But you don't have to "score well" at one section to move on to the next, so if a particular game or activity works best with your student, they can just slip forward to that one. You can also move backwards in the lessons and sections so review is simple if you forget something or want to practice some more. This flexibility would be great for older learners. I liked it for my two "just playing with reading and words" kids, but I'm not so sure I would have been that thrilled if they had been young beginning readers, but that's ok, because you can turn that feature off, if you like.
I was able to hand my iPhone to my six and seven year olds and they could
play
work their way through the lessons with little to no instruction from me. Again, I was not using it to teach them to read, but just to give them another way to play with words and phonics. I think it would be an awesome supplement to whatever phonics program you use. And I would heartily recommend it for that purpose. There isn't a lot out there that makes phonics fun and accessible for kids. My kids begged to
play
use it and when they got to the end of a lesson would beg to do "just one more, please?!"
The kids said:


Daniel: It was fun. It teaches me how to read. The truck game was my favorite.

Abbie: It's fun! It helps me learn to write (she means to build words in one of the games) and to read. My favorite game was the one where you read the words. I didn't like the train one because it was hard. I have nothing else to say. But I love it.


You can purchase
Phonics and Reading With McGuffey
from the iTunes store for $19.99 but if, even after reading my review and those of the other
Crew members
, you still aren't sure, you can check out the first 10 lessons for free with the
Lite version
.