The kids and I have a long term goal of becoming fluent in Spanish. We have tried many different methods of achieving this goal, and I have to say, even though we are making progress that progress is slow and we have a long way to go. Lately, we have been working on a review product that has taken us several steps closer to that goal. This product is
Spanish for You!
, a curriculum for kids in grades 3 -8. This curriculum is geared for fluency, is intended to last a full year, and is divided into grade levels and themes so that you can choose which to use with your child or
purchase
all the levels of each theme and use them with multiple children in different grades. Here is a quick
explanation
of how it is meant to work.
We received the theme package Fiestas as a download. It included a lesson guide, a student book, files of worksheets and flashcards, audio files of each lesson, and materials and ideas for additional activities. Everything but the audio files, which were MP3s, was in a PDF file. Here are some
sample pages
.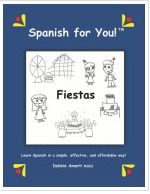 There was tons of material in this download and it was very overwhelming. It took me long time of clicking and sorting and reading and more clicking, sorting and reading to figure out what all I needed to print and what we needed to do first. We were told by the author that purchasers of this product will have their files sorted into folders by grade for the worksheets and into folders by lessons for the audio files. I think this would have made my job much, much easier. It would have also been easier if the lessons had been included in the guide so I only needed to have one file open at a time to plan and execute my lessons and if all of the worksheets for each lesson had been in one file. I did like that the lesson guide was divided very simply into weeks and days on ONE page, so once I had stuff printed and ready to go, I could easily decide what we needed to do each lesson. If I wanted to combine a couple of days or if we had to cut a lesson short and finish it the next day, it was very easy for my linear, visual brain to make it happen.
As far as the lessons themselves, we enjoyed it greatly. There was a good amount of variety in the lessons. We used flashcards, listened to the audio (yes! help with pronunciation!) filled in worksheets, held conversations with each other, sung songs and played a lot of different games each week. This meant that we dealt with the vocabulary in a multitude of ways and made it much easier for each of us to learn and retain the information. The theme Fiestas also made it easy to pick up the vocabulary because it had a common subject matter.
Since my kids are 5th grade and below, we stuck with the 3rd and 4th grade section and I only had Kaytie and Nate filling in the worksheets, but we all played the games, sang the songs and listened to the audio files. Here is a picture of us playing a game that helped us learn to ask "What is your name?" and to answer "My name is..."
The kids all had their own opinions on the program:
Kaytie: I liked it because it helped me learn Spanish. It taught me a few words I already knew but more words that I didn't know yet. I thought it was a really good curriculum because the games were fun. The only thing I didn't like about it was the worksheets were hard.
Nate: I don't like it because the words are hard to spell. And I don't like worksheets.
Daniel: I liked it because it teached me how to do Spanish in fun ways.
Abbie: I thought it was hard because I can't say any of the words. The games were fun, though.
You can buy
Spanish For You!
as individual grade levels (There are 3 different levels: grades 3-4, grades 5-6 or grades 7-8) for $39.95 each, or you can buy all three levels in one package for $64.95.
You can read what other Crew Members and their families thought about this program here on the
Crew Blog
. Some of the Crew reviewed a different theme.