In my life this week:
We are greatly enjoying our summer vacation. It seems longer than usual this year. The kids have already blown through 2 VBS weeks and summer reading club at the library. It seems like everyone else is just about done with summer and we still have four weeks left. It gives me a luxurious feeling.
Anyway, for this week, I am planning a trip to our local arboretum for some fun and some secret educational purposes. Since the kids really enjoyed reading about Lewis and Clark's journey, I decided we could extend the fun with a journey of our own. Our arboretum is big enough to be a "hike" for the little kids, and small enough that I can feel comfortable letting them wander a bit. So the idea is to take some "provisions" and map our way through the place, recording observations and befriending the "natives". Thus combining history, nature study, P.E. and fun.
The other big thing is our homeschool sports group is having their Not Back to School pool party this weekend. Oodles of fun and we are especially looking forward to it because this year we will actually know people!
In our homeschool this week:
Other than the aforementioned journey, not much. I discovered
xtramath.org
yesterday, so the kids will be playing there daily from here on out. This is a perfect fit for us. It is a FREE online math facts program that drills the kids with no frills and keeps track of not just correct answers, but how quickly they answer as well. If they get the right answer quickly enough they get a smiley face. (I've read where the parent/teacher can change the times, but I haven't investigated because the time allotted is fine with us.) The timing flusters Kaytie a bit, but all the kids are competitive enough that they are drawn to the challenge of getting as many happy faces as possible.There is even a parent dashboard where I can see all of their progress. We lost our beloved Math Facts Now in a sad computer crash and I've been debating buying it, but now I'm glad I didn't because Xtramath is perfect and it's free!
What I am thankful for this week:
For kids who like to explore and discover and don't expect to be entertained every waking moment.
What I am praying for this week:
A friend of a friend who might be losing their beloved foster kids. They were all set to adopt these little boys.
What I am reading this week:
Home Education by Charlotte Mason. On the one hand, I'm really wishing I had read this sooner. On the other hand, I'm trusting in God's timing that I "found" this book just when I did.
Around the house this week:
We are about half way through "summer cleaning", well, maybe more than that. We've done the bedrooms and the garage and almost all of the nooks and corners. I really just need to do a lot of work in the schoolroom. Cleaning out boxes in the garage and shoving last year's work in the room and walking away created a lot of havoc in there and I need to dedicate some time to sorting and arranging and beautifying. Yesterday, I did finally shift the kids' schoolwork from their regular binders to the cheapie binders I buy to store them in. And empty out their pencil boxes. Little steps, right? Oh, and I have my eye on two closets that could use some going through.
A favorite thing this week:
A visit from Papa and Nana! Swimming with the kids, even if we did get rained out.
What I am creating this week:
Schedules and plans and binder covers and lots and lots of lists! I have four weeks left to finish prepping for school. I like to have everything printed and organized and ready to go at the beginning of the year so that we can just slip right through it all year. It makes everything so much easier!
A photo to share: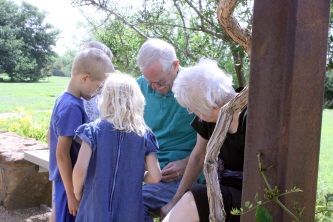 science with Papa: dissecting a mysterious fruit