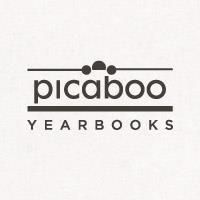 I love pictures. I love homeschooling. I love scrapbooking. I love my kids. So when I was offered a review of a product that combined all of those loves, I jumped on it!
Picaboo Yearbooks
is an online site where you can create your own yearbook for your homeschool, co-op, sports team, club, or any other organization you can think of. I was given the opportunity to create my own
soft-cover, 20 page book
.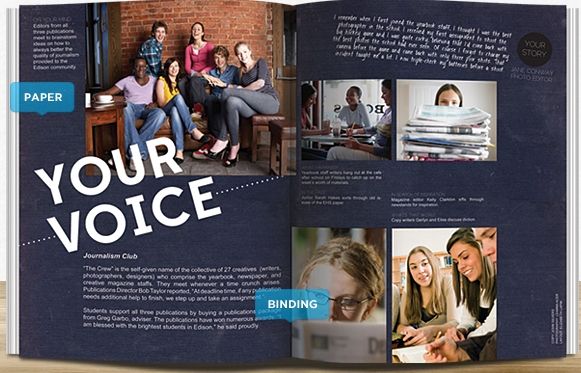 I've never done any digital scrapbooking, but I have played around with a photo editing program or two, and I found Picaboo to be exceptionally easy and intuitive to figure out. There are youtube tutorials, but, frankly, I didn't check them out because I didn't need them. Here are some screen shots I captured to help you see the process:
After you create your account, this is your first page.
(click on the picture to enlarge)
You create your pages by clicking on the blue "new section" button. You are required to name the section and choose how many pages you want in the section. Now, you can have just one big 20 page section if you choose, but I found it was much easier to chop it up into bite-sized pieces. I chose to give 2 pages to each child, and then separated the rest of our year into big events, like Kaytie and Nate's talent show, groups we were a part of, like Scouts and soccer, and then other important parts of our school year. Once your sections are created, you can arrange and re-arrange the order in which they appear by "grabbing" with your mouse and dragging. If you click on the blue "bird's eye" button, it will show you all of the sections as they will actually appear.
Clicking on a section takes you to the page where you can edit that section. With a click of a button you can choose your background, a picture template for however many pictures you want to use, add text, and even pick fun stickers to add pizzazz to your page.
If you click on the blue "get more photos" button, you can upload photos from your computer or import them from Facebook or Flicker. I did not do this, but you can even generate a QR code and add video to your yearbook!
A word of caution on uploading photos. It is best to only upload a few at a time, if you try to upload say, 10 pictures at once, the possibility of crashing the program is high and you will have to close your browser and sign in again. Just sayin'. :) The good thing is that it saves regularly on its own, so I never lost any work even when I did crash it.
I absolutely loved the versatility and ease of this program. The one hard part was that there was so many choices! There are thousands of background options, but if you still can't find one to suit, then you can upload your own as a jpeg and use it instead. That is what we did with our cover. My husband designed it, then I uploaded it and chose it for the background. And it was really that easy.
While you can choose a premade template for your pictures (there are over 75 options) you can also just grab an uploaded picture and stick it where ever you like on the page. Pictures are easily resized, cropped, reshaped, and edited within the program. Grid lines make positioning a snap, and you can add or remove borders, shadows, or fun corners with a quick click of your mouse. And with another click, you can make these changes apply to every picture on your page. Then if you don't like it, another click undoes it, just like that.
Adding text is also simple and fun. You can choose from a wide variety of fonts; pick the size you like, the color you want, underline it, bold it, italicize it, give it a background and even choose its opacity level. I generally made mine really big when I was typing what I wanted to say so I could see it and then chose what size I wanted it to be "in real life".
Once you are finished with your book, you lock your pages and send in your order. A 20 page soft cover book costs $8.49. Shipping is $8.99. It costs nothing to create the book, you don't pay until you order. They say to expect 3 weeks to receive it, but I'm pretty sure we got ours sooner than that.
The finished product is stunning. We were very impressed and grandparents made immediate requests for copies of their own.
Our custom cover: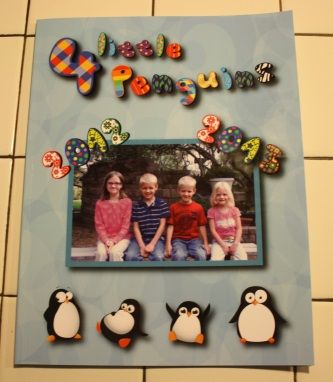 Here you can see the stickers that Kaytie chose for her page, and the different shapes we chose for some of her pictures. She opted for no borders on her pictures.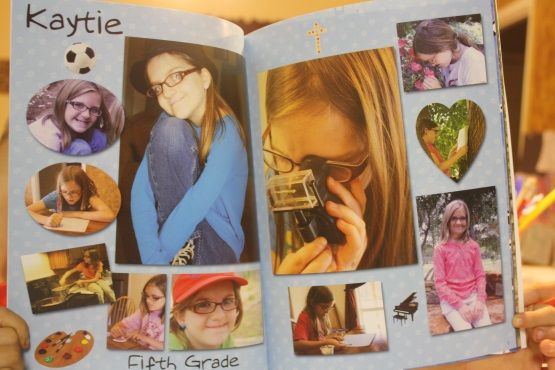 On the talent show page, I chose corners for the photos to help them pop off the background. For the Scout page, we chose a blue border for the pictures and I added a faint background to the text to make it readable on the picture.
This was, hands down, the most fun I have ever had with a review product. The whole family got involved with creating it. It took us a couple of days' work, but we enjoyed every minute.
We believe this product is awesome not just for individual families, but also for organizations that homeschool families are involved in: co-ops, scouts, clubs, sports groups, churches. We will be sharing this product with all of our groups, and we definitely intend on making Picaboo yearbooks a yearly tradition in our school.
But you don't have to take our word for it, read what other Crew members have to say on the
Crew Blog