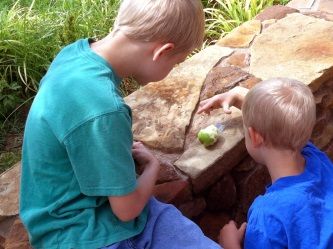 I have
alluded
to the fact that we are gradually moving closer and closer to the Charlotte Mason method. Now, there are plenty of blogs out there, written by moms who know the method and have used it for years and years, that explain the how and why of the method better than I ever can. So I'm not even going to attempt it. If you don't know who Charlotte Mason is, or if you are trying to figure out how to implement it yourself, then the best place to go is the AO forum,
AO website and forum
,
Simply Charlotte Mason site or forum
, or the
Charlotte Mason Facebook group
, and ask questions.
No, my goal here is to simply document our first year as serious CM homeschoolers. We have always made short lessons our goal. We have never relied on testing, but worked for mastery. Last year we started relying on living books in school, although we have ever used them to read for fun. This year we are adding in the rest: habit training, narration (we've dabbled here but never seriously done it) art and composer study, nature study (more about this in a minute) and dictation (for Kaytie).
Today, I'm going to talk about nature study. This is something we have done informally for years. The kids spend hours outside investigating snails, roly-poly bugs, ants, caterpillars, butterflies, birds, rocks, trees, clouds, flowers, plants, and even mud. So our first official foray into Nature Study was not about learning to notice nature. They have that down.
This morning I loaded up the kids, the Nature Study bag, and an assortment of provender (to keep us sustained on the journey) and went to our arboretum. We love this place. I have never been to any other arboretum (don't tell anybody, but I don't even know how to pronounce it) so I can't compare, but it's large enough to "get lost in" but small enough that I am comfortable letting the kids roam about a bit. It has lots of shady spots and plenty of flowers and several fun places to play. The highlight is a "senses garden". It is also full of wildlife: squirrels, rabbits, insects, and birds of all sorts. Today we even saw a tiny hummingbird!
For our first formal Nature Study adventure, I simply told the kids that we were going to practice our observation and reporting skills. I told them to find something to look at. The only stipulation I set was that it could not be man-made. I told them to observe it as long as they liked and then come and tell me what they could recall. They loved it. Their narrations were short, but when they finished I asked questions that brought out more information and/or made them realize they weren't as observant as they thought!
Nate and Daniel, of course, chose insects to observe. Nate watched some ants and Daniel caught a big, black beetle-looking bug.
Abbie observed a rock.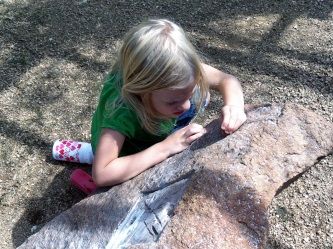 Kaytie chose a plant.
Afterwards, we wandered around enjoying ourselves. We watched a squirrel, and the hummingbird. The kids tried in vain to catch a dragonfly. For awhile, we were amused by a flock of birds perched high in a tree screaming at a cat trying to hide in a nearby bush.
We had lunch.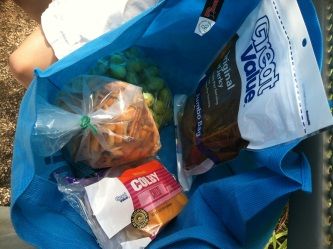 We ate on the wall because the table dripped moisture from last night's rain. Table manners are generally not enforced on picnics... people eat where ever the mood strikes them.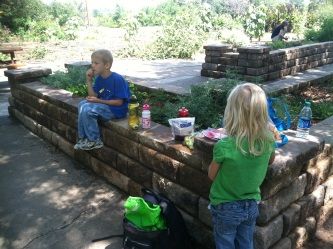 And Daniel's apple was sacrificed to science.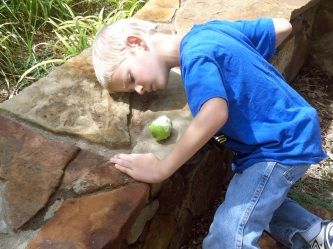 All in all, we had a great time and Nature Study was deemed a success by all concerned. Next time, we will get out our sketch books and take it to the next level.