As a family, we like birds. We have owned them as pets. We love to visit aviaries. We keep a bird feeder filled in our back yard. The kids can identify the ones that live around here both by sight and sound. So when
Brainfood Learning
asked us to review one of their DVDs, we eagerly chose
The Fascinating World of Birds
.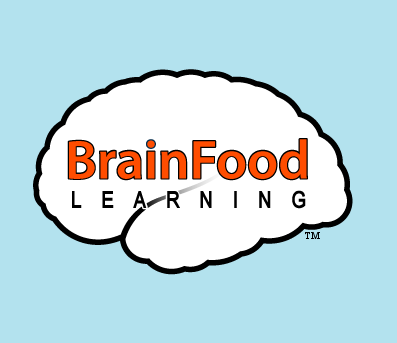 Brainfood Learning
was started by a set of parents looking for videos that both educated and entertained children about the world around them. Unable to find such a thing, they created their own! Their goal is to engage kids while exposing them to concepts and vocabulary that are often thought to be beyond young children. Aimed for children of all ages, this was a quality product that showed us beautiful video of ten different birds in their natural habitat. We loved watching the ostrich run, the owl turn his head all the around (and upside down!) the penguins jumping out of the water, the pelicans diving, and the eagle snatching fish with his claws. For roughly 40 minutes, all four kids sat, totally absorbed and enjoyed every minute.
Each bird was given a short "bio", if you will, telling us what they ate, where they lived, and special features about them, which was blended with general facts about all birds. At the end of each section, the kids were given a bird-related vocabulary word, such as "ornithologist". After each bird had their turn, there was a review section which was divided into four different parts, each increasing the level of difficulty just a bit. My kids loved answering these multiple-choice questions and were especially delighted that they only got a few wrong.
We watched this video together a couple of times, worked a little bit on the free coordinating
Lesson Plans
and then I put the DVD in our bird watching basket for the kids to choose as they liked.
Brainfood Learning offers two other other DVDs, one about insects and one about mammals. Each DVD costs $14.99.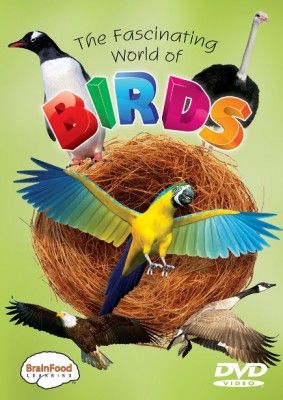 The kids all had an opinion about this DVD:
Kaytie: I liked it because it gave a lot of information about birds that I didn't know. My favorite bird was the hummingbird and the review questions was my favorite part. I would recommend this video to kids who know a little bit about birds but want to know more.
Nate: I liked the macaw because it's pretty. I liked it when the pelican dove into the water! I liked it when the penguin was sitting there and the penguins in the background were popping out of the water and walking away. I learned that ostriches eat two pounds of rocks.
Daniel: I liked it. It helped me learn lots about birds and how they live. My favorite bird was the ostrich. I liked when the owl turned his head upside down, that was funny. I would recommend this to everybody!
Abbie: I liked it. It was cool. Some parts were a little boring like the parts where he talked about the feathers. My favorite part was the penguins. My favoritest part was when they asked the questions at the end.
We all really enjoyed watching
The Fascinating World of Birds
, and would love to see the others as well. The Crew reviewed all three, so click on the banner and read about their experiences and opinions. You can also watch previews of each one
here.