We recently did two years of World Geography, and as I planned each year, I came across this book:
Global Art: Activities, Projects and Inventions from Around the World
and each time I shrugged it off without even really looking at it. I guess I thought it didn't have much substance to it? Well, I learned my lesson about not judging a book by it's cover, because when
Gryphon House
asked us to review this book, as soon as I opened it, I knew this was a book I should have bought long ago.
There are over 130 art ideas in Global Art, these projects are divided by continent and listed by country. Each activity is clearly marked for difficulty level, art technique, and how much planning it requires. The instructions for each project are clear and detailed, they begin with a materials list, and include a sketch of the finished project, a tidbit of information about the country of origin in a "Did you know?" section, and, sometimes, additional ideas to try. Oh, and for each country, there is a short list of book ideas. In the back of the book, the projects are indexed by art medium, experience level, preparation level, terms and materials, and alphabetically by country or continent.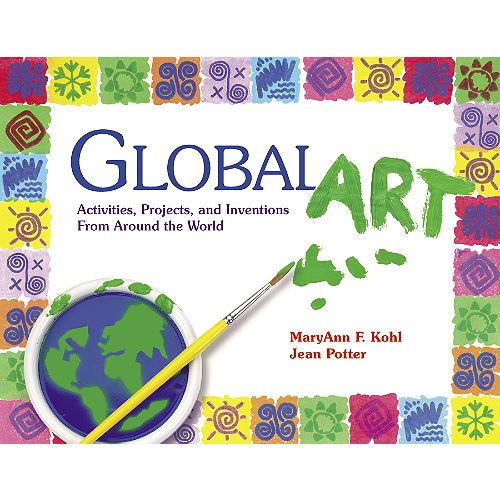 As soon as I took the book out of the package, my creative ten-year old was all over it. She spirited it off to read and was soon back asking for supplies. All on her own, she was able to make a lot of these projects.
She started with the Ilukeres Fly Whisk from Ghana and went from there.
She made these Edible Miniatures from Bolivia, but, in the interests of honesty, I have to admit that no one cared to eat more than one bite. They were a feast to the eye, though!
She and Abbie decided to make Salt Clay Penguins, from the Antarctica section, but altered the recipe from paint to food coloring and made other funny shapes instead.
Now that she has gotten so many of these projects out of her system, I have rescued my book and am planning to use it with my World Geography co-op class this fall.
I do feel as though I need to give a word of warning, however: use of this book by your children could result in your kitchen looking like this:
and your daughter's hands looking like this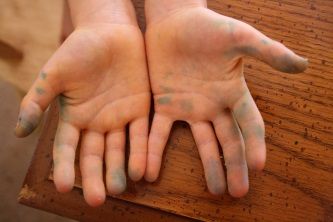 and expressions of pride
and delight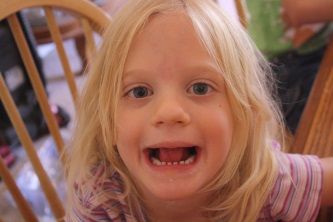 on their faces.
So proceed at your own risk.
Global Art
is intended for kids in grades K to 5th, and can be purchased for $16.95. It would be great for a World Geography class, an art class, or like we used it: just for a creative kid or two to have lots of fun.