We are fairly new to lapbooking, but have discovered that we enjoy putting one together. It is a great group project, and provides a quick, fun way to review a topic that we recently learned. And it is hard to go very far into the lapbook world without coming across what is arguably the most famous source of all:
In the Hands of a Child.
In the Hands of a Child
was started in 2002 by
two homeschool moms
looking for a better way to provide lapbooking resources for themselves and others. Their goal is to take
"
the preparation time out of the parent/teacher job description and allow educators to focus on the learning experience".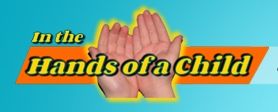 We were thrilled to be asked to review for this great company. I requested
Let's Measure It!
because this was a topic that they had all been introduced to quite thoroughly, but could use a bit of review and reinforcement on. It is really intended for grades K to 3rd, but I conned the older two into helping cut, paste and color anyway. I just didn't tell them what ages it was really for...
But maybe you are asking, "What is a lapbook?" Simply put, it is a bunch of little booklets in different shapes and sizes glued into a file folder for the purpose of hands-on learning and review. For a little bit longer explanation, click
here
.
For us, this was a fun and easy product to use. We were sent a PDF to download and it contained all the information we needed. (If you have never done a lapbook before, be aware that you do need to provide some basic supplies: scissors, glue, file folders, crayons, possibly a stapler and/or brads.) Normally, these are intended to be printed on colored paper to give your finished product some flair, but we were having other issues and opted for simple white paper. I figured the kids could color it themselves if they liked.
After printing, the first thing we did was grab some scissors and cut everything out.
The PDF file begins with a short explanation of what exactly a lapbook is, and some suggestions on how to adapt the product to fit the needs of your particular student, if needed. Then there is a Table of Contents. Then a suggested schedule for finishing the lapbook in six days. But we were just reviewing the information and not learning it, so it didn't take us more than two. After the schedule, there is a short list of suggested books to read on measuring. There were some good books in there that I found at our library. I just let the kids read through them on their own time. Then there are instructions for each booklet, how to fill it out and how to put it together. This was very handy and I relied on it heavily. Especially since some of us got a little careless as we cut and our booklets got all mixed up. Next is the instructions on how to put your file folders (aka your base) together and some pictures of the finished product. Finally, there are six pages of information to read aloud to your student. This is divided up into sections in the schedule I mentioned, but we just read through it quickly in one sitting. And last of all are your printables: the booklets or "activities" themselves. Let's Measure It! has 13 activities + 2 bonus ones (that we opted not to do).
After I had read through everything and we had thoroughly discussed it, we started on the fun part: the cutting, the gluing, the coloring and the putting of everything together. This is something that we do best as a group. Everyone gets to do a little bit of everything and when we are done, the end result is a bit of a surprise as well as an achievement to be proud of.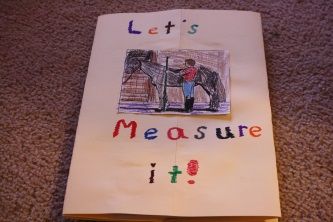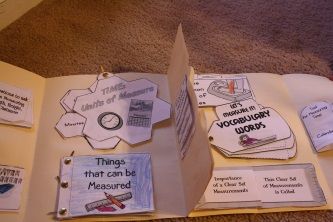 Let's Measure It!
as I said, is for grades K to 3rd, but
Hands of a Child
has lapbook and notepack options for all grades, including high school. They have over 450 different ones to choose from, and they cover a wide variety of subjects: Bible, Geography, Math, Science, Just for Fun, and many, many more.
Right now,
In the Hands of a Child
is having a sale, and many of their products, including
Let's Measure It!
are on sale for $5. This sale is for the month of August, so now would be a good time to check them out!