Bible learning is at the core of our educational endeavors. Over the years, we have employed many different methods to learn Scripture and Biblical concepts, but none have we enjoyed more than
Draw To Learn
from the
Notgrass Company
.
Notgrass is a family business that offers many different products for homeschooling families. I had heard about their history curriculum, but not about Draw to Learn, so I was intrigued and excited to receive it.
We got digital versions of all five of their books: Proverbs, Psalms, Acts, the life of Jesus and the letters of Paul. Each book has 150 lessons and is designed to take an entire school year: one lesson a day. If you school more days than 150, you can take a day off here and there without getting "behind", or your child can put more time into a particular lesson or two.
The digital versions are PDF and you are allowed to print as many copies as you need for your family, but not to resell nor to use for a school, co-op or other group.
We were also given a print version of the Proverbs book. This is a sturdy, spiral bound book with printing only on one page. It will make a beautiful record of your journey through the Bible. It is not copy able at all.
The purpose of each lesson is for the student to read the selected passage, think about what it means, and then draw. Each lesson contains a Bible passage, the "big idea", instructions on what to illustrate and ideas for how to do it. There is no "right way" to do it, just suggestions and ideas. The middle of the page is blocked in to give a "canvas" for the drawing and the student is encouraged to fill it up.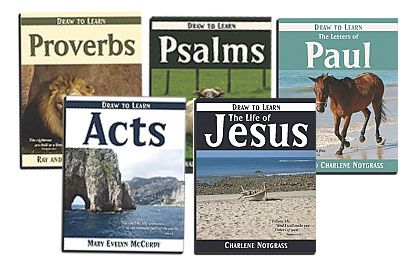 We loved this product. We chose to use Proverbs because we had just finished reading a chapter every morning and I thought this would be a great way to review. Kaytie and Nate could do it entirely on their own, reading the passage and following the instructions. For Abbie and Daniel, I read it aloud and they drew happily away. We found it to be an engaging way to study passages of Scripture. Something deeper than our normal just read it aloud, and an excellent way to encourage plenty of discussion. It's perfect for the whole family because each child just pondered on the Scripture and drew at their own level. With five different books, I can see us reusing this in a few years, expecting the kids to get something different/deeper out of it as they mature.
Nate is my non-artistic child, and he did struggle a bit, at first, but the suggestions of various ways to illustrate the passage helped him a lot. He did not fall in love with this method, like the rest of us, but it became an enjoyable way to study, even for him.
Here is a picture of one that Kaytie did, just to give you an example. The print looks a little funky because our ink was going out and I wrote over it so she could read it.
Draw to Learn is a fabulous product for all ages (In fact, I'm using the ebooks for the kids and keeping the print copy for myself!) and we will use it for years to come. You can buy it in
print versions
for $14.95 or as an
ebook
for $9.95.