We have successfully completed our first five weeks of the year, so I thought, since I can't seem to pull off the weekly wrap-ups, that this would be a good time to report on how we are doing. First, I have to say, that this is, hands-down, the best year we have ever had. So far, we have actually kept up with all of our subjects and have kept our afternoons mostly free for independent learning. We are behind in science and history, but the plan for history is just to go as far as we can with American history until we run out of time and then stop wherever we are. As for science, our curriculum has a 2 day a week schedule so we can catch up easily by just doing science every day.
In math, Kaytie and Nate are flying through their review of division. They will be caught back up to where we stopped by the end of term. I'm hoping that they keep up their momentum when that happens. Daniel has been doing well with Beta. He is learning about inequalities, estimation and rounding. I'm impressed with how quickly he is catching on to these concepts. He has a mathematical little mind. Abbie is working on subtraction. They are all doing Xtra math daily.They enjoy it (except when it glitches) and it seems to be working.
In spelling, Kaytie and Nate are working on suffixes and ways to spell the sound of "er". Daniel and Abbie just finished up all the short vowels and started on the "consonant teams" of SH, CH, and TH.
Daniel and Abbie have made great strides with reading. Daniel can read all but the hardest of words and Abbie read a book last week without having to sound out more than ten words or so. They are still enjoying
Mo Willems
.
In Geography, we are learning about maps and will make some of our own next week.
In history, we have reached the Oregon Trail and are currently reading about the Sager children. Oral narrations were slowing us down, so I started giving them a piece of paper and having them draw their narrations as I read. Daniel and Abbie join in, although they get hung up on one picture. But Kaytie and Nate do a good job of drawing a series of pictures that follow the story line quite well.
In science, we have done several experiments and started learning the periodic table of the elements. I have a game for that that we are going to pull out tomorrow.
We are starting lesson six in
Spanish
and daily add to our vocabulary. We can now tell the doctor which body part hurts! Although we would probably be hard pressed to understand his prescription. Unless he wants us to eat carrots and chicken. ;)
Kaytie and I learned about red herrings in Logic, and Nate has decided he is learning Logic as well and makes sure to sit in on all our lessons.
Kaytie finished her horse lapbook and is reading horse books from the library while we decide what she needs to do next.
Creche Conference
has been awesome. The kids look forward to their memorization work. They see it as a fun challenge and beg to go first. So far we have learned a psalm, a poem, the first 8 Presidents, and nearly a dozen Catechism questions/answers. They also love looking at the week's piece of art and narrating from memory. They all try hard to notice things that no one else saw. We are looking at Renoir's work this term. We finished reading through the book of John and started on the book of Luke per popular request.
We have been quite busy with our extra curricular work. Co-op is our favorite, I think. Abbie learned two stitches in sewing, Nate made a cookie in the shape of Texas, Kaytie is memorizing lines for the play in drama class, and Daniel is brought home some goopy goop from science.
Soccer takes up a good bit of our time. It looks like three of the kids are all on the same team, but they just wound up on the same color team in their age groups. Kaytie is in the U13, Nate in the U10 and Daniel and Abbie are actually on the same team in the U8.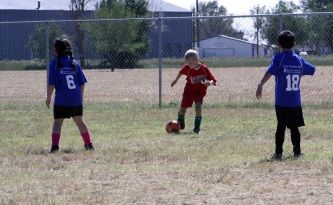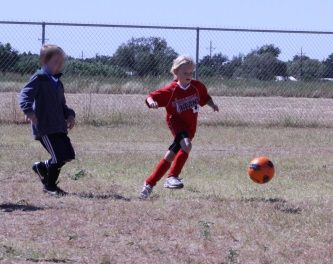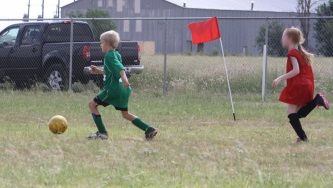 We went on a field trip to the corn maze, (and took Kaytie's best friend with us)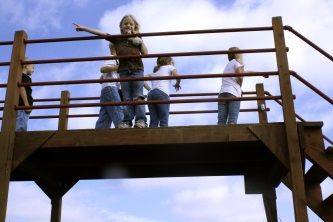 They loved shooting the corn cannon:
AIM!!!!
FIRE!!!!
We also adopted a couple of frogs which kept the kids hard at work observing them, catching bugs for them, and giving them plenty of exciting experiences. Until one died and the other escaped through the fence to freedom.
The boys started Scouts again. Aren't they cute? ;)