I have a goal to make my kids bilingual. I believe that second languages are important. And since we live in a part of the country where Spanish is the primary language for many people, I can think of several excellent reasons for the kids to be fluent in Spanish. It will help them minister to others. It could help them get jobs. It will help them learn other languages if they choose/need to in the future. My biggest struggle in teaching them Spanish, however, is the fact that I don't know it very well, myself. I know a few nouns, a couple of verbs, but other than asking where the bathroom is, and an uncanny ability to pick out the word "zapatos" from any given paragraph, I don't know any Spanish. We have tried many different curriculum in the past, and usually give them up in frustration or despair or just sheer indifference after a few weeks. But early in September, we received a review product that was destined to change all of that.
See It and Say It Flip Flop Spanish
from
Flip Flop Learning
is now officially our Spanish curriculum.
Flip Flop Spanish is a two-year curriculum that makes learning a foreign language fun and hands on. Written by
Senora Gose
, who has taught Spanish both in schools and as a private teacher, this program is easy and engaging for both the teacher and the student.
We received a Teacher's Manual, four audio CDs, three packs of flashcards, and a whiteboard paddle. The Teacher's Manual comes already hole-punched, so you can just pop it into a binder (you have to provide your own binder). Included is a front, back, and spine insert for your binder so it never gets confused with all your others.
Also included are plastic (3 hole-punched) sleeves to hold your CDs and 16 of the flashcards. So you can keep everything handy in the binder. I used the flashcard sleeves to store the cards I pulled for each lesson.
The manual starts off with a "quick look guide" that shows you at a glance which CD tracks go with each lesson. Then there is a quick overview of how the lessons are laid out, an explanation of how vowels are pronounced, and a few conversational phrases that you can use while you are building your working vocabulary. This is followed by the 45 lessons and an alphabetical index to the flash cards.
The flash cards are made of sturdy cardstock and have colorful pictures of real objects on one side and the printed word, with pronunciation guide and meaning on the other side. This is where the "flip flop" comes in.
The CDs are audio versions of the lessons, so you and your child consistently hear the correct pronunciation of all vocabulary. This is also great because I didn't have to teach the lesson. I could just sit with the kids, listen, learn, and do crowd control. I did not have to learn or prep anything in advance.
And finally, the paddle is a white board that the kids could hold and draw or write on. It is used for review games. Here, Kaytie and Daniel are using it to play a form of pictionary. Kaytie drew a carrot and Daniel has to not only figure out what she drew, but say it in Spanish.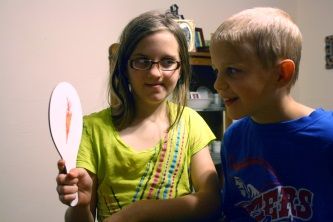 When this product arrived in the mail, I opened it, dropped my manual in a binder, put the flash cards in a box, skimmed through the first lesson, pulled out the cards needed for the first lesson and was ready to go. Prepping for the lesson is really that easy. It was truly awesome. Lessons were just as simple. I would play the CD, follow along in the manual and watch the kids learn.
Each lesson follows the same basic pattern, yet they are all different. You start by learning the new vocabulary. We spread the cards on the table in front of us and as she said each word in Spanish, we would touch that card and repeat the word. Then you practice by playing games or building sentences. Each lesson is completely hands on, the kids are always interacting with the cards, the teacher, and the vocabulary. And each lesson took us less than 15 minutes to complete.
You are supposed to do each lesson three times over the course of your week. Twice with the CD, and the third time reading aloud from the manual. But we actually wound up doing it many more than that, because each kid wanted their own turn at the speed rounds and building the sentences so every day we listened to the lesson 12 times. It did the job of getting those words in their heads!
When I write reviews I usually try to do a pros and cons list, but for Flip Flop Spanish, all I really have is a list of things I love about this product.
First and foremost is the ease of use. I love that I did not have to do any prep work. I did not have to make flashcards, print worksheets, plan lessons, or even read through the manual. The only necessary work was pulling the new flashcards and that took me all of three minutes, tops. I even had Kaytie or Nate pull them for me a couple of times. And when I forgot to do it ahead of time, it was so quick and easy that I could pull them while the kids waited.
I love that I don't have to know anything. Senora Gose does all the teaching on the CD and I follow along in the manual. I don't have to worry about pronunciation, because we can hear it, and we can also see it on the backs of the cards as well as in the manual.
I love that each lesson involves audio learning, visual learning and kinesthetic learning. Each lesson mixes old words and new words so that review is a constant, ongoing part of the program. And there are so many different games and review methods that the kids aren't ever bored during a lesson.
I love that the lesson don't take us very long, and that there are only cheers and never groans when I pull out the book and put in the CD. I've even had kids ask, "Mom, when are we going to do Spanish today?"
I also love that she sneaks extra little words into the lessons (touch, next, ready) in an organic way.
Mostly I love that after only four lessons, the kids have not only learned roughly 20 new words, but are able to use those words in sentences. The older kids have also been writing and reading sentences in Spanish at the end of each lesson. Grammar is included as you progress, we just haven't gotten to those lessons yet.
The kids' opinions of this product:
Kaytie:
Well, one of the reasons why I like Flip Flop Spanish is that it was different from just watching a video, it was more interactive. It was easier to learn it by doing it than by just listening. And another reason why I like it is because of the cards. I like how it has a picture and then the word and meaning on the back, so I can learn to pronounce it and what it is at the same time. I liked everything about it. I liked the different kinds of practices for each lesson. My favorite was the speed rounds, because I'm good at it. I like that we have only been doing it for a few weeks and my vocabulary has improved A LOT. I just really, really, like Flip Flop Spanish!
Nate:
I actually kinda like it. I actually have learned a lot from it. I like how it started with easy words and then gets harder as you add more words. I would really recommend it to homeschooling moms. I give it five stars!
Daniel:
It was fun! We learned about different words and how to say them. I like the games we get to play. There is nothing I don't like about it.
Abbie:
It is fun. It was fun learning. But I still need practice on some of the words. My favorite word is "el perro", that means dog. I did not like the carrot word, it was too hard to say. My favorite part is that we get to learn it. And I like the speed rounds. And I like it because there are games and you can make sentences and it helps me learn Spanish.
See it and Say it Flip Flop Spanish
is intended for ages 3 and up. You can
purchase
it for $99.95.