Several years ago, my husband and I were on a church planting team. As part of our training, we were introduced to the DISC profile. We were very intrigued with its possibilities to increase self-awareness, communication, team building, and so much more. We spent a lot of time learning as much as we could about the profile and used that knowledge to strengthen our marriage, increase our usefulness in church planting, help build relationships with others, and aid in our counseling others in their relationships. So when I was offered the chance to review
DISC profile: The Children's Profile
from
PeopleKeys
I was very interested. I jumped at the chance to gain insight into my own children using the DISC.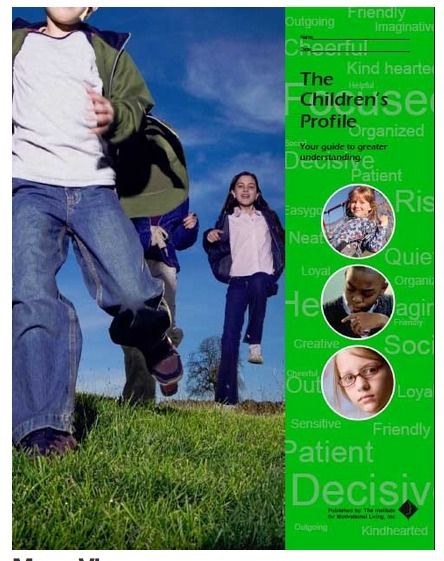 The Children's Profile is a 25 page booklet that guides you easily through evaluating your children's personality. There are four different personality styles, one for each letter in the DISC. But this isn't intended to put you in a box and label you. Everyone has their own unique blend of these styles because everyone is unique. The purpose of the Profile is to aid in understanding others as well as yourself.
The first few pages of the booklet explain to the caregivers and the kids how the test works, and what its purpose is. Then there are 20 questions that the student answers and a chart for the adult to graph the answers and identify the personality blend. There are easy-to-follow directions on these pages.
The rest of the booklet explains what each style means, how they think, what motivates and bothers them, how to communicate with them, how to interact with them, and how adults with each personality should relate to them.
The test is intended for children ages 9 to 14. I intended to use it primarily with my 10 year old daughter. She took the test first. Now, as I've said, we have had experience with the DISC before, so it was really no surprise that her answers placed her as a C/S personality. We already knew that she is creative, sensitive and respects rules. After she was finished, the other kids were interested in what was going on, so I gave them the test orally. No copying is allowed. My 9 year old and 7 year old also tested to be pretty much what their dad and I already expected, a high D and a high S, respectively.
But then it got interesting. Remember that the test is for kids ages 9 and up. Well, my 6 year old's results were NOT consistent with what we knew about her. So I asked the other kids to answer the questions for her, and when I graphed their answers, lo and behold, there was a much more accurate result: Little Miss "I". So, when they say "9 to 14" you can believe them. :)
Now, like I said, we already pretty much guessed what our kids' personalities were, but the cool part, the helpful part, was the pages that followed. I gained a lot of insight by reading "phrases that you can use to encourage" your child, how to interact with each personality style from my own particular style and a whole page of tips on how to motive and interact with each kid. I loved reading about their strengths and how to encourage and motivate each kid. This personality test will definitely help me be a better mom.
You can buy
DISC profile: The Children's Profile
for $15 and you can read what other crew members thought about this and other PeopleKeys products.