Several years ago, a teacher at church introduced my kids to the game of chess. They were quite young at the time, but they were unaccountably fascinated by the game. I do not know how to play and I do not really care to learn, but thanks to this friend of ours, the kids pulled out their dad's old set (missing some pieces) and played the game quite frequently. Often, they asked me questions about rules and strategy, but I rarely knew the answers, so they made a lot of stuff up as they went. So when we were asked to review the Starter Chess Learning Kit from Chess House they were ecstatic!
This learning kit includes a case, a chess set with a roll-up board, a DVD, (pawn level) and an activity booklet. Everything fits neatly in the nylon case, held securely in place by zippers or straps.
The first thing the kids did was watch the DVD. The instruction started at the very beginning: how to set up the chess board. Then the basic rules for each piece was covered in its own lesson. The final lessons covered the topics of "castling", "pawn shields" and "development". These lessons were nicely done. Elliot was pleasant to listen to, the pace was slow enough for the kids to follow, and everything was visually clear to them. They enjoyed watching the videos over and over again.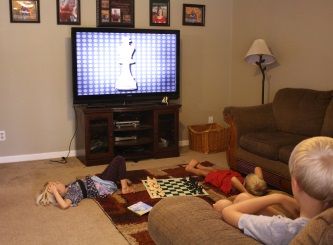 The activity booklet gave them games to play for each lesson. There were from one to three games depending on the lesson, and their purpose was to provide a hands on way to practice and reinforce the information given in the lesson.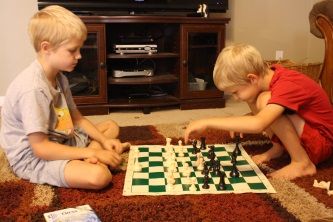 The kids thought chess set itself was awesome. They loved the sturdy mat with its labeled squares, the large pieces that were the perfect size for their hands, and the case that made putting it all away quick and easy.
For chess loving kids, this set was perfect. They have so enjoyed learning the rules and some new strategies. They now play chess before school, after school, and whenever they have a free moment. They talked Daddy into playing with them, and he was quite impressed with how much they knew and how well they played the game!
The kids said:
Kaytie: I liked it because it taught me how to play chess. I also liked it because the DVD helped me understand the rules. I liked the DVD because it gave me every individual piece so I learned what it could do and when I needed help with the rules I could just look at the piece I needed help with. And I liked the whole set because I liked that we could roll up the board. I was, however, puzzled because it had two queens. (the set came with extra queens)
Nate: I liked the set because it was big pieces and not little pieces where you have to worry about knocking stuff over. It was a basic "beginner skill" level and later you can get the higher level ones. I want the higher level ones!!! The DVD was helpful because it taught me a lot of things I didn't know, especially pawn shield.
Daniel:
It was fun because we got to learn how to play chess and how to do a castle. And I liked it because it taught me how many points each piece was. It was really fun using the things I learned when I played.
Abbie:
It taught me how to do chess and how the chess pieces move. My favorite part about it is that we could play it while we watched the DVD because that helped me learn it quicker.
So the Starter Chess Learning Kit was definitely a success in our house! The suggested age is all ages, and we definitely agree. My six year old learned how to play and my nine year old was able to give his dad and his teenage cousin both a run for their money! It is an awesome product for people like me who don't know how to play, but who have kids that are interested in learning.
You can buy it here for $39.99. There are other DVDs, too, Knight Level, Bishop Level, and Rook Level, that carry on the learning. I'm eyeing them for Christmas presents...