We love reading around here. Some of us (I won't mention names, ahem) read whenever we can squeeze a moment in... we read while eating, brushing our teeth, walking, jumping on the trampoline, etc. All of us look forward, eagerly, to getting our hands on the next new book. So when
Diary of a Real Payne Book 1: True Story
came in the mail, it was nearly a wrestling match to see who got to read it first. I pulled rank, of course, but Kaytie and Nate were breathing down my neck, so I had to read it quickly so they could have their turn.
Published by
Barbour Publishing
, Diary of a Real Payne was written by Annie Tipton. It is the story of a fourth grade girl living in a small town in Wisconsin. Emma Jean (E. J.) Payne has a pesky younger brother, Cockapoo dog, and a BIG imagination that regularly gets her into trouble. The story is told in a mixture of E.J.'s diary entries, third person narrative, and her vivid daydreams.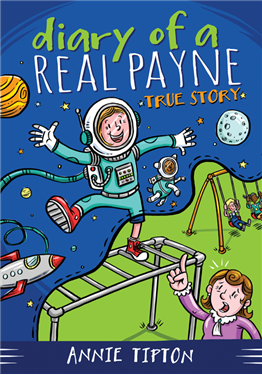 As a parent, I thoroughly enjoyed this book. E.J. is not a perfect kid, so my children were able to relate to her, but she has obviously been thoughtfully raised, and her parents are quite present in the story. The adults are smart, loving, and creative. I enjoyed E.J's relationships with her fun babysitter, her pastor-father, and her teacher-mother. They were all kind and accepting of E.J. even with her tendency to day dream, but they all had high expectations of her behavior. E.J is no brat. She does get into a lot of sticky situations: cutting a bald spot in her brother's hair, overflowing the laundry room with soap suds and hot water, knocking over a grocery store display, but these incidents are all results of her daydreaming, not defiance or disobedience and her parents let her suffer the natural consequences of her actions.
I also liked that even though this book is Christian fiction, it was not "preachy". It wasn't weak or contrived. E.J. learns about living out her faith in real life ways, by showing kindness to others, even people who have been mean to her. Led by the example of her dad, she gives to them without expecting (or receiving) anything in return. I liked that, except for the knowledge that she had done the right thing, she was NOT rewarded in the end for her acts of kindness.
I liked being able to hand my kids a book that they would enjoy, relate to, and learn from, all at once.
The stories are funny. The characters are true-to-life. The plot is engaging. I found it hard to put it down and I'm pretty sure the kids each read it at least twice before letting me have it back so I could write this review.
Kaytie:
Ok. I liked it because it was about a girl about my age. And because she had a lot of adventures and she liked to daydream, which I kinda like to do, too. I also liked that it is half a diary kind of book and half a regular kind of book. It was funny.
Nate:
It's a good book. I can't wait for the next one. It was too good of a book for me to have a favorite part. It was amusing, it made me chuckle. I would recommend this book to anyone!
Diary of Real Payne is recommend for ages 8 to 12 but even a mommy as old as me will enjoy it, too!
You can download a sample chapter at the bottom of
this page
. And this paperback book is currently
ON SALE for $4.49
!