I was raised in a political-minded family. At the age of six, I passed out campaign fliers door to door. I grew up attending victory parties, listening to debates, helping my big brother run for local office, and hearing my family discuss the issues of the day. So it probably is a little odd that as an adult, I am not highly involved in what's going on in the world. My husband gets his news from various online subscriptions. I get my news from him and the kids actually hear very little.
In an attempt to change this, I agreed to review the children's magazine
God's World News
. We were sent three issues of
News Flash!
which is intended for Grades 3 and 4. God's World News is a monthly magazine, with 10 issues a year. It is designed to give kids a Biblical worldview and there are publications for every age: from preK to high school. There is also a magazine for adults, called World. I was sent a couple issues of this magazine, as a freebie. I have enjoyed reading it.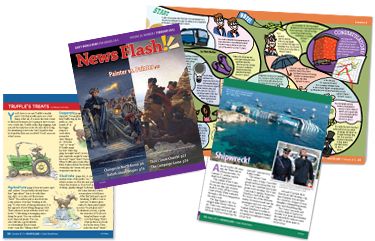 Each 32 page News Flash! issue was packed with short articles that interested my kids. Stories about baby panda bears, nine-year-old chess experts, a prosthetic leg made from Lego, the Border Patrol, and the earthquake damage to the Washington Monument. The stories are written on a 3rd to 4th grade level and while they are definitely topics that intrigue kids in that age group, they are real news stories that broadened my kids' view of the world around them.
In addition to the news, each issue had puzzles and quizzes for the kids and a page of humorously captioned photos which made my kids laugh and laugh.
Included in your subscription is an online extension that offers more information about some of the articles in the paper magazine, biographies, and answers to the puzzles and quizzes.
And finally, not all age levels get one, but we received a large, paper, world map so the kids could easily locate the places mentioned in the articles.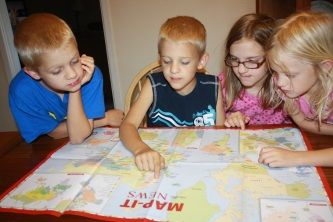 We have greatly enjoyed this magazine. I chose the 3rd and 4th grade level so that it would fall in between the age groups and it worked out nicely. The big kids read it themselves and I read it with the younger kids. They work together on the puzzles and games. They love clicking through the articles online, which are sorted by category: MySci, Creation,(science) Time machine (history), People/Places, Know Me? (biographies), and Fun Stuff (PDFs of the puzzles and quizzes).
Despite the kids' voracious appetite for them, I managed to drag the magazines out by only reading a few articles a day and discussing them. It was easy to add them to our Creche Conference ("circle time") and then I gave them time to play around online after we finished the magazines.
I highly recommend this publication for Christian parents who want their kids exposed to what is going on in the world without overwhelming them with the "ickiness" that they would get from watching the evening news. I especially loved the wide variety offered: from animals, to Olympic sports, to collectibles, to immigration, to science-geek topics like robots and flying cars. There is something for every kid.
A full-year subscription (10 monthly issues) is $28 and there are options for international and/or esubcriptions. Click
here for sample issues