I might have mentioned, once or twice, that we love science around here. We do a lot of experiments, we love to explore nature, we spend a lot of time examining and discovering, and we even spend a good deal of time reading about science... all the branches of science. Nate, my nine-year-old, has been especially intrigued by chemistry for years. He has his very own copy of the Periodic Table of the Elements and can discourse about it at great lengths to anyone who is willing to listen. For his sake, we all decided to choose Chemistry as our science topic this year, so it was perfect timing that
Apologia
(whose products we have used before and greatly love) came out with
Exploring Creation with Chemistry and Physics
this fall and that we were asked to review it.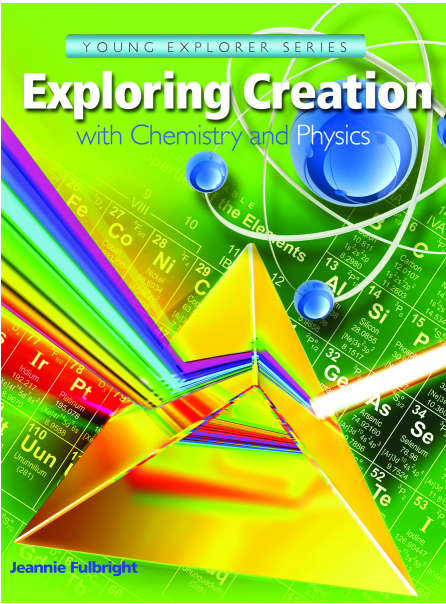 Written for kids in the elementary grades,
Exploring Creation with Chemistry and Physics
is a year-long study that covers matter, atoms, compounds, motion, energy, light, thermodynamics, electricity, magnets, simple machines, and more. The book is divided into fourteen lessons that speak directly to the child. Scattered throughout the lessons are experiments, projects, notebooking activities, and narrations (where the child "tells back" what has just been read) that support the material and encourage further investigation by the child.
The lessons are broken up into smaller sections, so you can read as much or as little at a time as you like. I like to schedule our schoolwork, but have discovered that when the kids get restless I might as well quit reading so it's nice to have stopping places handy.
The book is well made, hardback with sturdy pages. It has lots of colorful, engaging photographs and illustrations that add to the text. The experiments are set apart in blue boxes with large green Try This! headings. One of my favorites was the one that shows the kids exactly why they need to use soap when they wash their hands. First, they do the Try This! then the text explains with scientific terminology but in an easy to understand manner the how and the why.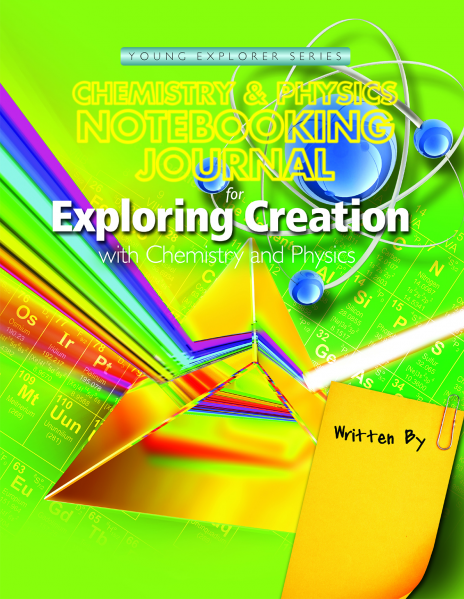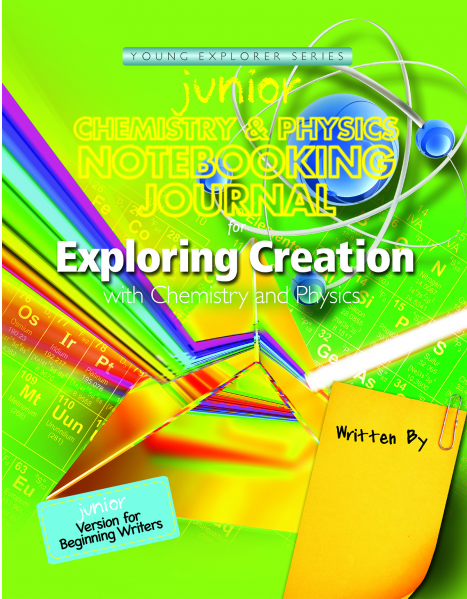 These are spiral bound, consumable books that give the student a handy place to write and/or draw their narrations, record their experiments, make mini-books, and other activities to help them review and remember what they have learned. In the front of each Notebook is a suggested schedule that divides the work into 28 weeks of reading, experimenting and notebooking if you only do science two days a week. I just used a pencil to divide the days into smaller sections since it was too much work for my younger kids to handle.
The Junior Notebook says it is for beginning writers and I would add unwilling writers. It has coloring pages instead of crossword puzzles and the copywork and narration pages have primary lines for the child to write on. So it offers more support for writing and requires less actual writing than the regular Notebook.


We found
Exploring Creation with Chemistry and Physics
quite easy to use. There is a Supply List in the back of the book that tells you exactly what you will need for the experiments in each lesson, so I just make sure I stay one lesson ahead collecting the stuff I need. Then when it was time for science, I just picked up the book and read aloud until the kids started getting restless. Some days, we stopped at each Try It! some days we waited until we were tired of reading and did all the Try It!s at once. The notebooking pages are assigned at the end of each lesson.
Since we did it all together as a group, I read all the text aloud and had them take turns narrating and answering questions. If it had just been my 9 and 10 year olds on their own, I would have just let them read it and then had them narrate to me. We find it mixes quite well with our laid-back version of the Charlotte Mason method.
To be completely honest, we have used Apologia products before and although I love the quality and presentation of the products it has been a bit of a struggle to use them in the past. This time, though, my youngest student was within the minimum limit of the target age and I was amazed at what a difference that made. Who would have thought it, huh? :)
Exploring Creation with Chemistry and Physics
sells for $39 and you can check out sample pages, the table of contents, the supply list and some frequently asked questions about the series before you buy.
The Notebooks are $24 and are consumable but you aren't allowed to copy them, so you would need one for each student.
We have a long history with
Apologia
in our school, using not only their homeschool science curriculum but also their worldview curriculum and some of their books and have always had a pleasant experience with the materials and with the company as well. Apologia is highly recommended by us!