Welcome to
5 Days of Homeschooling Essentials
! Every so often the Schoolhouse Review Crew does a blog hop on a homeschool-relevant topic. This time, we are discussing Homeschooling Essentials hence, the name ;).
Homeschoolers, in this day and age, are a varied breed. There is no one-size-fits all when it comes to what homeschoolers need because there are so many different "kinds" of homeschoolers. We no longer fit the "religious fundamental" stereotype. Homeschoolers vary by background, religion, financial status, social status, race, educational backgrounds, and even nationality. Some homeschoolers have a dozen or more kids, some have only one. Some are single parent families, some have two working parents, some have one working parent and one stay at home parent. Some homeschools are taught by mom, some by dad, some by grandparents or even other family members. So it is difficult to say what exactly is an essential when it comes to homeschooling, because each scenario is so different!
In my opinion, there is only one totally essential need for every homeschooling family and that is the framework that your school is built upon, these five things: a reason, a vision, a plan, a commitment and an attitude.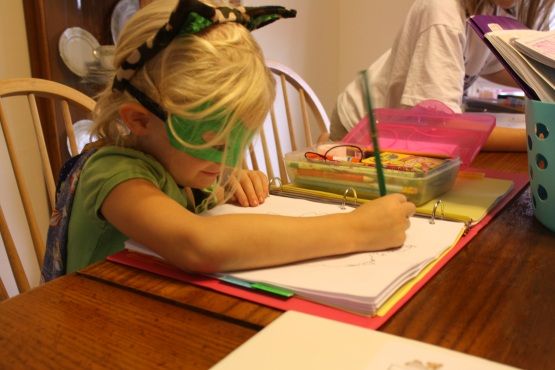 A reason:
There are many different reasons a parent chooses to teach their kids at home. Some of them are negative, based on fear or anger or even laziness. It is true that there are people who pull their kids out of school because they simply don't care enough to take them to school every day. But most homeschoolers have a positive reason to buck the system: to give the children a better education; to provide a nurturing environment (especially important if your child has been bullied in a traditional school); to promote family unity; to instill character and values that the parent feels are vital to a successful life; to create a healthy environment where socialization can happen; to tailor the child's education to fit their particular needs.
As for my family, we homeschool for all of these reasons. Each of our four children are very different in learning styles and emotional needs, but we believe that none of their educational, spiritual, emotional and physical needs would be met well in a traditional school setting.
Every family has unique reasons, so the important thing for a new homeschooler to settle in their own mind what those reasons are. Knowing why you are making this jump is an important step in determining the next essential need...
A vision:
Knowing where you want to end up is vital in this journey. Do you want your child to go to college? Is character and your child's spiritual life the most important thing to you? Do you value creativity over discipline or vice versa? What kind of adult do you want your child to be? Answering these and similar questions for your family is vital to your success. Imagine that you are going on a vacation. The things you pack, the method of transportation you use to get there, even the amount of money you need to take are all dependent on the actual destination. You wouldn't pack a parka if you are going to the beach!
My husband and I both value education. We want our kids to go to college someday. We want to raise adults that can think for themselves and who are burdened with curiosity and know how to find the answers to their own questions and seek (or create, if need be) solutions to their own problems. We want our kids to fly high in whatever field they choose to pursue. (This does not mean financial success, by the way. Our oldest daughter wants to be a missionary. We want her to be an excellent missionary.) We want them to follow God's leading, not only in their calling in life, but also in their daily lives, which means we want them to be honest, dependable, hard working, generous and compassionate. We started talking about these goals when the kids were babies and we still discuss them regularly. Knowing what we ultimately want the children to be has a strong bearing on what our daily life looks like, what curriculum I choose, what our family rules are, and even what extracurricular activities the kids are involved in.
A plan:
Once we know our vision, we come up with a plan. New homeschoolers are always so overwhelmed with their options. Charlotte Mason? Classical? Unschooling? Math U See? Story of the World? Winston Grammar? Sonlight? Apologia? What do you choose? Where do you start?
Knowing why you are here and where you are going helps so much in cutting down your choices. Do you want free spirited, creative, artistic adults? Then you probably don't want a workbook heavy, all-in-one, boxed curriculum.
Since we want adults who still love learning, who can problem solve and deal with deep thoughts, but also have plenty of self discipline and strong work ethic, we have chosen to follow the Charlotte Mason philosophy in our homeschool. This automatically cuts out a lot of curriculum choices. You won't find us using Abeka, for instance, but we do have bookshelves full of books and the kids have Kindles so that we can squeeze even more reading into their days. Because, we do allow plenty of room for technology in their day. Because we want them to be able to survive and succeed in the future, which, like or not, will involve technology. Screen time is limited, but it is there.
A commitment:
Homeschooling is hard. No matter what your school or home looks like. No matter what your vision is or how you plan, it is hard work to teach your children all day every day. Some days are great! The sun is shining, the house is (mostly) clean, the kids are excited to learn what you want to teach, maybe one of them makes a breakthrough on a difficult concept, maybe they all even got along. But some days, weeks, months, years, even, are uphill trudges through a never-ending slog. You are tired, you are scared that your kids will never learn enough to graduate or even live on their own, you feel like a failure. The commitment that you made to this lifestyle is essential on those
days
years. The acceptance that you are in this for the long haul and the remembrance of your vision of where you are going. That commitment is what gets you to the next sunshiny day.
An attitude:
And this brings us to the last essential I'm going to talk about today. The attitude of the teacher. Long term commitment to the vision and the plan is essential. But daily attitude is also so very important. Our week last week was not an easy week. And honestly, it was all because my attitude was bad. The weekend brought some difficult events for my husband and me, and I allowed that to carry over into how I reacted to the kids all week. Yes, we also dealt with some "fun" stuff like clogged toilets and cumin seasoning spilled all over the kitchen floor, but it was all made worse by my own negative attitude. Sometimes the teacher needs to step back and regroup. There are many ways of doing this: a mental shake; a revisiting of the vision; a short break; a "fun" day for the whole family; an afternoon in the sunshine; simply whatever works best for you; but it is essential that you do what it takes to keep your attitude good.
So there it is! My first five Homeschool Essentials for 5 days of Homeschool Essentials! :) Come back tomorrow for Day Two and meanwhile, click over and
read what the other 89 Crew members think
is essential for their homeschool!
Ok, so 89 is a lot! Here is a short list of 9 to get you started. ;)