Welcome back to
5 Days of Homeschooling Essentials!
We have talked about having a
vision
to build your homeschool on, we have talked about
community
to help hold your homeschool up, and now we are going to talk about the bare basics of what you need to get the work done. The tools, if you will.
I love my curriculum, my manipulatives, my printables, my schoolroom, my pretty lesson plans, but honestly, those aren't essential to homeschooling. I will not give them up willingly, but they are luxuries. If I was to get down to the honest truth of what I actually have to have to homeschool, the list is shockingly short
A computer with internet connection and a printer:
There is so much free stuff to be found on the internet! Everything from worksheets to print, online games that teach through "play" (like our beloved
Xtramath
), videos on every subject under the sun, works of art from the masters, to complete curriculum like
Ambleside
and
Easy Peasy
.
There are also sites that aren't free but that can be totally worth the price, like
Supercharged Science
, which Kaytie is
using
in the picture below.
But free or paid, there is plenty of great stuff out there to add so much richness to your children's education! Not to mention that technology itself is a critical skill to have in today's world.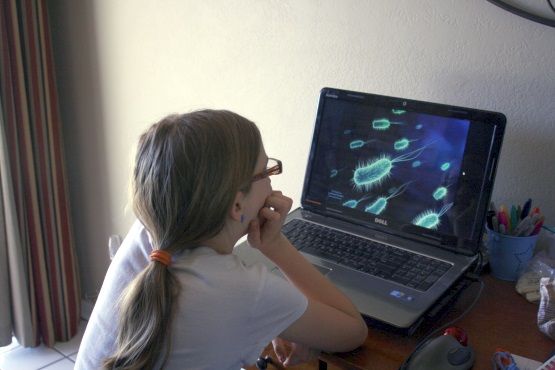 a library card
This almost goes without saying. We love, love, LOVE our library! It's an old-fashioned kind of library, full of those old classics that Charlotte Mason homeschoolers (like us) love so much. We visit our library every week and have built a good relationship with several of the children's librarians. One even grabbed a couple of books off the New shelf last week and held them for us because she knew the kids would especially like them. :)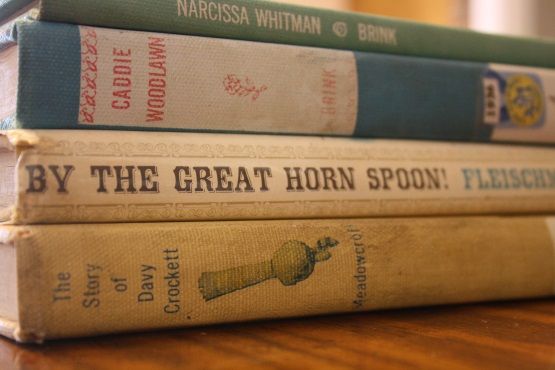 paper
Both to print the above mentioned finds off the internet and to produce work of your own. Paper is highly valued in our home, the kids use it for drawing, writing stories, folding airplanes, making lists, creating toys, signs, and even schoolwork. ;)
I use it for creating schedules, lists, and making notes... among other things.
We keep a stock of plain white printer paper, white and colored cardstock, construction paper, and notebook paper.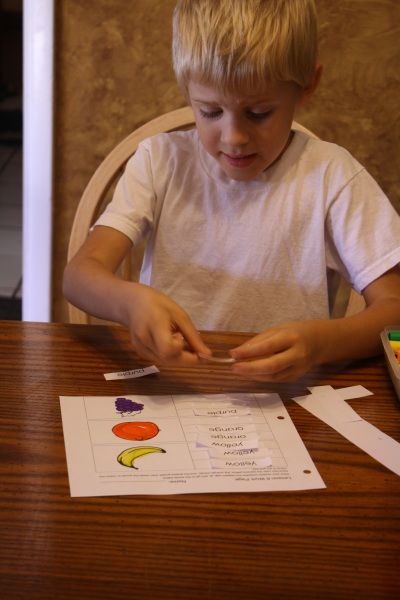 pens and pencils
Of course! The kids keep theirs in pencil boxes along with their crayons and markers and colored pencils. I keep mine stashed away in a pocket in my binder. They love it when I use different colors to mark their work!
books
of course! We love books around here. Four of us love to read and two love to be read to. (We are working on them.) We have shelves and shelves of books and we have kindles that are loaded down with more books to read! We love all types of books, not just literature, but non-fiction, how-to's, guides, joke books, atlases, picture books, you name it, we love it.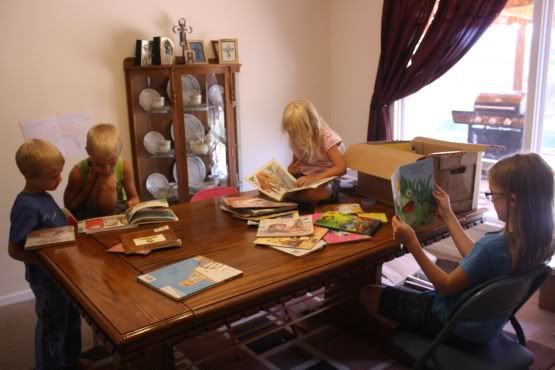 Pencil Sharpener
And a pencil sharpener, yes. We have been struggling along for several months now without a good pencil sharpener and we are all feeling the pinch. A good, quality pencil sharpener is as essential to a homeschooler as sunlight is to a sunflower. Maybe more so.
The last two on my list are not things you can buy, but they are vital tools that I use daily:
Flexibility
I don't mean just my ability to go with the flow, taking off sick days and fun days, changing up what's not working, and thinking on my feet, but I also mean giving the kids plenty of flexibility and free time to pursue what they are interested in.
A sense of humor
This is vital. I have learned that a good laugh will change a bad day to a fabulous one in seconds. Gentle teasing and joking is the biggest weapon in my arsenal in the war against bad moods, dramatic trauma, and sibling squabbles.
Thank you for reading Day Three of
5 Days of Homeschooling Essentials
! If you missed them Days One and Two are here:
Vision
Community
Come back tomorrow for Day Four and meanwhile, click over and
read what the other 89 Crew members think
is essential for their homeschool!
Ok, so 89 is a lot! Here is a short list of 9 to get you started. ;)