Welcome back to the final instalment of the
Virtual Curriculum Fair for 2014
! Over the last few weeks we have been sharing how the curriculum we use and how we use them. This week we are talking about Seeking Beauty: the Arts and everything that brings beauty to our world...
The Arts can be a difficult thing to work into a homeschool unless you are a naturally artistic person. It is certainly something I have struggled with doing. I can't play an instrument or draw. I have no "eye" for photography and to "taste" when it comes to design. I can't sew, dance, or sing. And I certainly can't do anything like sculpture or woodcarving. I was exposed to classical music as a child, but only to the degree that my older brothers listened to it when I was around, and honestly I didn't really enjoy it very much. Except that I've always kinda liked Fur Elise and Beethoven's 5th Symphony. So with no background to work from, what is a mom to do?
When they were toddlers/preschoolers all the "experts" advised lots of crafty things to do. So I dutifully bought playdough, paints, brushes, etc. and kept them supplied with lots of paper. And three of my kids took to it like ducks to water. They draw, paint, sculpt with clay, hand sew, and create with abandon and joy. I have no idea if they are any good at it, but they love it, so... so far so good.
Then I read Charlotte Mason's book and learned about handcrafts. I'm not "CM" enough to claim to know what she meant by the term, but my take away was to teach my kids a skill... a practical life skill that would serve them well all their days. I decided that knitting and crocheting would be a good way to start. Needles and yarn are fairly cheap, and surely I could find easy patterns to begin with.
So I went to the library to find a book. But the how-to-knit books were difficult to understand and did little more than confuse me. Fortunately, my kids are the kind of kids that like to linger at the library, so one day, as I was wandering around, waiting for them to quit reading so we could leave, I found myself in the children's non-fiction section. Specifically the craft section. And I found a beginning knitting book for kids. It had detailed, easy to understand instructions and plenty of helpful pictures. Even better, there were TWO books. So I brought them home, picked up two pairs of needles and Kaytie and I sat down and learned how to cast on. Youtube was also helpful. :)
The rest, as they say,
is history
. I had learned a stitch or two of crochet as a child, so I taught that to the kids and the younger set made long, long chains while Kaytie and I wielded our pointy needles. Currently, all four kids can cast on, Abbie is learning the knit stitch and the boys are learning to crochet. But there's more...
We also learned, in my perusing of the CM method, about a fun little thing called Artist Study. Basically, you choose a famous artist. I use
Ambleside
for that. Print off copies of some of their work and have the kids look at it, narrate it, and just talk about it. We do this in our
Creche Conference
every day and it takes us about five minutes. If I can find a good book about the artist, I will read it aloud to them. It was easy and simple to add to our day.
But there is also
Composer Study
. And that was not so easy. The idea is to simply have your kids listen to a particular composer for a certain length of time and that's it. Well, I found plenty of our chosen composer's music on
Spotify
, but I just couldn't seem to find a good time to listen to it. So for a whole term, we did nothing. I was frustrated.
I was also having trouble keeping the kids intere
sted in doing long projects with their knitting/crocheting. Kaytie made a couple of little things, but the other kids would work a few rows, get bored, and pull it out again. Then I was struck with inspiration! Divide and conquer! Or double up and conquer! :)
I created a time in the afternoon called... well, we haven't officially named it yet, but Abbie calls it Handwork Time. For a minimum of 30 minutes, I play our chosen composers' selections on Spotify. While we listen, we all participate in productive handwork. So far, I haven't been incredibly picky about what the kids choose to do. They are allowed to draw, paint, knit, crochet, write (poem, story, essay), or even build with Lego. They just have to be reasonably quiet and listen to the music. We've only been doing this a couple of weeks, but
so far, it was worked amazingly well.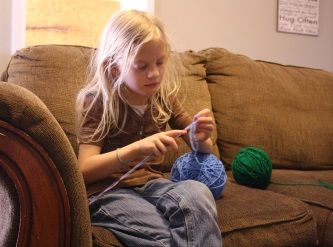 I'm sure this is not the final transformation of our Arts Program, but is working great for us for the time being.
My other posts for the Virtual Curriculum Fair can be found here:
Check out what my homeschool blog buddies are sharing about the arts and beauty: (note all links will be live by noon 1/27)
44 Awesome Free Resources to Study Art and Music!
by Susan @ Homeschooling Hearts & Minds
Finding Beauty with Classical Composers Monthly
by Kristi K. @ The Potter's Hand Academy
Art and Music Appreciation Resource Lists
by Chareen @ Every Bed of Roses
Easy Guided Drawing: Benefits and Resources
by Tauna @ Proverbial Homemaker
A Peek into our Homeschool: Seeking Beauty
by Brittney @ Mom's Heart
All Things Lovely
by Michele P @Family, Faith and Fridays
Virtual Curriculum Fair: the Arts
by Jennifer @ a glimpse of our life
You Gotta Have Art!
by Lisa@GoldenGrasses
Classical Crochet... Or Something Like That
by Laura @ Four Little Penguins
The Art of the Matter
by Chelli @ The Planted Trees
Art Curriculum For Homeschoolers
by LynnP @ Ladybug Chronicles
The Arts: Creating and Appreciating Beauty
by Leah@As We Walk Along the Road
Our Curriculum Choices 2014 ~ The Arts & PDHPE
by Renata @ Sunnyside Farm Fun
{Virtual Curriculum Fair 2014} Seeking Beauty: The Arts in Our Classical Homeschool
by Sharra @ The Homeschool Marm
Learning Crafts For Kids & Adults
by Kim @ Homestead Acres
Finding Time for Beauty in Homeschooling Including Fine Arts
by Laura @ Day by Day in Our World
Arts & the Extras ~ These Are Some of Our Favorite Things
by HillaryM @ Our Homeschool Studio