Welcome to Week Three of the
Virtual Curriculum Fair
! This week we are talking about Exploring Our World: social studies and more science. I am going to talk about our course of World Geography that I designed myself.
One of the things I really want to impress upon my children is that all people are created equal, we are all children of God, no matter how different we may seem. In an attempt to help them see the equality and appreciate the differences, we spent a couple of years on a virtual trip around the world.
Naturally, we did not visit every country and I admit that I chose countries based on their "child-friendliness". The more resources (books, games, foods, online information, cool facts) I could find to explore the country, the more likely I was to choose it. I started by doing some preliminary research and making a master list of countries that I wanted us to explore. I intended on this study lasting two years, and I knew I wanted to spend a week in each country, so I kept that number in mind when I chose countries for my list.
Next, I gathered general resources. For books, I used
Galloping the Globe
,
Eat Your Way Around the World
,
Children Just Like Me
,
Missionary Stories with the Millers
, and Children Around the World (a really cool book similar to Galloping the Globe except it is for older children and has more countries in it. I can't find an online link for it, though, sorry.) I also bought
Geography Songs
.
Online sources that I used were
National Geographic for Kids
,
The Coloring Book for Flags
, and
World Atlas
(although they have changed the site and you can't just pull maps off to edit and print any more). I'm giving you this link to my
Geography Pinterest board
, even though I didn't use all of the ideas there. I also gleaned a lot of ideas from
Homeschool Creations
. She has a lot of free printables, but I didn't use them. And finally, our library was a great resource for non fiction picture books to read aloud. I love the Count Your Way Through... books like
this one
, the colors of the world books like
this one
, the ABCs books like
this one
and the
If You Were Me and Lived In
... books. They pack a lot of information into a very engaging format making them great for all your elementary-aged kids.
I tried to follow the same basic format for each country, but a lot depended on what I could find to do! We read whatever books I could hunt down, and the appropriate sections from Children Just Like Me and Missionary Stories from the Millers if there was one. We located it on the globe and sang the corresponding song from Geography Songs. We colored a copy of the flag. The big kids labeled a map of the country and the little kids colored it. We listened to the National Anthem on Youtube. We talked about unusual animals and famous landmarks in those countries, both natural and man-made. These things happened every week.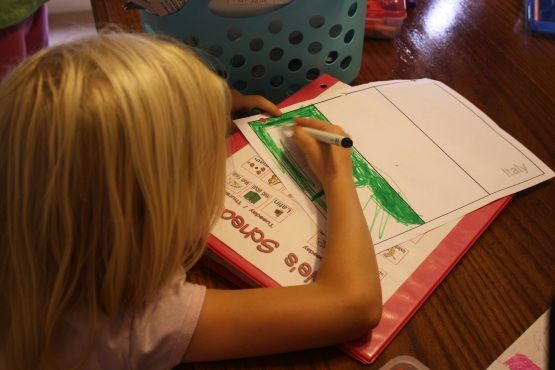 The rest changed week by week. If I could find one, we played a game. They had so much fun spinning the dreidel the week we were in Israel! We changed up the rules a bit in that we played for skittles because that was what I had on hand.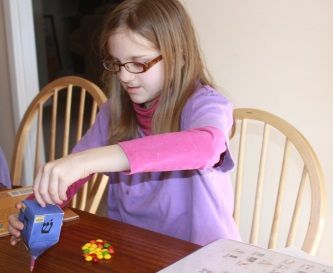 Some weeks we did a craft. Coloring Paris was their favorite. The girls kept the pieces and played with them for a long time after the week was over.
Another favorite activity each week was making a meal from the country we were studying. Eat Your Way Around the World was a valuable resource for this. The kids loved hunting down the necessary ingredients, helping me cook, and trying new tastes. An unexpected benefit was that we found recipes that we loved and still eat on a regular basis.
Sometimes we colored pictures, sometimes we sang songs, sometimes we watched Youtube videos or read articles I found online. Whatever we did, we focused on the culture and the geography, always talking about things like houses, clothing styles, what it would be like to live in that climate, what people in those countries generally liked to do for fun and I pointed out often how needs everywhere were the same even though different methods were used to meet those needs. In other words, the trappings might be different, but underneath we are the same. And every week, we prayed for the people in each country.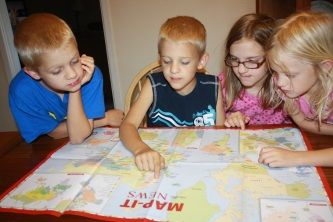 Now, let's see how other homeschoolers are Exploring Our World with Social Studies and Science: (note links will all be LIVE by noon on 1/20)
A Classical Approach to Ancient World History for All Ages
by Susan @ Homeschooling Hearts & Minds
Supercharged Science's eScience Program
by Kristi K. @ The Potter's Hand Academy
Social Studies & Science Resource Lists
by Chareen @ Every Bed of Roses
History and Science: Learning About the World Around Us
by Leah@As We Walk Along the Road
Designing a Unit Study for History, Geography, or Science
by Amy @ Eclectic Homeschooling
Virtual Curriculum Fair: Social Studies
by Joelle @ Homeschool for His Glory
Uncle Sam & You- Notgrass
by Lynn @ Ladybug Chronicles
My Favorite History Books for Boys
by Monique @ Living Life and Learning
Social Studies in Our Homeschool
by Laura @ Day by Day in Our World
A Peek into our Homeschool: The Sciences
by Brittney @ Mom's Heart
Our Curriculum Choices 2014 ~ History & Science
by Renata @ Sunnyside Farm Fun
We're having a Social Studies-heavy Year
by Debra @ Footprints in the Butter
Our Journey Around the World
by Laura @ Four Little Penguins
My Favourite Social Studies Curriculum
by Kim @ Homestead Acres
RaisingMap Nuts: Learning Geography Naturally
by Kristen @ Sunrise to Sunset
The Whos, Wheres and Whys
by Michele P @Family, Faith and Fridays
Exploring Our World: Social Studies and Science in our Classical Homeschool
by Sharra @ The Homeschool Marm
Time Travel Throughout the World {or History and Geography in Our Homeschool}
by HillaryM @ Our Homeschool Studio
Virtual Curriculum Fair Week 3: Exploring Our World – Social Studies and More Science</ a>
by Stacie @ Super Mommy To The Rescue
Why We're Ditching Story of the World
by Tauna @ Proverbial Homemaker