My kids love science and they love playing on the computer, so they were thrilled when we were asked to review the online program
Science4Us.com
, a science curriculum for kindergarten through second grade.

Science4Us.com Online Subcription has ton of information on their website about who they are and what they do. We found it very easy to jump right in and get started after reading the site. It seemed intuitive to me and even though there is a lot to this website, we had no problem finding our way around. Everything is explained in great detail and there are even videos demonstrating all the different elements of the program.
There are four main topics taught in this program:
Inquiry, which has one unit, Science Skills and is a good place to start since it explains all the science tools (thermometers and rulers for example) and their uses.
Physical, which contains the three units, Matter, Energy, and Force and Motion
Life, which has two units, Living Things and Balance in Nature
Earth and Space, which has two units, Earth and Space.
Each unit has several modules and each module follows the 5E Inquiry Based Instructional Model
Engage
Explore
Explain
Elaborate
Evaluate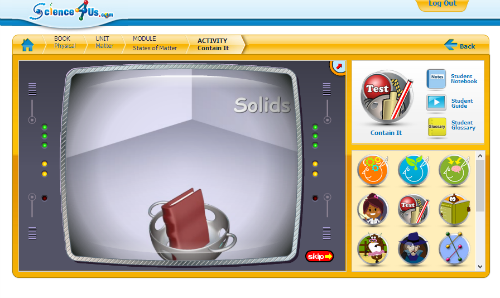 The engage section contains stories, questions, information and ideas. The kids are invited to complete activities or answer questions in a virtual notebook.
The explore section has "games" where kids can build their own patterns, virtually explore the solar system, appropriately dress a person for the weather and so on. They can save their work to their virtual notebooks.
The explain section has detailed information about the topic, interspersed with quick activities for the kids to complete to show off their understanding of the material. These are each divided into the sections and the kids can choose which section to listen to, or they can just listen to them all in order. They use real photographs in this section and I found them to be beautiful and engaging.
Those are the top three buttons in the above screenshot and the other six buttons are games or activities that reinforce the topic, including vocabulary. These vary by topic but seem to always include a vocabulary and an alphabetizing activity.
As a teacher, I had my own login and from that account I could easily keep track of all the kids' accounts. I could see the last time they logged in, the total number of times they had logged in, how many activities they had opened and how many were completed, how much total time they had spent in the program and their notebooks. I could also see their answers to the questions posed in the activities and see at a glance if those answers were right or wrong.
I had lesson plans available, including off-the-computer activities and sheets I could print. I could also give assignments.
We found using this program to be very simple. Daniel, my eight-year-old and Abbie, my seven-year-old, were the users. They quickly learned how to sign themselves in and were able to easily navigate the site. Their quiz results were all high scores (80 and above) and they often talked about what they had learned. I learned quickly to restrict them to one module a day. They loved the online component but were not at all interested in the worksheets or offline activities so after a couple of attempts I left them to play daily online. I also had trouble with the assignments. I made them, but they pretty much ignored them and there didn't seem to be anything I could do about it.
I think the virtual notebooks were my favorite part. I loved that the kids could take notes, record their work and even print it off if they liked. To record in their notebooks, the kids had the ability to change colors and fonts, to insert text boxes, graphs, grids and shapes, to draw with the mouse in different colors and thicknesses. It was lots of fun to play with.
My second favorite part was that everything was read to the kids. My two are still not very strong readers so if they were not sure of a word, they could always click and listen instead of being confused.
And finally, my third favorite part was the glossary that they could use to access all the vocabulary words in each unit.
Daniel: I like it because there is games and there is lots of things that I can do and they teach me how to do science. I learned that you sometimes need tools to do things like measure water.
Abbie: It's fun. It also helps me learn but you don't even know it, which is weird. I learned about chemical changes. I loved that it had games like squishing crayons and it turned into little pieces. I smooshed things because it was a part of learning about changes in matter.
In short, the kids loved this program and learned a lot from it. I do think it was just a little on the young side for us, and we wound up using it mostly as a supplement. If they were in kindergarten, though, and I had been able to use more of the offline components with them, I think it would have been a pretty complete science curriculum.
An online subscription to
Science4Us.com
is $7.95 per child per month.