Today, I realized that I have too many pictures stored on my phone, so, as I transferred them to my laptop, I decided, instead of seven quick takes, another one of those great memes that I would love to do but just never seem to keep up with, I would do seven random pictures.
1
This climbing wall is no doubt the kids' favorite part of our science museum. This day, a part of the museum was having a birthday, so they handed out balloons. Our kids are color coded and they all have "their" color here, except for Abbie, who had to opt for her second color because they didn't have pink.
2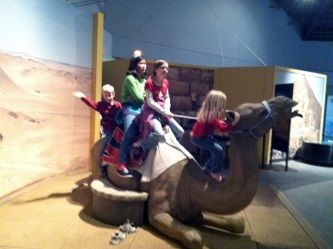 Our old science museum had an Egypt display that we got to visit with our cousins. Riding the camel was, perhaps, the best part. Nate and the other cousin are on the other side of the camel, playing a computer game.
3
Daniel has been going though a weapon phase for quite awhile. It's hard to see, but he has two swords stuck in the back of his jeans as well as the guns he is threatening me with. He was trying to be fierce, but only managed to look adorably cute.
4
Any time is a good time for nap time when you are a Dreaded Jungle Basset. She likes to cover her eyes with that ear so we don't disturb her in any way.
5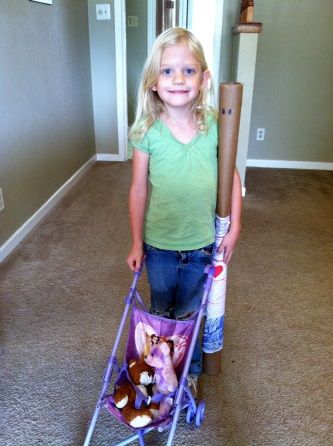 Abbie made herself a husband out of an empty wrapping paper tube. Or Kaytie made him for her, I don't remember which. I told her she needed to feed him a lot more calories!
6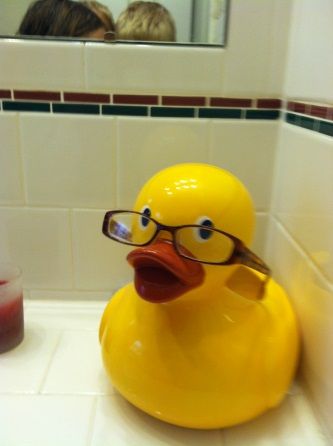 Kaytie got out of the shower one day to find her glasses had been borrowed. "Someone," she said, "Was trying to be funny."
7
And finally, here's an old picture of when Nate broke his arm. He fell off his bed and greenstick fractured his forearm. The best part of the story was when the doctor looked at him and said, "I have always wanted to say this... No more monkeys jumping on the bed!"