Awhile back, we were privileged to have the chance to read and review the book
Diary of a Real Payne Book 1: True Story
from Barbour Publishing. We greatly enjoyed reading (and rereading) that story, so we were delighted to be asked to review the second book in the series:
Diary of a Real Payne Book 2: Church Camp Chaos
In this book, E.J. is still knee deep in daydreams and she is excitedly looking forward to her first ever week at church camp! Once again, the story is told through diary entries, daydreams, and third person narrative. Once again, the story is engaging and entertaining. E.J. is far from perfect, yet her warm heart and often overwhelming enthusiasm keep her from the "brattiness" that so often characterizes young heroines. I love how her parents (and all the adults in the story) are respected and respectful. When E.J. lets her fears get the best of her and acts inappropriately when she loses a game, the discipline is swift and appropriate. After her repentance, grace is freely given and her dad explains that God does care about her worries, her stresses and her behaviors.
Church Camp Chaos is the story of E.J.'s summer the year she turns eleven and it is full of fun and adventure, from building a tree-house, spending time with her grandparents, having a mystery birthday party, learning to appreciate her pesky younger brother and most of all discovering that God is bigger than all her fears.
Kaytie, Nate and I all read the book and loved it. I appreciate that it is a Christian book, but it isn't preachy or wimpy. E.J., her friends, and her little brother Isaac live a full life, going to camp, having adventures, acting like kids with messy rooms and regular attitude adjustments. Their parents are involved and in charge, even though they often instigate the fun. This is a book that I can confidently hand to my kids, knowing they will enjoy it, relate to it and learn from it. We are hoping there will be a third book in the series!
Kaytie:
I liked it because it was funny. I like the pictures, how they are half the main daydream of the chapter and half reality. I would like to be friends with E.J. and Macy.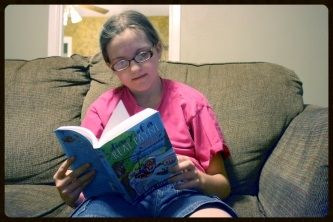 Nate:
My favorite part was the day she goes to camp. I liked it because it had so much detail and it was funny. When you are a person who likes to daydream, camp is the most exciting place for you. And also, surprises come up easily. I wish the book would have had more about her at camp like it says in the title.
Diary of a Real Payne Book 2: Church Camp Chaos
is currently on sale for $4.49