We live in a part of the world where the ability to speak Spanish is a definite asset. We have worked on learning it off and on over the years, with the result that they have a smattering of vocabulary but not necessarily a strong capability of using it correctly. So we were all excited to have the opportunity to review
Mango Languages
the
Mango Homeschool Edition
.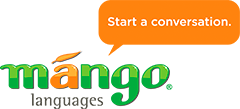 The first thing about Mango is that there are a lot of language options! You can choose from over 60 languages, from the more common French and Spanish to Arabic, Chinese, and Icelandic to all three kinds of Greek, and even Pirate!
We were given five accounts, which was perfect, since I set up one for each of the kids and then one for myself. The given age range for
Mango Languages
is six and up, but I have to tell you that my seven and eight year olds really struggled with the pacing and eventually gave up. I plan on spending some time with them over the summer and giving them a lot more hand-holding than I was able to do during our school year. I believe that if an adult were to sit in with the six to eight year olds and do the work
with
them, they could be successful. I was able to let my ten and eleven year olds set their own pace and do the work mostly independently.
Once you sign in, you are taken to this board, where you choose the language you want to work with in that session.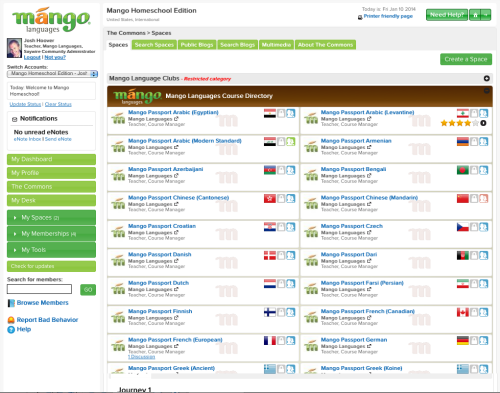 Once you have joined into that particular language, you start your journey. Spanish has three journeys each of which is divided into Units which are further divided into Chapters which are divided into Lessons. There are quizzes offered at the end of each Chapter. There are no consequences for low scores on these quizzes and Nate says that he was able to skip the quizzes if he chose. Some of the languages do not have quizzes, and for those that do, there was no way for me, the teacher, to see how they did on them or even monitor their progress in the course even though I was able to link my account with theirs. (note: this is about to change... we reviewed the beta version of Mango Languages and they will soon roll out a host of new features. I will list those at the end of this review.)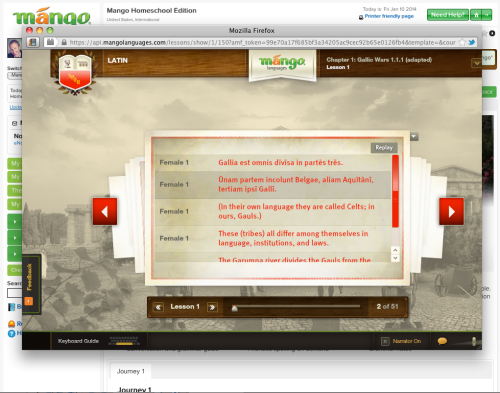 For each language there is also a community aspect in that members who are signed up for that language can chat amongst themselves. I was not entirely comfortable with my kids using this feature, mostly because they were not really able to use it effectively. I think this is an awesome feature for older kids and adults, however!
It's not yet available for every language, but for Spanish, there were PDF files that contained the goals and all the vocabulary for each lesson that we could print off for quick, offline review.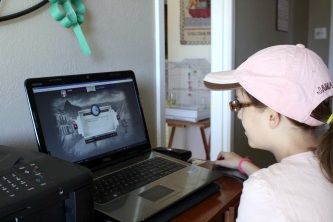 Kaytie (11) and Nate (10) used this program every school day for many weeks. I liked that they were able to sign themselves in and work their way through the lessons. I liked that they were being taught phrases, grammar, and the culture of Spanish-speaking countries. I liked that they could chose to have the lessons narrated so they could use both sight and hearing to learn the language. This also helped them with pronunciation. My favorite feature was the microphone. They could use it to record themselves speaking Spanish and then play it back so they could hear what they were actually saying. (I do have to admit, however, that my eight year old son found oh, so
many
ways to use this microphone inappropriately, so, moms of boys, brace yourselves)
Most of all, I liked that after only a short time of using
Mango Languages
, my kids started using Spanish words and phrases as they went about their day.
This is what they have to say about it:
Kaytie:
I like Mango because it teaches me phrases that I would need to know if I suddenly needed to go to Mexico. I would know what I need to get around. I also like it because it has cultural notes to help me picture it more. Picture the people's everyday lives in Mexico or Brazil or wherever. It was a little hard to figure out how to navigate around the site at first. But I liked the repetition of the words because it helped me remember them. It would repeat the same word several times and then add on to the phrase that you are learning. I would recommend it for kids who are about my age that want to learn a second language.
Nate:
I liked Mango because it was easy and simple to learn and you can learn just about any language. It taught me a lot of Spanish. It's my favorite of all the curriculum we have ever used. I think it taught me words that I couldn't have learned elsewhere. I wish that it had a voice recognition system, and what I mean by that is, it would only let you use your account because of recognizing your voice so no one could hack my account. I would recommend Mango to anybody six and up.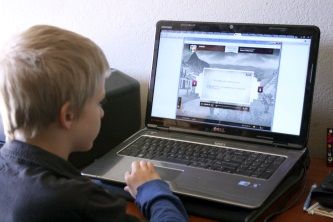 Again, what we reviewed was the beta version and Mango wants you to know:
What is currently available on the site:
Over 60 different languages
Progress Assessments

Built-in journals, discussions and wikis
Collaborative learning spaces
eNote messaging
/chat rooms

Access to embedded/downloadable content

Support from other community members

Calendars to schedule meetings or study groups
Over the next several months, we'll be introducing other exciting features like:
Enhanced Tracking and Progress Monitoring - including seat time (for students and parents)
Goals and Personal Lesson Plans (both stand-alone and tied into Mango courses)

Resume and Portfolio Builder
Their pricing is as follows:
1 subscription is $18/month or $125/year total
2 subscriptions is $28/month or $175 /year total
3 subscriptions is $38/month or $225/year total
4 subscriptions is $48/month or $275/year total
5 subscriptions is $58/month or $325/year total
We thoroughly enjoyed Mango Languages and hope to continue using it in the future!