I love taking pictures of the kids, and I used to scrapbook those pictures. But now I have no time for such frivolities. ;) However, I enjoyed last week's seven random pictures so much that I went and found seven more this week.
This is one of my favorite pictures, but I didn't take it. My niece did. Isn't she an awesome photographer?
On the other extreme, this is a very bad picture taken hastily with my phone in very bad lighting. But we had sooooo much fun taking it! It still makes us laugh when we look at it.
This one is of the girls, doing a puppet show to earn a pin back when they were involved in Keepers of the Faith. They had fun in that group. But then we moved away.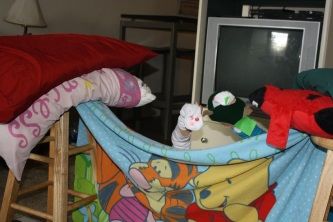 This old tree used to drop all its leaves in one night. The kids always had a blast the next day. This particular year, they woke up on Daniel's birthday to find the leaves had dropped. They said it was the tree's birthday present to Daniel. He appreciated it.
Before we moved to a different town, we used to dog sit Max, the chihuahua. Apparently, the dogs thought it was a slumber party and they invited Daniel's stuffed Pluto to join in.
I just love this picture. :) A small boy and his daddy.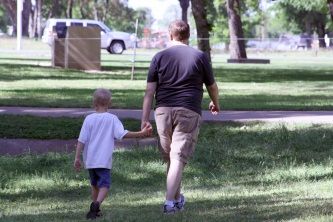 Nate shooting the corn cannon at the corn maze last fall.