An old picture of Kaytie with a paint-the-number multiplication page that she made. She hates math and loves art so a mixing of the two is always weird for her.
A recent picture of Daniel and Abbie at our co-op. This is their work in their Lego Challenge class.
Sofie loves to get on the back of the couch and watch the kids do school through the doorway. Usually, she is mournful, but one of them walked into the living room just before I snapped the picture.
A semi old picture of a boy and a boy's best friend.
A super old Christmas picture. It is tradition to take a picture of all the kids in front of the tree on Christmas Eve!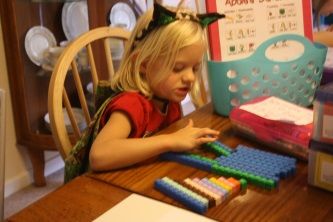 Abbie, or maybe it's Princess Catwoman (it's so easy to confuse the two) doing math.
And finally, an old favorite of Daniel. Daniel always seems most "him" when he is interacting with nature.