So this year, since the kids did so well with planning and implementing their St. Patrick's Day fun, I've just been kind of playing it by ear and only choosing to do what they think is important. At this point, we are just going off tradition.
Our first tradition is, of course, dying the eggs:
(weren't they little and cute?)
We dye eggs for two reasons. One, because my kids like messy creative stuff. And two, because their daddy loves boiled eggs and I know he will eat all we decorate. Well, what the kids don't eat first, of course!
Another tradition is our Easter Tea. We originally began this as an excuse to hang with the cousins, but then we moved... The kids won't let me stop having it, though!
We also read these books:
The Easter Story
by Patricia Pingry
Benjamin's Box
by Melody Carlson
and use the
Resurrection Eggs
We have an egg hunt in our yard:
sometimes they hunt for candy eggs, sometimes for boiled eggs and sometimes for paper eggs, because really, it's the hunting part that's fun, not necessarily what we are hunting for. :)
And, of course, the kids get baskets. NOT from the bunny, but lots of fun none-the-less.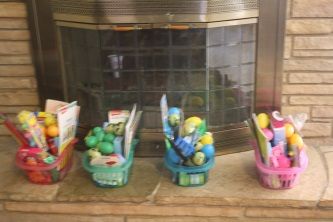 This year, we will also be doing
Resurrection Rolls
and Kaytie, who has recently discovered Pinterest, and is allowed to look at certain people's boards, made some Easter cards for her siblings.
Have a happy Resurrection Sunday!