There are, they say, three kinds of people in the world, those who are good at math, and those who aren't.
Hahaha!
As you can see, I am one who isn't. But I want my kids to be. So even though we have a math curriculum that we love, I was happy to review
CTC Math
, an online math program that is comprehensive and complete. Offered for every age and grade, from kindergarten to 12th, it lets kids learn math at their own pace. We reviewed their
12 Month Family Plan
.

It took me only a few minutes and two easy steps to set up my kids' accounts. The first step was logging into my Parent Account, the second step was choosing a name and password for each kid. It was that easy and we were ready to go.

My parent account is basically a dashboard where I can see all the kids' information. It tells me:
when they logged in last
how many lessons they have completed
their "overall efficiency rating" (which is, I believe, an average of all their grades)
For each kid, I can open a detailed report that tells me:
what lessons they have done,
and information about the test for that lesson:
average grade,
grade of their first attempt,
the highest grade,
how many times they took the test
the date they passed it
Each kid also has a summary report that is divided by topic and tells me
how many lessons are in that topic
how many lessons they have attempted
how many they have passed
and the average efficiency rating
In addition to this, I received an emailed report each week that gave me a daily, minute by minute report for each kid. Here is a screen shot of part of one of Nate's reports, just to give you an idea:
When the kids signed into their accounts, they saw this.
They could choose from any grade, any stream and any topic. Since we have always learned math by mastery of concepts, this worked out well for us, because none of the kids fit into any one grade.
In the beginning, I sat down with each kid and discussed how this was different from what they were used to and what my expectations were going to be. Each day I expected them to work on an "assigned" topic and then they could choose a topic or two or more to do that would be more "fun". As you can see from Nate's report, above, his assigned topic was Division and then he spent a good deal of time just "playing" with topics that interested him. After the initial conversation, I was able to send them to sign in and do their work independently each day, then I could keep tabs on them by checking my dashboard daily and reading the weekly reports. Since there was no way to give them assignments in the program, I did have to frequently give them verbal assignments at the beginning of their time each day. The company did tell us that they are working on making this a possibility.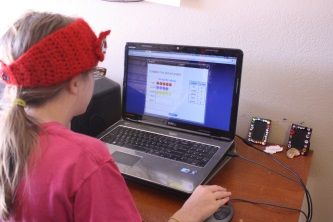 Each lesson consists of a video where the teacher (with a fun Australian accent) teaches the concept, using graphics, diagrams and plenty of visuals to explain and demonstrate. He talks slowly and clearly and none of the kids had any trouble understanding the lesson. If they do have trouble, however, it is easy for them to rewind or even start over so they can hear it again. For each lesson, there is a Lesson Summary, or a page that simply explains the lesson in pictures. You can print this if you want. There are also questions for each lesson. This is what we called the "test". The kids answer the questions online as well. I liked that they had the opportunity to manipulate objects on-screen for the measuring and calculating questions. So they could "see" the answer as they figured it out. If they do badly on a test, they can retake it. The correct answers aren't unlocked until they take the test three times.
As you can see, on the bottom of their home screen, they have a button they can click to see all the awards they have won and the reports of the work they have done (these are the same reports I have on my dashboard). They liked being able to see their progress. The awards seemed a little complicated to us. :) Best we can tell, if you finish all the Topics in a Stream, you receive a Bronze award. If your average grade is above "passing" (which you, as the teacher can set) then your award is a Silver. A 95% average gains you a Gold award and a 100% average earns you a Platinum. These awards can be printed out, but my kids were not at all interested in that. Weird kids, I know.
The Settings button changes their background color. The Search button lets the kids find topics or lessons by keyword or by lesson number. And finally, the Speed Skills button is a facts drill program where the kids can practice addition, subtraction, multiplication, division and even the order of operations at four different levels.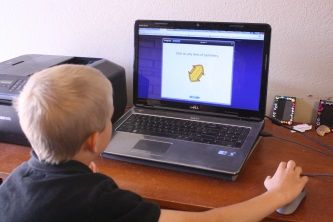 We liked
CTC Math
. It was simple and easy to use. The kids could do it on their own and were not dependent on me knowing or understanding the concepts. I didn't have to grade anything, which was a HUGE plus for me! They thought it was fun to get to pick the topics that interested them after they had finished their assigned topic. I was surprised at how often they willingly chose to do the Speed Skills. All in all, I thought it worked wonders as a supplement to the math we already do. It strengthened their weak spots, offered them a new twist on some topics and an opportunity to work on others that we haven't spent much (or any) time on, and put some enjoyment into a sometimes dull subject.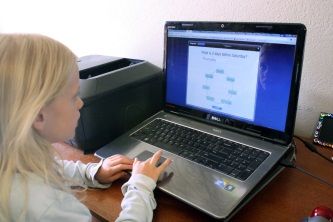 I would be hesitant, however, to use this as a complete curriculum. Except for having the kids repeat the tests, there is no way to review. There was no way to for me to give and enforce assignments. I had to give them verbally and unless I stayed right with them, they could choose whatever they liked. And finally, there is no means of showing the child why their incorrect answers were incorrect, which, for us, is a huge part of the learning process. On the site CTC Math is called a "comprehensive tutoring program" and I think it is an excellent one! So if you are using it as a tutor, or as a supplement, or if your child excels in math and only needs a well-explained lesson and some practice to move quickly on, then this is the program for you!
CTC Math
has several
plans
you can choose from, including the 12 months for 2 or more students for $297 which is what we were given. Psssst! It's currently on SALE for homeschoolers for $118.80!!!
You can watch a
free demo
and click on the banner below to read what other Crew Members thought.