As my kids gradually move out of the elementary level in school and into middle school, I am just as gradually shifting them from a facts based learning experience to a think-for-yourself-and-let's-discuss-it lifestyle. Since my personality is such that thinking for myself does not come naturally, I am always looking for ways to well, shove the kids off that cliff, so to speak. So I was quite pleased to be asked to review
Philosophy Adventure
from
Home School Adventure Co.
I used this with my eleven year old daughter.
We received the complete set (the Teacher Resources, the Student Workbook and the Reader) on PDF but they are also available as physical books or on CDs. For only eight lessons, there is a lot of information and work packed in! These eight lessons discuss eight different philosophers, most of whom, to be completely honest, I had never even heard of before. For each philosopher, there is a reading assignment, mapping exercises, notebook pages, memory cards for review, a timeline to fill out, several essay questions, and optional literature suggestions as well as optional Scripture verses to memorize.
The Teacher Resources
(112 pages) contains:
Memory Cards: they have questions on one side and answers on the other, you are supposed to print them front and back on the same paper and cut them out then have your student use them for review. Getting me, my computer and my printer that much on the same page, however, was too much of a challenge for us, so I printed the questions on one page, the answers on the other and had her match them up. This method also enabled us to play games with them, especially when I printed another copy of each.
Timeline Resources: three color-coded timelines, a master, a blank, and a timeline key; and full color images to glue onto them.
Map Keys: the answers for each mapping exercise
Quizzes and Keys: a quiz for each lesson and the answers
The Reader
(160 pages) speaks directly to the student and contains:
an overview of the program: explaining the seven components of every lesson
a suggested schedule
the lessons for the student to read
checklists for the student to use to evaluate their essay answers and writing assignments
creative writing assignments these are all different for each lesson, but basically a scenario is given and the assignment is something like, "Describe the scene and tell what happens."
recommended resources (a booklist, mostly)
The Student Workbook
(154 pages) contains:
notebook pages where the student writes the information they learned about each philosopher
maps for the mapping exercises, labeling and recording geography facts
creative writing assignments a repeat of the assignments in the reader
journaling pages where the student writes answers to such questions as "Can you identify a prize for which you would be willing to suffer?" and "What is significant about this person?" meaning the person in the lesson.
checklists a repeat of the checklist in the reader
glossary where the words are given and the student has space to write in the definitions themselves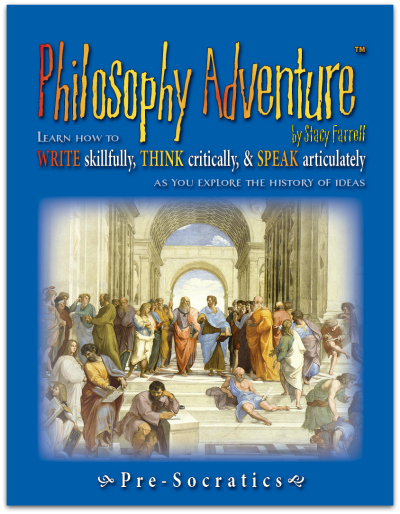 Getting started was difficult and required a lot of reading and figuring out by me before I could tell her what she needed to do. I did finally find and print the suggested schedule that helped us out a lot! We also quickly discovered that this schedule was going to be too much work for her at her age and stage. This was a lot to throw at her for the first time!
What we did instead was this. On the first day, I had her read the lesson and fill out the notebook page. The second day, she re-read the lesson and did the mapping exercise. For the rest of the week, she worked on the creative writing assignments. The next week, she worked on the journaling pages. We added in the Timeline and Memory Cards whenever we had a little extra time. When we were satisfied with that lesson, we moved on to the next.
These books contain a lot of pages so I did not even attempt to print them all! She read the lessons off the computer (although since it was a PDF we could also have put them on one of our Kindles) and we printed the pages she actually needed to write on or manipulate. For some of her writing, she used blank paper. I printed the Memory Cards on cardstock for durability.
I strongly believe that
Philosophy Adventure
is a valuable resource for encouraging your child to think and for giving them a solid Biblical worldview. I love the open-ended style questions, the notebooking pages and the fact that the whole process stretched her considerably. Since she is young I do not think that we plumbed the depths of this curriculum and we did not even come close to completing it in the time we had to review it. However, my plan is to have her start over again next year, working our way just as slowly and then probably have her do it again in high school. I am thrilled to have access to this curriculum for all my kids!
The
Philosophy Adventure
digital download is intended for kids in 6th grade and up and costs $39.95 Based on our experience, 6th graders need a lot of parental help and slowing down of the program but there is still a lot for them to glean.
You can check out this
sample lesson
and/or read what other Crew Members have to say by clicking on the banner below. If you are interested in Philosophy Adventure or the other products the Crew reviewed,
Home School Adventure Co.
is offering you a 10% savings for download purchases until May 15, 2014 if you use the code below.