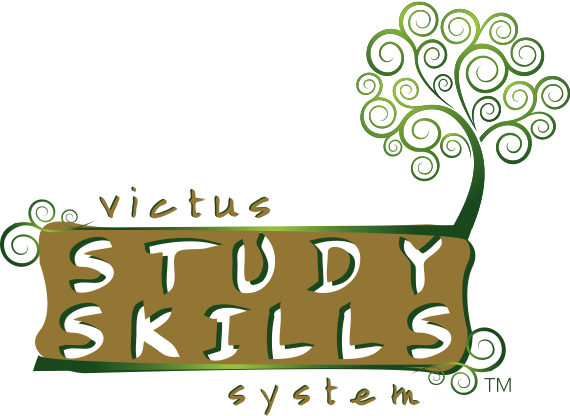 As Kaytie, who is eleven, moves out of elementary level and into middle school I am also shifting her ever more into independent learning so I was intrigued at the idea of teaching her how to study. As a homeschooled kid myself, I remember the shock of college and my study skills were hard won. Often at the expense of my grades. Since my husband and I both value a college education for our kids, I was happy to review the Victus Study Skills System.
We were sent two spiral bound books: the Teacher Edition and The Student Workbook. The Teacher Edition is necessary because it explains not only the principles and purpose of the course, but the assignments the student is to do. The workbook is for one student only and is intended to be consumable, so you would need to purchase additional books for additional students.
There are ten lessons in the Victus Study Skills System and we aimed at doing one a day, which was longer than the suggested course plan, which is to teach the entire course in five, one hour sessions. But I decided that, since this method was totally foreign to her, that she would need more time than that to digest the material. Each lesson follows the same outline of Purpose, Preparation, and Procedure.
The course starts with the student identifying where they currently stand in their study habits and learning strengths. Not surprisingly, Kaytie's results showed that she is a strong auditory/visual learner and not very kinesthetic at all. After that, Kaytie worked on setting study habit goals, learning about time management (a much needed skill for her!) how to organize and set up a study environment, how to work through the material using the PQRST acronym, and finally she learned the value of listening, note taking and good strategies for test taking.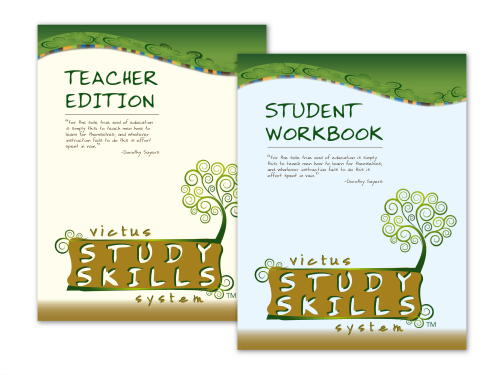 Even though this course seemed aimed more at traditionally schooled kids, talking about note taking and testing, which is not at all how our school days look, I feel that Kaytie learned a lot from this course. I think that just the discussion on the importance of vision and how her attitude and choices have more to do with her success or failure made enough of an impact that this course was worth her while. That said, some of the assignments, like the scheduling, was a little bit of a stretch for her, considering her school situation and our lifestyle. I did appreciate that even though the book always spoke of "students" in the plural, the activities were something easily done with a class of one. But mostly I was pleased because, even if she never goes to college, this course has taught her important information about herself and how she learns as well as some valuable life skills that she will use in learning wherever she goes.
Kaytie says:
I liked it because it taught me how I learn. I know I need to see and hear what I want to remember. I need to take notes and I learn better in a room by myself where the noise of the other kids doesn't distract me. I would recommend this to any kid who wants to learn how to study better.
Victus Study Skills System is geared for kids in 5th through 12th grades. The Teacher Edition is $40. The Student Workbook is $20.