ONE
Soccer is over and we are sad. Mostly. Abbie got a trophy and the other three kids, since they didn't have teams in their age group, each got a gift card for Sonic. So naturally we had to celebrate the end of soccer with ice cream. That cheered us all up. ;) Kaytie and Nate will soon be starting Indoor Soccer, too, so that helps.
TWO
The last soccer games got rained out. It's noteworthy because we are in the middle of a major drought. Five days in a row where it rained every day made the entire Texas Panhandle giddy with delight. Except for small children and dogs who were confused and alarmed at what exactly was falling from the sky.
THREE
We signed up for our library's summer reading club. The kids are a third of the way through their required number of books already. The sad part of all of this is that Kaytie is officially too old for the kids club and had to sign up for the teen club instead. :( I don't mind too much them growing from babies into kids but I bitterly resent them growing from kids into teens. This has most emphatically not been approved.
FOUR
We still have several weeks of school left. Sigh. But we are still enjoying summer! In addition to the reading club, we have been enjoying popsicles, the sprinkler, park days and play dates with friends, and are gearing up for the swimming pool that we will hopefully have access to next week.
FIVE
Oh, so the reading club has sparked an interest in reading for Abbie. In previous years, I let them count the books that were read to them as well as the ones they read themselves. In fact, it worked out quite well because the big kids would read to the little kids and everyone gained a credit. But this year, I told Daniel and Abbie that they have to read all their own books. Abbie started off reading to me, but after the third Little Critter book in a row, I wandered off and she stayed on the couch, reading to herself, asking me for help with the hard words, and finished off another three books.
Since Daniel was discovered reading a Captain America book after bedtime the other night, I'm hopeful that my last two readers are almost successfully launched.
SIX
This is what the Dreaded Jungle Basset does when she wants the kids to move and let her have their spot. It's a powerful hypnotic stare and she doesn't even blink until they succumb. Or at least scoot over and let her share their spot.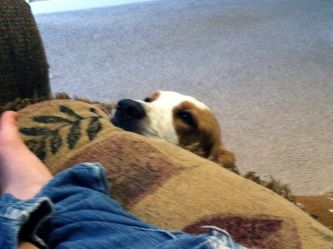 SEVEN
And I almost forgot! Another summer fun thing I have planned is that two of our local movie theaters offer kids' movies in the mornings for only a dollar a head. Some of them, are not ones I will let the kids see, but there are plenty that they will enjoy! I haven't told them yet, this one is still a surprise.