Over the years of homeschooling, one company that I keep coming back to, again and again is
Apologia Educational Ministries
. We have used their science, we have used their worldview, we have read many of their books: children's books, devotional books, books for moms; and everything that we have used or read has been not only enjoyable but of top notch quality. So we were delighted to be asked to review
What on Earth Can I Do?
the fourth book in Apologia's worldview series.

Intended for kids in 1st through 6th grade, the series seeks to provide kids with the basic essentials of the Christian belief system. It offers children the tools to develop discernment and discover Truth as taught through Scripture. The series starts with Who Is God? moves on to Who Am I? then Who Is My Neighbor? and finally winds up with
What on Earth Can I Do?
which is a "Biblical Worldview of Stewardship".
For the purpose of this review, we were given the entire four book package. We received:
the hardback book
What on Earth Can I Do?
$39
the
notebooking journal
$24
the
Junior Notebooking Journal
$24
and the
coloring book
$8
The book itself is the main part of the curriculum. It contains eight lessons that are written directly to the student. The lessons are intended to take awhile to get through, so this is pretty much a full year's curriculum. Each lesson starts with the main idea of the lesson, the learning objectives of the lesson and a quick review of previous lessons. Each lesson contains a short story about children which offers the student an idea of what "worldview looks like in action". Each lesson has vocabulary words, Scriptures to memorize that help the student internalize the concepts, articles that relate to the elements in the story, discussion questions, the House of Truth memory aid, and a parable of Jesus. For personal application, each lesson highlights a specific Godly character trait and offers a scripted prayer of gratitude for what God has done. In the front of the book, for the teacher, are directions to the course website, which offers additional resources (well worth your time to check out, in my opinion) and a suggestion of how to schedule the book.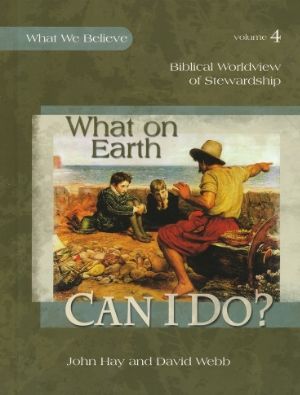 What on Earth Can I Do is an "open and go" curriculum. I like to pre-read, since my kids are still fairly young, but otherwise, I did nothing to prepare for our daily lessons. In fact, I used this with my ten and eleven year olds and I didn't even present the lesson. I told them what to read each day (using the suggested schedule, because after all, why should I re-invent the wheel?), they read it and then they came and told me what they had read. Following such a plan, you don't even "need" the notebooking journal. We had not used one when we did Who Is God? the first book in the series. But honestly, the notebooks add
so much
to the learning experience, especially if you have a kid that enjoys expressing themselves in writing or art.
The Notebooking Journal is consumable, no copying allowed, so you will need one for each child taking the course. Unless, of course, your children are like mine and hate writing, but I'll get to how we used it in a minute. The journal contains lesson plans, showing you how to integrate your reading with your notebooking in a flexible and easy to follow way. For each day there is a reading assignment and a notebooking assignment. The days are numbered, so no matter how many days a week you work on the curriculum, you can just do the next day. I suppose you could even do the reading one day and the journaling the next. The notebooking pages themselves are beautiful, full colored pages with plenty of space to write. You can see a sample
here
. It contains blank pages for open-ended journaling, pages of questions to answer, space to write definitions of the vocabulary words given in the lesson, pages for Scripture copywork, mini books, puzzles, and lists of additional activities, books, songs, and movies to enrich the lesson.
The Junior Notebooking Journal is much the same but it offers simpler puzzles, primary lines for writing, fill in the blank for the vocabulary definitions, coloring pages and no questions to answer. This makes it much more user-friendly for younger kids or kids who are allergic to writing, like some of mine.
The coloring book has the same pages as the Junior Notebook. It has 64 different pictures pulled directly from the book, each with a single sentence caption. Here is a picture of Kaytie coloring in it.
So how did we use all of these things? Well, first you don't necessarily have to use these books in order, since they each stand alone, but I would highly recommend it, since they build on each other. My younger two kids haven't started the series, so I kept this review to the older two who have gone through the first two books already. As I said before, they read it on their own, narrated back to me, and then we worked in the notebook together. Nate hates to write and Kaytie is not terribly fond of it, unless she is writing a story, so I had them dictate their answers and I wrote them down. For the mini books (our favorite part of the journals, to be honest) they did the cutting and glueing and I did the writing. Here is an example of one we did.
(that brownish thing is meant to be a blueberry muffin)
If I had used this with all four my kids, I would have read the selections aloud and used the coloring book (also consumable and not copyable) to keep the little kids quiet and engaged while I read. Then we would have done the journals in much the same way as we did do them.
As I said before, I love Apologia's worldview series. I love that it teaches my kids to think, to look beyond the surface of the messages they hear and to see what is really going on in the culture around them. I love that they are being taught the truth about God, their value to Him, and the impact they can make in the world, even as children. I like that it's so easy to teach, no prep, no planning, no stress. I like how beautiful the journals are and especially that they are spiral bound and lay flat!
Kaytie: What I like about it is that it teaches me stuff about what God is and how to discover my worldview. I like the example stories and the activities they suggest.
Nate: It's pretty fun to do. I like reading it and thinking about it. It taught me cool stuff I didn't know about before like how everyday things can point towards God. It teaches me how it would be like if I lived in other times like World War II.