Kaytie, my eleven year old, has always loved to draw. Well, to do any sort of art, really. It's difficult because, even though I enjoy it, too, I have no idea how to draw well, myself, and therefor, no idea how to teach her. We have attempted many different methods over the years with very little success. Recently, we were asked to review
Elementary 4-5, Book 2: Color and Composition
put out by
ARTistic Pursuits
.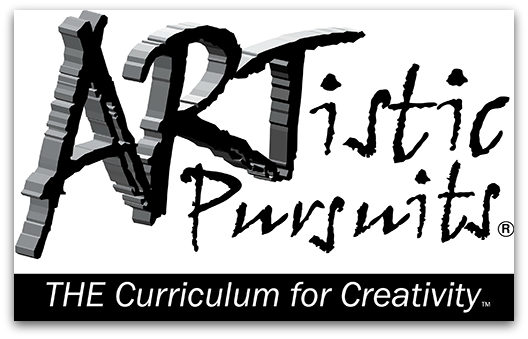 We have reviewed ARTistic Pursuits products before, so we knew that it was a quality product that Kaytie would enjoy using. But this time, we tried something different. Always before, I had taught all the kids together. But for this book, I simply handed it to Kaytie and said, "Do this at least twice a week." So she worked on it every day! :) She spent about half an hour to forty five minutes a sitting. She often came back to it later in the day.
Color and Composition is a loose spiral bound book, so it laid flat for ease of use. It starts with the Table of Contents and a complete list of needed supplies. Since we have dabbled in art for a long time, we already had everything we needed, but for beginners, ARTist Pursuits offers a
supply pack
of all the needed items.
There are 16 units in Color and Composition and each unit is divided into four lessons. Kaytie was easily able to complete a lesson each day, but sometimes the next day (or that afternoon in her free time) she would repeat the exercise in the lesson just for added reinforcement. Each unit follows mostly the same pattern.
The topic, either on color theory or the principles of design, was introduced and discussed in the first lesson.
The second lesson combines the topic with a work of art done by a Master and includes a short bio of the Master. The assignment in this lesson is pulled from the work of art.
The third lesson teaches a technique. How to draw an ellipse, how to use marks to show textures, or how to mix browns and neutral colors, for example.
And the fourth lesson is the final project that ties it all together and shows the student how to apply what they learned.
An assignment is given in every lesson. All the assignments are printed in blue so they stand out on the page.
Kaytie is currently finishing up the fifth unit and has learned so much about how to draw! She wanted to show you the jump in her ability even though she hasn't even finished the book. First, these are pictures that she drew before she started on Color and Composition.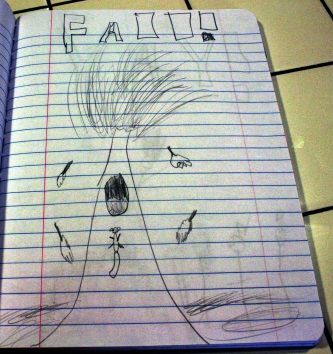 These are pictures that she did for assignments in the book.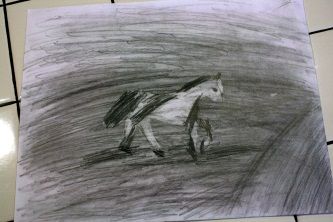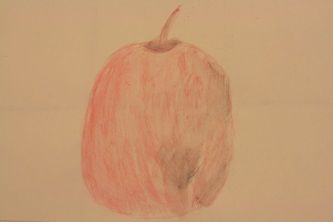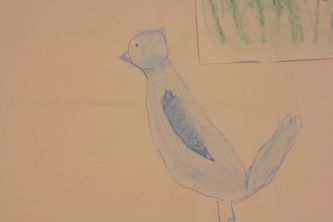 And these are pictures that she drew after she did the first five units.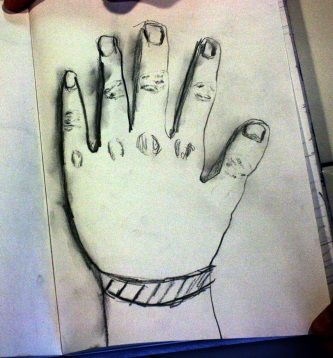 Even though she was just playing around and did not add color, you can tell she learned a lot from the unit on shading!
Art, always an enjoyable subject for her, rose quickly to the highlight of her day. She enjoyed learning new tools, techniques and vocabulary. I liked that it was simple enough that she could do it alone yet she learned so much and gained a bucketful of confidence from using this product. For a mom like me, who doesn't know much about art, it is such a relief to have this curriculum that will teach her without me having to get in the way!

I liked that the assignments were very open-ended. She was able to choose what she drew and she could do the assignment over and over just by choosing different objects/scenes to use.

Another thing I love about ARTistic Pursuits is that it is completely non consumable! This means I can re-use this book with my younger two kids who also enjoy art.


She says, What I really enjoyed about it is that I could see myself improving. I liked that it got me to focus on one technique at a time. It taught me the technique and then repeated it while adding in new stuff so I got review while learning new things. I like experimenting in my spare time and trying to mix in new techniques with my old ones. While I'm not working on the book specifically, I like practicing the things I've learned that day, or so far. It was really easy to understand the book, so it was simple to sit down, work through the lesson and practice. The assignments were pretty easy. Not too repetitive, but enough that I learned the skill. The history lessons were easy for me to sit down and read and the art part was just right so I learned A LOT. I think one of the things that helped me a lot and added more character to my drawings was the shading. But my favorite lesson was the watercolor pencils. I recommend this to anyone who wants to learn about art and the history of art.
Color and Composition is the second book in this series (we've used the
first one
, too, and it's awesome!) but it can stand alone quite well. You can take a peek at the table of contents, supply list and some of the lessons
here
. You can check out ARTist Pursuits on
Facebook
as well.