Daniel, Abbie and I have been reviewing
Essentials: Logic of English Complete Set
from
Logic of English
. It is most definitely a complete program! It's intended for emerging or struggling readers ages 7 to adult, and is based on a holistic, multi-sensory systematic approach with the purpose of teaching reading, spelling and writing in one complete program. Now that's a tall order, but I think Essentials does just that.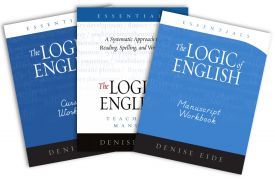 The Complete Set consists of:
a Teacher's Manual: a thick hardback book that is the heart of the program
a Student Workbook: a thick, paperback, consumable, book where the student writes their assignments. It also contains some extra reading practice. You can choose for the workbook to be manuscript or cursive
a Spelling Journal: the sounds of the English language are sorted alphabetically in this book. The student looks up the sound to discover the different ways of spelling that sound. Most of each page is blank so the student has room to write down the words he/she has difficulty remembering how to spell.
a phonogram and spelling rule quick reference chart: a sturdy "mini office" booklet that the student or teacher can use for, yes, a quick reference
a Phonogram and Spelling Game Book: a softcover book with over 70 games to play for help in practicing sounds and spelling words
so many decks of flashcards:
Basic Phonogram flashcards
Advanced Phonogram flashcards
Grammar flashcards
Spelling Rule flashcards
and finally game card decks: with the phonograms on them for playing the games (we received the blue bookface and the manuscript decks)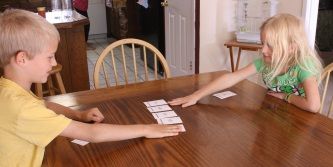 Overwhelmed yet? I was. But everything you need to know to use this program is in the Teacher's Manual. It contains all the information of how and why this method is used. It has a scope and sequence, a list of needed materials (it's short and everything but colored pencils and paper are already listed above), five different schedules so you can meet the needs of your particular student, whether struggling, emerging, or even ESL, fully scripted lessons, a ten-page "how to teach" section, spelling lists, and cheat sheets for the teacher for spelling rules, phonograms, and grammar.
Each of the 40 lessons is divided into three sections: phonograms, spelling, and grammar and every fifth lesson is an assessment lesson. The lessons begin with a quick overview of which phonogram, exploring sound, spelling rule and grammar topic will be covered. Then there is a list of exactly which materials you need to pull out. Your student begins with reviewing previously learned material, learns the new phonograms, explores how exactly sounds are made, learns a spelling rule, takes a spelling test, and has a grammar lesson. Each phonogram section has a suggested game from the Game Book to play with the phonemes that have been taught. The lessons are concluded with dictation and composition exercises. Included in each section are optional activities in case your student needs more practice.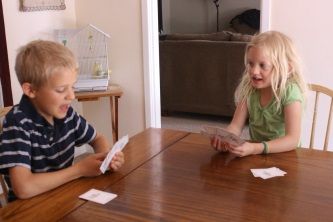 When the Student Workbook, Spelling Journal, or Game Book is needed in the lesson, it is referenced very clearly so there is no doubt or confusion as to what I, the teacher, need to do. So there is very little prep work needed on my part. Each day I could pretty much just sit down, open the book, and teach the lesson.
Oh, but I didn't tell you about the Game Book yet! It's divided into nine chapters. Four are phonogram games (card games, active games, drills, and "other"), four are spelling games (card games, active games, creative and tactile ideas for spelling practice, and plain old spelling games) and one is sensory practice for writing letters. The games themselves each have a list of supplies needed, and clear directions on how to play. Some games have variations included. In the back of the book are reproducible game boards and templates for games like Bingo and Tic-Tac-Toe. How lovely it was to have to create those myself! Although some of them were blank so you could tailor make your review to fit your particular student. We enjoyed those, as well.
In addition, we also had a chance to review the
Phonics with Phonograms App
, ($2.99) which is a fun way to review the 74 phonograms. It has ten levels or you can custom build a level for each individual student. You can also choose to display upper case or lower case letters. To play, the student is shown four phonograms, a pleasant female voice clearly says one of them (including the spelling rule when applicable) and the student chooses by tapping the screen. If he guesses incorrectly, that choice goes "gray" and a small sound tells him he was wrong. If he is correct, there is another sound and four new choices appear. He can push a button to re-play the phonogram if needed. The kids liked playing with the app, and I used the "all phonograms" tab when we played the card games as a way to make sure I was saying them all and correctly.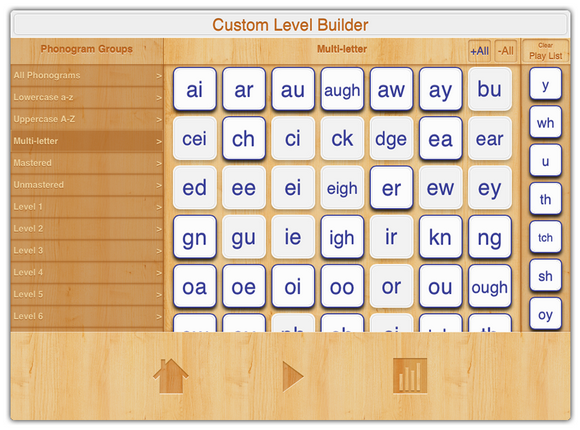 A screen displays each phonogram with the number of times the student got it correct in a row, the number of times the student has seen it, gotten it wrong, and gotten it correct.
So how did we use all of this? Well, my main goal with Essentials was to strengthen Daniel's (and Abbie's, but mostly Daniel's) phonemic awareness in order to help them read more fluently. He struggles with learning and remembering the more complex phonemes. Mostly any of them that uses more than one letter. So I put most of our time and emphasis on that section of the lessons. I also focused more on Daniel and Abbie just joined in whenever she was free. But both of them played the games, which was nice, because very few of them are one player games.
Even though I consider Daniel as a struggling reader since he can read but has trouble with it, I chose to use the 6 to 7 year old emerging reader schedule with him and Abbie. This put us completing one lesson a week and spending roughly 30 minutes a day on it. They spent about 15 minutes playing a game each day, as well.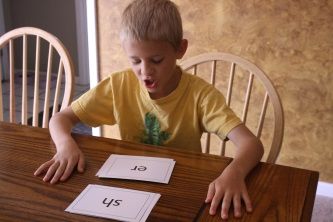 I can tell you that he did not really enjoy it. Reading is not his "thing" nor are flashcards or writing. He spent most of the lessons gently suggesting that it was time for the daily phonics game. Because he did enjoy the games. Their favorite was Phonogram Snatch where I laid out five cards, said a sound and they had to be the first to grab the card with the correct phonogram. However, enjoyment aside, he made great strides in his phonogram recall, even with ones that he has historically struggled with mightily. I can see where Abbie has benefited as well, even though she mostly just played the games with him.
I loved how thorough this program is. I loved that everything was well laid out and left no room for confusion on my part. I loved that the majority of the material is non consumable and that for less than $35 I could use this with additional students. I loved the games because my kids thrilled to them, begged for them, learned from and asked to play them again and again. But mostly I loved that my kids have both been able to move to the next level of reading because of Essentials.
I would have liked for there to be a little less writing. None of my kids are strong writers and both them balked at the spelling lists, the dictation and the composition parts of the lesson. I compensated by having them take turns (one does odds one does evens) or even just skipping that portion of the lesson if I felt we could get away with it. For the spelling tests, we often used letter tiles instead of having them write it out. But this was a minor thing, because, as you see, it was easily tweaked to fit our needs. If your kid is normal about writing it probably won't be an issue for you at all!
In short, I am happy that we get to use Essentials and intend on Daniel and Abbie working their way through the whole book.