Even though we are not finished with this year of school, I have already pretty much finished planning next year. At least, what we will be studying, and what we will be using. So when I saw that
Tristan
is having a link-up, I decided to join in.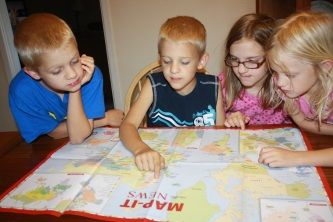 As a Group:
My kids are super close in age (four in less than four years) so there are some subjects that are just easier for us to do all together. We do all of our Charlotte Mason style studies: nature study, handicrafts, artist study, poetry and composer study, literature read-alouds, and all of our memory work all together.
Nature study is pretty simple. My kids have always loved looking for bugs, star gazing, watching birds, inspecting flowers, and learning the names of all things nature. This year, though, I have a bag packed and I am going to try (we tried last year and failed miserably) to do something a little more formal and even actually create nature notebooks.
Handicrafts for us is knitting or crocheting or whittling (both boys have had a class in how to appropriately handle a pocket knife) or photography or whatever strikes our fancy this year. I'm also going to see about teaching myself and the girls to sew.
Our artist this year is Manet, our composer Mozart and our poet Rossetti. All of our plans come pretty straight off of
Ambleside Online
. Since we are still fairly new to this, I choose whichever one I think will most appeal to the kids, once it becomes more habitual for us, we will delve into those "less interesting" artists!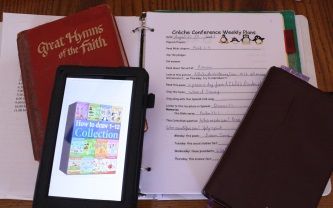 We are currently memorizing
The Mother's Catechism
. I can't find where I originally got it. I'm glad I went ahead and printed off that version years ago.
This one
is very similar, if you are interested. We are also memorizing Psalm 119, because we are ambitious like that. Finally, I will have the kids choose a poem and a hymn to memorize from a list of choices I will provide. They will either vote or take turns, which is how such things work around here.
We also do four main subjects together:
History:
We will be studying the Ancients, starting with Creation and winding up with the Fall of Rome. I
plan our own history
with living books and some fun activities. I'll hopefully be posting about it on the blog. I plan to have the kids blog about it, too.
Science:
We are going to try out the new Berean Builders science:
Science in the Ancient World
I'm excited about this because it is already sorted into different levels so I won't have to figure out how to make it harder for the big kids or easier for the little kids. It has three different levels, so I should have plenty to work with.
Bible:
Of course we will be just continuing on with our beloved
Bible Study Guide for All Ages
. We also read a section of the Bible every morning and the kids narrate it to me. And we memorize specific passages together as a group. Currently we are working on Psalm 119, so I'm thinking we will
still
be working on it for most, if not all, of the school year!
Spanish:
All the kids love
Flip Flop Spanish
. We loosely follow the lessons by listening to the audios, playing with the cards and adding in all the review we can so the little kids can keep up. Read our
review
of this program.
Kaytie and Nate are a year apart in age, but they have never seemed to realize that. When I started school with her, he climbed up beside us and joined in. They have always done all their subjects together. This year is the first year they will do any separate work at all.
Kaytie (11) and Nate (10) will be pretty solidly in Middle School next year. We've been talking about what that will mean for them. I will be expecting more out of them and they know they can expect to be spending more time in school each day. I am telling them that they are in fifth and sixth grade, but I'm wondering why they still haven't figured out that they are doing the exact same work and are actually in the same "grade". Maybe it's because they do understand that our "grades" are more a social construct than anything to do with our actual schoolwork. At any rate, this is what I have lined up for their joint studies.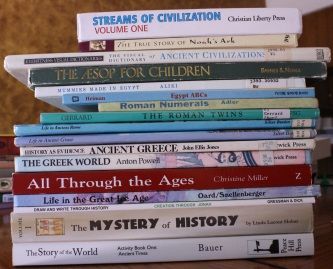 Spanish:
In addition to
Flip Flop Spanish
Kaytie and Nate also work on
Mango
which we
reviewed
. They go at their own pace and work on it daily.
Logic:
We didn't finish
The Fallacy Detective
, so we will continue working on that and then start either
The Thinking Toolbox
or
Logic to the Rescue
. Or maybe both. Logic to the Rescue is just a fun little story and they are both loving learning logic. They enjoy pointing out fallacies when they meet them in real life.
Philosophy:
Kaytie will start over with
Philosophy Adventure
and complete it this time, taking the entire year to do so. Nate will join in. Our
review
of this.
Literature:
Every day they will read a book of their choosing from a list I will give them. This won't be much of a hardship, but they have gotten a little lazy with their reading and I want them to step it up a bit and read more challenging books.
Language Arts:
We are also going to finish up IEW's
SWI A
. We put a pretty good dent into it this year, but we didn't get it finished.
They will work typing into their schedule by typing up narrations and some of their SWI work. They will also be given blogging assignments for history, science, and random topics.
They will continue to work in All About Spelling, finishing up
Level 4
and starting on
Level 5
. I can tell already Nate's going to be so excited about that purple cover!
6th Grade
Math:
Kaytie will start Math U See
Epsilon
. She is nervous about fractions, but I'm expecting them to be easy. Well, as easy as math ever is for her. I try not to gripe too much about our math struggles, because people tend to suggest other curriculum when I do. But honestly, it really doesn't matter what curricula we used, it would still be a struggle for her. And I am not about to switch her to a different method now and confuse her all the more!
Language Arts:
Along with what she will do with Nate, which I talked about already, Kaytie is done with copywork. She will do a prepared dictation once a week and the other days she will write stories, poems, and journal entries as she chooses. I want her to write every day but I'm not going to be a stickler about how she gets that done.
She will do a year of grammar study, but I'm not entirely sure what we will be using. I've narrowed it down to either
KISS Grammar
,
IEW's Fix It
, or
Analytical Grammar
. She is working on Analytical Grammar right now for a review, so I'll know before school starts if it is a good fit or not.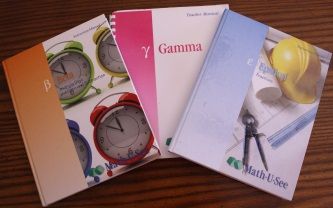 Latin:
She will be using
Visual Latin
. This is a fun program that we have dabbled in before, so I know we will like it. Watch for a review of this soon!
Art:
Kaytie will finish up her
Artistic Pursuit
books (if she doesn't finish them over the summer) and will start Drawing With Children. Just giving her the book and letting her have at it has seemed to work well, so we are going to try it again.
In our co-op, she will take a Home Ec. class. I am super excited about this class because I know she will learn so much and have such a great time doing it! She is also taking a puppetry class.
5th Grade:
Math:
Nate will start Math U See
Epsilon
. He is looking forward to fractions.
Language Arts:
Nate will be doing copywork to improve his cursive writing. He will just be copying verses of his choosing from the Bible. He opted to try regular notebook paper, so that's what we will start with. Hopefully it will work well.
I'm also going to make him do some stuff to work on his fine motor coordination because I'm convinced that this a major weakness for him.
He might do a year of grammar study, but I'm not entirely sure what we will be using. I've narrowed it down to either
KISS Grammar
,
IEW's Fix It
, or
Analytical Grammar
. Or... he might wait until next year...
Computer Programming:
Nate will be (hopefully) working on
Scratch
.
His co-op classes will be Puppetry and Minecraft.
Daniel (8) and Abbie (7) are only 13 months apart, so even though they are far apart in some subjects there are some they can do together.
Phonics:
They will finish
Logic of English
. Just the phonics section, though. Mainly focusing on the games and flashcards. They will read aloud to me daily. And, they will read to themselves every day as well.
Typing:
They will be given blogging assignments.
Spelling:
They will continue to work in All About Spelling
Level 1
and hopefully move on to
Level 2
.
Art:
I have some
"How to Draw"
books on Kindle that I plan to work through with them. They both like to draw and color so I think it will be fun.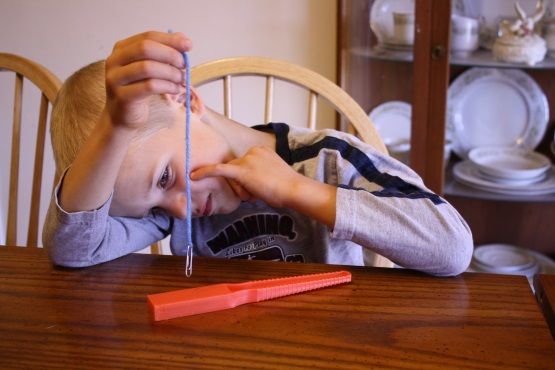 3rd Grade:
Math:
Daniel will start Math U See
Gamma
and (hopefully) finish it. He is good at math and drives me crazy by doing it in his head... sometimes faster than I can.
Copywork:
His print is really nice, so I intend to teach him cursive. I want to use
Rhythm of Handwriting Cursive
. The price is a little prohibitive, though, so I might just use
these
with both boys and teach Daniel cursive using
Happy Scribe
. I have gathered lots of Happy Scribe books over the years and I love them because, not only are they cheap to begin with, but with each kid I can just print what I want to use. They come in both print and cursive, which is awesome.
His co-op classes will be an insect class and Minecraft.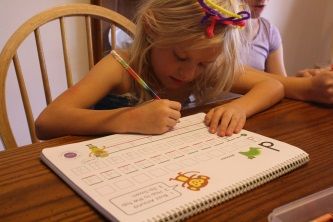 2nd Grade:
Math:
Abbie will finish Math U See
Beta
and start Gamma. She is half a year off schedule because I had her do some work in Primer until I felt she was ready to start Alpha. It will sort itself out at some point in the future, I'm sure.
Copywork:
She has learned all her letters, so she will be using my
Happy Scribe
stuff daily. Another plus of this product is that each kid can choose their topic.
Her co-op classes will be Cooking with Math (she is super excited about it!) and a class called Creative Construction, a sort of crafting class on steroids. She will love it.
And of course, we always use plenty of exciting extras for review, extensions, and just plain fun. Too many to mention individually, but here's a picture of a few of them!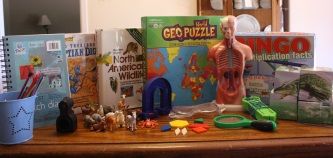 It's going to be a full year.
This post is also linked up with
Homeschool Curriculum Choices Linkup
and
The Not Back to School Bloghop
and
Ben and Me's Linkup
You can also read about: