We love to read around here, my two oldest kids are bookworms and my two younger ones, while they struggle to read on their own absolutely love to be read to. When we were asked to review books from
Kinder Cottage Publishing
Abbie was delighted to choose which two books we were sent. She chose
Peter Rabbit Goes A-Visiting
and
Peter Rabbit's Easter
.
There are ten Peter Rabbit books that Kinder Cottage publishes. These books are adaptations of books written by Duff Graham published in 1922 by the Henry Altemus Company. The illustrations are the same and the text has been updated. But don't let that scare you because these are not dumbed down versions! Oh no, the language is still complex and the vocabulary is still rich. We encountered words such as "luscious", "scampered", and "capering". We even had to look up what "lozenges" were when we were finished reading.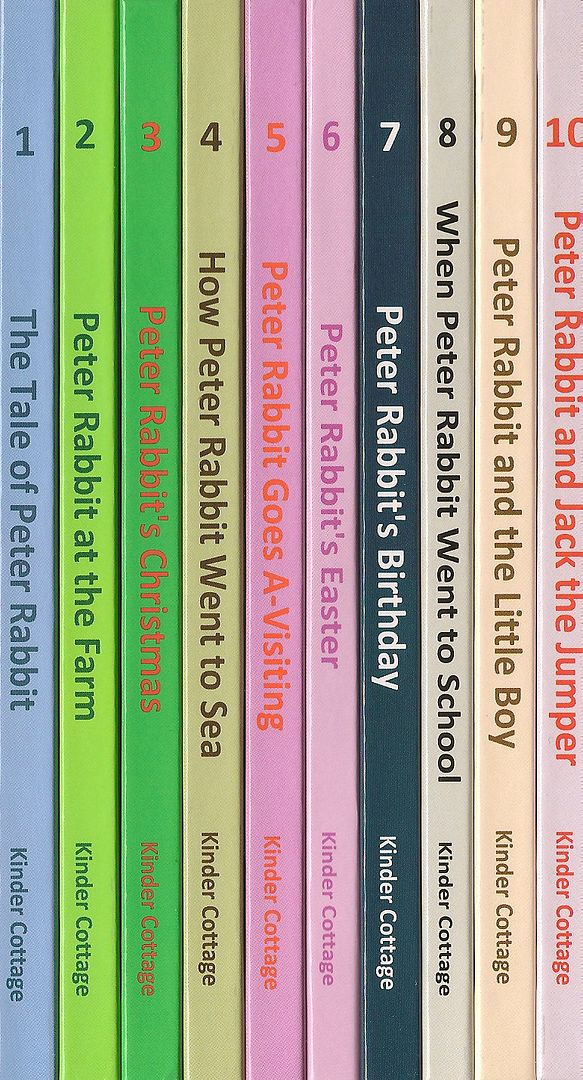 Both books were sturdy hardbacks with 50+ pages and every other page was a lovely color illustration. They are intended for ages 3 to 9. You can buy them for $4 apiece or get the whole set of ten for $30.
These books were a little too difficult for my new readers to manage on their own, so I read them aloud, with them hanging on every word and often laughing aloud at the varied adventures of mischievous little Peter. The first time, we read them both in one sitting, because they were eager to hear what happened next. I have re-read them often since at their insistence. In fact, even the big kids listened in whenever I read them aloud!
Peter Rabbit Goes A-Visiting is about Peter's day of, well, visiting around the countryside. He sees some guinea pigs, watches woolly lambs at play, explores Mr. McGregor's garden (of course), goes to a party, and even unexpectedly meets a scary stranger in the road! Unfortunately he does all of this while disobeying his mother and disobliging his sick sister.
In Peter Rabbit's Easter, Peter is up to mischief again. After a harrowing chase, he winds up in a toy store, much to the amusement of the Easter shoppers, a little girl, and the store owner. He enjoys a ride on a tricycle and makes a new friend.
While we enjoyed these fun stories, I feel it necessary to point out that Peter is disobedient, selfish, and mildly rude in both books. Out of several incidences of naughtiness, he is only punished for one because his mother was so interested in his tales that she "forgot" to discipline him. He suffers no natural consequences either. At the end of each book he returns home a triumphant hero with grand tales to tell to his admiring mother and sisters or with presents for them. They forgive him of his misdeeds and Mother Rabbit even says, "Well, boys will be boys!"
Now, for us, this was not such a huge issue because my kids are old enough that we discussed the stories as we went along and at the end. The kids know that Peter was naughty and deserved to be punished for his deliberately wrong actions. They were able to grasp the concept of grace and that he did at least feel guilty for being rude to his beetle friend and repentant of disobeying his mother. However, I did want to point it out because a few years ago, I would not have read these stories to my kids without some heavy editing because they would not have been able to understand those concepts and would have believed that Peter entirely got away with everything he did. You know your own kids best.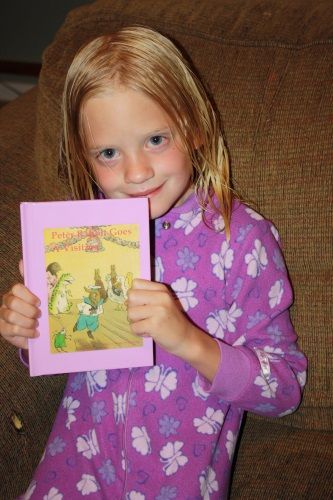 On the positive side, these are cute stories full of rich vocabulary and complex sentences. The illustrations are truly lovely and the story is engaging and fun. The kids enjoyed the glimpse into the animal world of Peter and his friends and they laughed aloud at his experiences in the toy store.


This is what the kids had to say:
Daniel: I think that Peter should have gotten in trouble for not bringing the tooth drops right away because his mom told him to. He should have gotten in trouble but his sister forgave him instead. I liked when he rode around the store on the tricycle. I liked these stories!
Abbie: They were funny. The best part was when he was running away from the dog. It was rude for him to disobey his mommy. I liked them but he should have gotten in trouble very much!
All in all, these were fun little tales about a naughty little rabbit who has some adventures that we enjoyed reading and laughing over.