Summer is upon us. We are not finished with our school year, but we did absolutely no work this week. Because our friends are done with their work and we can't turn down invitations to come and play. We had three playdates this week, well, four actually. Kaytie went to VBS with a friend three mornings and Abbie joined her this morning.
We don't do Summer Bucket Lists. I'm not the "together" type of mom that can keep up with such a list and it would make our summer a stress instead of a fun time. Instead, we like to just do lots of simple fun things that we can do year after year, building upon time honored tradition without a lot of pressure on me or the kids or the dad. :)
So far, our "Done-It List" has these items on it.
started the Summer Reading Club at our public library. Abbie and Daniel have already read their 18 books
signed up for VBS. They get to go to two next week!
ate watermelon on the trampoline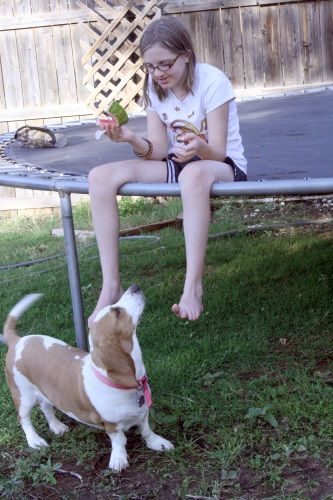 went swimming. We will be doing a lot of this this summer
found a horned toad and were very polite to the woman who told us they were extinct because we knew she meant endangered
lost some teeth
bought themselves their own ice cream twice!
did some cooking and baking. Kaytie tries out a new recipe every other day or so, Nate has been making brownies and Daniel learned how to make jello, surely a rite of passage for every kid!
played in the backyard after dark
spent hours in the sprinkler
found a turtle at the park
consumed gallons of popsicles
took incriminating pictures of the Dreaded Jungle Basset
played and snuggled with the Seafaring Hedgehog
Math, science and history doesn't even compare to such adventures! Somehow we will get our work done, but until then, we will be enjoying life to the fullest!