some of the books we will use for Ancient History
Another
change
I made after posting our
plans
was a slightly less drastic change to our
history
. As I gathered materials, ideas, projects and printables for ancient history, I picked up a copy of Mystery of History Volume One, at a great price. A steal, really. I had no previous intentions of using Mystery of History at all. I didn't want to use a spine of any sort and MOH didn't appeal to me in any case. But it was so cheap that I bought it and took it home and started looking through it to see if there was anything in there that I could pull out and use. I found a lesson that I liked, so I plugged it into my plans. Then I found another, and another and at one point I realized I was just plugging all the lessons into my plans and it was making me dizzy because I was using them all only out of order.
I paused to vent my frustration to my poor husband. Because I had been indecisive about history for several months now, first looking at this schedule, then at that curriculum, then back to the first then off to a third. He is a very patient man, but it was bad enough that he was even teasing me about it. But after talking it through with him one. more. time. I finally decided to go with using MOH as a spine. After all, if I don't like it, I still have all the free-wheelin' plans at my fingertips, ready to go.
a year or so ago the kids made Egyptian scenes with Lego
So here is our detailed plan for the year.
Mystery of History
will be our spine, we will read a lesson a day, which will, hopefully, put us nice and ahead for those inevitable days when we don't get stuff done.
I have a booklist that I have gathered from various places.
Sonlight B
and mostly
Sonlight G
(click on the What's Included tab to see the booklists)
Beautiful Feet
(one of my favorites)
Biblioplan
History Portfolio
Tapestry of Grace
Simply Charlotte Mason
Charlotte Mason Help
younger kids
and
older kids
(this is also a free
curriculum
if you are interested)
Paula's Archives
(one of my favorites)
My Father's World
I also used Mystery of History's and
Story of the World's
booklists, but that is because I own the books. You can't get them for free online.
Please keep in mind that just ONE of these lists has MORE books than you need! I am definitely not advocating using every one of these books. I took particular interest in books that made all or most of the lists. I also was most interested in the books that I could look at for myself, either through Amazon's "look inside" feature or because my library had a copy. In this way, I narrowed the list down significantly. I made a list of "must buy" and a list that I am willing to pull from the library. I'm using between 20 and 30 books for the whole year and many of those are picture books.
This booklist we will simply read through, one after another. I decided not to schedule them so I don't have to worry about keeping up! If we do get too far "behind" I can easily drop one or just have Kaytie and Nate read it on their own for "fun". I will read from one book daily until it's finished and then we will move on to the next one.
an ancient warrior?
From Pinterest and googling the Internet, I pulled together an enormous list of activities for the kids to choose from. Most of them are on my
Pinterest board
, but not everything can be pinned. I do have them in a word document where all of my plans are organized and ready to implement.
I added a selection of
Hands of A Child
lapbooks,
Draw and Write through History
, part of
Moving Beyond the Page's Rocks and Minerals
, and activities from Mystery of History, Story of the World (I own the activity book, which, in my opinion, is worth more than the textbook, which I also own, but won't be using) and Diana Waring's
Elementary Activity Book
which I picked up at a used book sale a long time ago.
I added
Streams of Civilization Vol 1
for Kaytie and Nate to read through and narrate in an attempt to beef it up a bit for them. If this is too much, though, I will drop it.
And finally, I'm buying
Homeschool In the Woods' Timeline Figures
so we can make a timeline. I'm intending to put it in a book, and hopefully, have each kid do their own. Or possibly have Kaytie do one and the other three collaborate.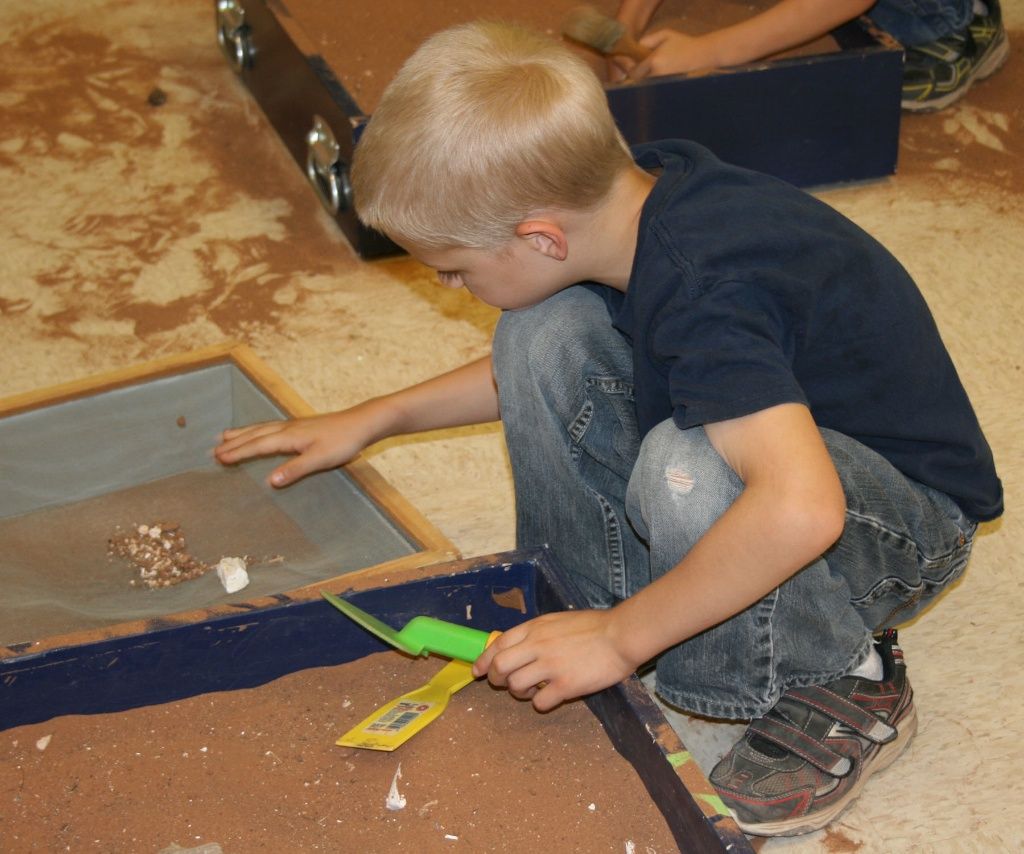 Nate at a real live dig we got to visit last summer. These were exploring boxes set up inside.
Find links to all my ancient history posts at the: