Most of the reviews I do are curriculum or extras for the children to work on. That's because most of my focus is on them, schooling them, raising them, hauling them out of trouble. Sometimes I forget that I have to cultivate myself a little bit, too. So I was happy to be given the chance to review a book just for homeschool moms.
Flourish: Balance for Homeschool Moms
was written by Mary Jo Tate and published by
Apologia Educational Ministries
. Flourish is a paperback book and costs $15.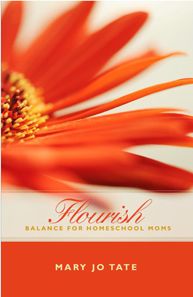 Mary Jo Tate is a mom, a homeschooler, an author, editor, teacher and blogger. How does she find the time to "do it all"? Well, she wrote a book to explain that and to tell you how to, as well. Flourish is 16 chapters full of tips, suggestions, ideas, and personal stories on how to take the circumstances in your life and balance them so that you and your family don't just survive, but flourish. She tells you how to take "doing it all" to a whole new level.
Of course, her first point is that she
doesn't
do it all and nobody can. But it is possible to prioritize your life in order to keep your life balanced. It is possible to keep sane and get the important things accomplished at the same time! There is no way for me to share adequately the almost 300 pages of wisdom from this book except to just tell you to read it yourself! Flourish is one of those crazy books that you don't think you need until you read it.
At the end of each chapter, there is a Take Action section that helps you apply the information from that chapter. These are sometimes questions to consider that vary from the simple "Have you already established the habit of setting goals?" to the more complex "How will you teach your children to be responsible?" Sometimes they are a literal call to action such as "Make hospitality a priority. Invite someone to join your family for a meal this week." or "Each night, make a list of Daily Tasks for the following day." When you purchase the book, you also receive a free download of "extras" that include worksheets to help you with some of these Take Action challenges.
As I read through the book, I took some notes and used a highlighter as certain things stuck out to me. There is so much information in this book that the take-away will be different for everyone and I think if I were to re-read it again in a few years different parts would impact me.
Here's a few of the things that resonated with me as I read...
Juggling all the balls that a mom, housewife, teacher, and ect. has to juggle takes some forethought and planning. Several suggestions that she made were ones I could implement right away. For example, she writes about taking advantage of small blocks of time to knock out simple chores. When my husband has a moment in his day, he likes to call me and chat. It's a great way for us to keep connected, but instead of just sitting around and talking, I could be doubling my productivity by doing mindless chores such as folding clothes, wiping counters, picking up a bedroom. All things I could do one handed while still having a conversation.
Another idea I'm implementing is to keep a time log (there's a form to help you with this) of my day in half hour increments. This is helping me to see where I'm spending time unwisely, where some of those small blocks of time actually are, and places in my day where I could be more efficient in getting the important things accomplished.
The chapter called Oxygen Masks and Monkey Bread Days was also helpful to me. I'm an introvert so I'm pretty good at carving out a space every day where I can just breathe (well, some days I do this, anyway) but after reading this chapter I realized that I was not truly taking care of myself, because I often neglect to take the time for my physical health, hobbies, and relationships.
And finally, the chapter on adjusting attitude convicted me. Mary Jo talks about a "no whining" rule and how and why to avoid guilt, fear, perfectionism, whining, resentment, self-righteousness and negativity. Yep, in one little chapter, she pretty much hit all of my weak points. :)
Flourish
is encouraging and uplifting. Without being preachy or condemning, Mary Jo confronts the difficulties assailing moms everywhere (homeschooling mamas or not) and addresses them with wisdom and wit. Using personal stories from her own life, she offers practical suggestions and always always points us back toward God as our help and guide.