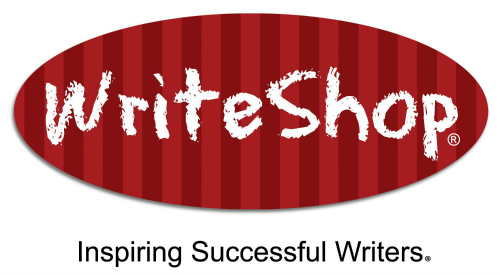 Learning how to write doesn't have to be dull drudgery. It doesn't have to a stressful session of a child trying to decide
what
to write and then struggling with the mechanics of actually writing it down. It can be enjoyable for both teacher and student, especially when you use
WriteShop
. I have used this product before with Kaytie and Nate, so I was excited to review Level A with Abbie.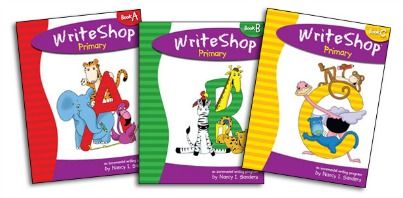 We received the digital products:
Primary Teacher's Guide, Book A
$24.50 and
Primary Activity Pack, Book A
, $4.50 both PDFs. This level is recommended for children in Kindergarten or 1st grade. I chose this level because Abbie just finished First Grade and is brand new to the concept of assignments or requirements in creative writing. She was almost too old for it, but we were able to make it work with a few tweaks here and there.
The Teacher's Guide starts with explaining the purpose of WriteShop, which is to give young writers confidence through success as they learn. Therefore, it is okay to be your child's scribe as she creates. The lessons also go slowly with lots of support and ideas so your child is not just expected to be creative on their own. This is great for those kids who can never think of what to write about.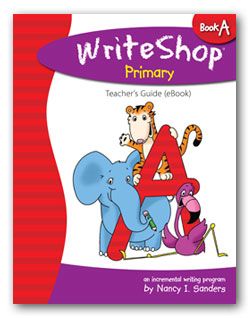 Next is a selection of schedules that you choose based on your child's age and ability. Since I was using this with a rising second grader, which is the highest age/ ability level recommended for Book A, I chose the third option: the one-week lesson plan, which put us doing a lesson a week and finishing the book in ten weeks. There is also a schedule for combining two children working in different books.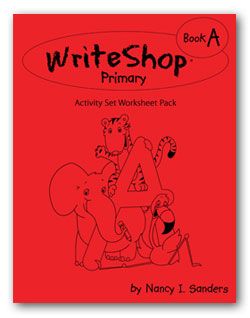 Then there is a section on materials and how to set up a writing center and fill it full of fun (but optional) supplies to encourage creativity in your child's writing. Since Abbie is my youngest and my third child who loves creating, I already had a set up ready for her. We keep markers, pencils, crayons, scissors, glue, etc. always available in this set of drawers. Also inside the drawers are all the little goodies of scraps, foam, googly eyes, etc. that she might want to use to illustrate her stories. There is paper in that black tray on top of the cabinet and we also have a file-drawer of various papers that the kids are allowed to use when they want.
Next is an overview of the lessons and an explanation of how they work and what you are hoping to gain as you teach.
Finally, there are the lessons. They are divided into Activity Sets, eight for each lesson. These are scripted writing activities that you do with your child. They are set up into short steps so your young child does not have to work too hard but is still contributing to the process. It's a growth that is gained through gentle stretching, not rigorous work. At the beginning of each lesson, the learning objectives are clearly explained. All materials needed are listed, grouped by the activity you will need them for. Any advance preparation needed is highlighted in a blue color to catch your attention. The instructions are clear and easy to follow.
To show you how we used WriteShop, I'll just walk you through a lesson. Since Abbie is at the top of the age limit, we tweaked the lesson plans because she did not need all of the repetition that a younger child would.
So, for the Lesson Four, we sat down together with pen and paper and began. I asked her to help me think of words that tell us about friends. So we came up with a short list and then she chose the one she liked the best. I wrote most of the sentence and she wrote the word she chose. So the first sentence in our story was: A friend is funny. Then I asked her, "What do friends like to do together?" She replied, "Friends like to play tag." So that was our next sentence. Friends like to play tag. My next question was, "Why are friends special?" This one stumped her for awhile, but she eventually decided that: friends are special because God made them. By this time, she had the idea so she added the last few sentences with little prompting. And that was it for the day.
In the guide, you would do this process several times for several activities and learn about finding a title for story, using a paper "cookie" as a prop. The child would "publish" their story for this lesson by writing it on paper cookies and tucking them into a real or pretend cookie jar. You would finish up by baking real cookies with your child, helping them create a card for a friend, and singing a song complete with motions.
But since Abbie did not need all of that reinforcement, and quickly came up with her own title when I asked her for one, we continued the lesson a little differently. Our next session, I had two circles from brown construction paper and four circles of white paper ready for her. She used her markers to draw pictures, but decided that she didn't want to do any of the writing. We looked over what we had written the day before, and edited it a bit. Then I wrote the sentences and she did the illustrating. Finally, we stapled the pages together and she had a cute little book that she had written all by herself!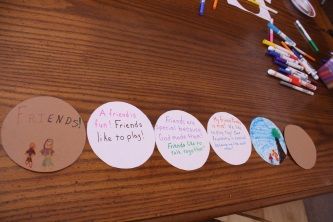 There is plenty of variety in each lesson: reading that correlates with the theme, ways to choose a title, suggestions on introducing the dictionary and thesaurus, how to make word banks, tips on teaching your child to edit, songs to sing, crafts to make, using story webs, brainstorming, and of course, the activity sheets that come with the program. The activity sheets are cute and fun, a great little addition to the course. We did not use all of these sheets, but Abbie enjoyed many of them, like the one below. We would definitely have used them all if she had taken this course in Kindergarten!
I like
WriteShop
because it is a gentle way to introduce a child to creative writing. Abbie felt successful after every lesson. She proudly showed off her work to Daddy. It's so much fun, she wasn't really aware that she was learning!
I like that it is scripted (even though I don't always use the scripts) because it shows me what the author of the product is trying to accomplish in the lesson. I like that everything is so clearly laid out that the majority of the time I can just open and go. If there is any prep it's easy to find and fairly simple to do.
You can check out a sample
lesson
, look at samples of the
Activity Pack
, check out the
Scope and Sequence
, see
which level
is right for your child, or click on the banner below to see what other Crew members had to say.