Last year I moved us very strongly in the direction of more Charlotte Mason methods in our homeschool. A lot of the changes took root and did very well. But, in the spirit of keeping it real here, I'm just going to admit that saying "I don't do change well" is a bit of an understatement. So there were some things I intended to do that just didn't ever get done. The biggest of these was Nature Study.
But I'm not going to give up. Since the other stuff is now an established routine in our minds, I'm going to try again with nature study. I have a bag set up and ready to go. It contains only the essentials.
our two favorite field guides: the Reader's Digest North American Wildlife (I had this one as a child and was thrilled to recently find a used copy) and Fun with Nature (this one is new and untried and may get ousted from the bag if it doesn't work as well as the North American Wildlife one)
sketch books
pencils
erasers
a bug catching kit that has various containers, insect nabbing gizmos, tweezers, magnifying glasses, our beloved Discovery Scope a little measuring card, and such like
binoculars
add the camera that I have on my phone and we are all set.
We live in the city so we have to kind of hunt about for nature to study. But I have actually come up with a lot of different ideas!
Close to us is an arboretum. This is a wonderful place that is free. It has plenty of flowers, trees, walking paths, cosy little corners that the kids like to play in, arbors, resting places in the sun, and all the little "critters" that would live in such a place. I intend to visit the arboretum every other week or so. At the bare minimum, once a month. We like to take a picnic lunch and just go hang out for a few hours.
We also have a lot of little ponds in our city. I found
Angelic Scalliwags
' year long study of their pond and thought, "Well, it will be different for us, but well worth a try!" I don't think there will be enough "material" in our more "sanitized" ponds for us to go every week. But I think every other week would be interesting enough. We can at least try.
Next, we have a backyard full of plants, dirt, and lots of itty bitty critters that my kids are experts at hunting down. They play here plenty already. So those weeks that our normal Nature Study time needs to be quick and easy. I plan to take them out there with a sketch pad. Or throw a hula hoop down and have them observe and investigate everything inside the hoop. Or we can birdwatch. Or hunt ourselves down an insect to watch and make notes about.
Finally, I want to make "nature calendars". I can't point you to the exact place, but when I was reading through Charlotte Mason's own writings, she talked about something that gave me an idea. Yes, it's vague, but I was more focused on the good idea she inspired in me than on what she was actually saying at the time. Anyway, I want to give each of the kids a blank calendar for each month. And have them write down each day something that they observed in nature. The blooming of a flower, what the weather was like, the first fall color they spot, a bird they saw, a tree they noticed. Just whatever strikes their fancy. I think it would be fun to do this several years in a row and have a fun little record of all the things they noticed!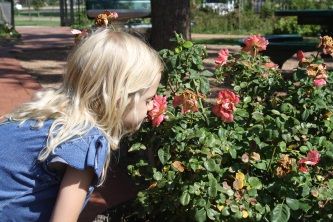 I think these ideas will keep us busy this year as we try to be more "formal" with our Nature Study.