Since I got so many of my ideas for what to do with history (and science, too) from blogs and websites, I want to at least try to post our history adventures every week. In the planning stages, I
pinned
a ton of ideas, but only a percentage of those ideas made it onto my personal planning sheet. And then I (sometimes with the kids' input sometimes not) pulled a few activities off the planning sheet and those are the ones we actually did. Those are the ones I will blog about. Hopefully with pictures. :)

Since we did not do a very good job of sticking to the original weekly schedule I made up, I'm just going to do a post for each "topic" as we complete it. We started, naturally, with Creation.



What we read:
What we did:
My kids know the creation story pretty well. So we didn't do much. Their favorite kinds of projects involve food, so we devoted a week worth of afternoon snacks to telling the story of Creation:
The jello and the whipped cream represented the separation of the water and the sky. The oreo was supposed to be dirt and the creation of dry land while the yellow sprinkles were for the stars. But we had them on the same day to save time and the girls made moons with their oreos! The whale crackers were for the creation of water creatures and the animal crackers for land animals. We opted not to attempt to eat people but gingerbread men would be a great idea if you wanted to include human creation in your snacks! And then, of course, you could use chamomile tea for the day of rest, but none of my kids would drink it so we didn't try.


What we put in our notebooks:
We ended up with two notebook entries. Creation Wheels, which I found and printed from
here
.
(this link is a PDF and I realize that it is bad etiquette to link to a PDF but I do not remember where I found the link originally and I can not for the life of me find the "real" post on the main site. But the main site is Mary Rice Hopkins and she does have other fun ideas for Bible stories.)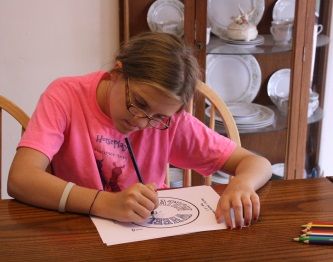 And then they each drew a picture from
Draw and Write and Write Through History Creation to Jonah.
We used the first three drawings: plant/tree, dinosaur and people. I do not know why exactly Newton joined us for this exercise.
Kaytie chose to draw a dinosaur and a plant.
Abbie chose to draw a woman and a tree and turned her picture into Eve and the Tree of the Knowledge of Good and Evil. When I pointed out that Adam was there, too, she explained that he is standing right off the edge of the picture...
Nate chose to draw a rather fierce looking herbivore dinosaur. I am so impressed with how his drawing skills have blossomed in the past few weeks! Last year, his school drawings were all clumsy scribbles and it was impossible to tell the difference between a house and a man. Then, all of a sudden, he just started drawing like this and even he is amazed at the difference!
And then there is Daniel's picture. Yes, the red is all blood from the poor, unfortunate creature the dino is eating.
Finally, we enjoyed watching this
video
together.