Recently, we were asked to review
Under Drake's Flag
, an audiobook produced by
Heirloom Audio Productions
. This is an adaptation of the book by G. A. Henty. Audiobooks are fairly new to us. All of us are visual people and when I tried to get the kids to listen to a book or two in the past it was an uphill battle. Especially the two younger ones. So I was a little concerned about how well it would go.
However,
Under Drake's Flag
is not just a book read aloud, but is actually an audio drama, which means it is acted out with different actors for each character and sound effects. Moreover, it is a high quality production with professional actors, designers and composers. So our experience this time was a little bit different.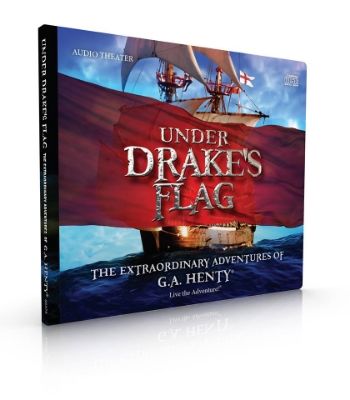 Under Drake's Flag
is a fictional story of a boy, Ned, and his friend, Gerald, who, thanks to Ned's bravery, are asked to sail with Sir Francis Drake. The boys have many adventures and narrow escapes but are guided always by their trust in God and their desire to always behave as honorable men. As the story progresses, their courage is also progressively tested with harder and harder trials. They rely on their courage, wits, strategy learned from Drake, and their sense of honor until finally, they face the ultimate test and realize that only God's strength will see them through.
This is a good, clean story that is family friendly and appropriate for kids ages 6 and up. My seven year old daughter had no problems at all listening to the story. She isn't sensitive though, so if you have a child who is, you should probably pre-listen and judge for yourself. The story gets a little tense at times, with battle scenes, discussions of torture, death and a foiled escape. There are a couple of kisses, and a wedding at the end, but otherwise no romantic elements and no bad language at all!
A caution for my Catholic readers, the Inquisition is a main plot point so the Spaniards are the "bad guys" in the story. However, the point is made several times, in several different ways that not all Catholics were bad nor even in favor of the Inquisition. In fact, one pretty little Catholic Spanish girl turns out to be quite a heroine!
A part of the 2 CD set ($29.95) is a little booklet that is a study guide for the story. It consists of questions to help your child recall the story as well as to think through some of the deeper elements in the tale. It is divided into chapters and each chapter has a Listening Well section that asks questions about the story. For example,
After the storm, where do the boys find themselves?
There is also a Thinking Further section that asks the listener to dig a little deeper in their understanding of the story. For example,
"If we are not men of honor, we are not men at all." What does Ned mean? How are honor and manhood related?
There are vocabulary words that the child might not know. Even though this section is called Defining Words, there is no definition provided so the listener will have to look them up themselves.
And finally, at the end of the study guide are three short Bible studies that provide and discuss Scriptures that address Godly Character, True Manhood and Confessing Christ.
When you buy the CD you will be sent a link to a slightly longer, full-color PDF study guide that you can print off if you like. We just used it verbally. Me reading off the computer and the kids answering. However, for older kids, or to make this a "real" school study, you could print off the questions and have the kids write out answers in essay-style.
We listened to
Under Drake's Flag
in two sittings. I had the kids bring out paper and pencils and the big tub of Lego, waited for the baby to be napping and turned on the CD. I expected the kids to object to listening an hour at a time, or to whine or to lose interest and wander away. However, they did none of these things. They listened quietly the entire time. When it came time to listen to the second half, they did not hail it with delight, but they didn't sigh or grimace and not one kid said, "Awww! Do we HAVE to?" Which is high praise from this tough crowd!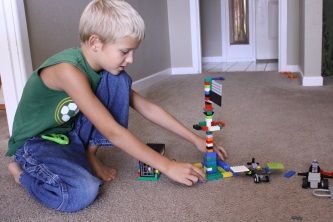 Daniel built a ship while he listened.
He also built the prison where the boys were kept and
several winged weapons to come to their rescue.
In addition, when I asked the questions from the study guide they were able to answer almost every one, and remembered parts of the story that even I didn't remember!
I enjoyed this story. Partly for it's own sake, partly because it was quite well done, but mostly because it exposed my kids to high notions of honor and courage and doing the right thing no matter how we feel about it.
This is what the kids had to say:
Kaytie:
It was adventurous. I liked it and thought it was interesting because it was a good lesson in history. My favorite part was the fighting, especially where they were escaping from prison. The only problem was the really exciting parts got really loud and I couldn't hear the narrator very well.
Nate:
It was fun! It was exciting and there was a lot of fighting. My favorite part was the time when they fought off the Spaniards in the canyon.
Daniel:
It was exciting. The best part I liked about it was where they found all the silver. And my favorite part was when Ned killed the shark. I liked all the fighting. I could have done without the kissing.
Abbie:
I liked it. Because I liked the fighting. And when Ned saved Anna from the sharks. I liked his father's dagger. I would like to listen to it again.
We would all like to listen to it again!